...with excerpts from my travelogue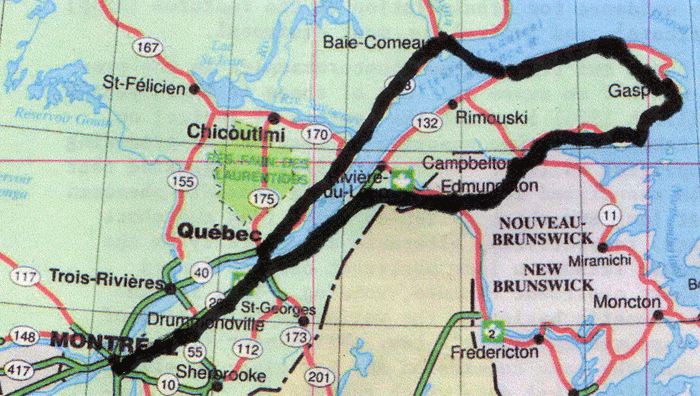 I set out from Montreal at noon Saturday, and on the way up to Quebec, stopped in the wholly uneventful towns of Drummondville and Victoriaville. At Quebec I stayed with dear friends Claudia and Steve. On one evening at a friend's house we had a Lao feast: raw gall bladder with bile sauce! the next evening we had a Cinco de Mayo party. Well, it was fantastic, and we partied like it was 1989!
Well, party over, oops, out of time, and so the next morning I headed north, up the St. Lawrence. I was quite struck by the beautiful scenery, and also reminded very much of home—the landscape along the river/estuary is remarkably similar to the Hudson back in Rockland.
I had lunch in a total dive of a joint, a broken down bar/lunch counter with two disused bowling lanes in back. I had poutine, which seemed the appropriate thing to do. Before Tadoussac I picked up a hitchhiker—a 20 year old Innu (Montagne) kid, and we drove all the way up to his little village called Betsiamites, off the main highway, about 40 minutes south of Baie Comeau. He had been away for a year in Quebec, and had some issues he needed to resolve with his mom, so he was a little nervous about going home. I really wanted to explore his town. It was on an Innu Reserve and represented one of the largest Innu-speaking communities in the country—about 3000 souls. But it was now dark so I went out to the road and found a motel.
Next morning I drove north to Barrage Manic 2. Though it sounds like the latest Hollywood Blockbuster franchise, it is, in actuality, the second in a sequence of massive dams. Too bad the water wasn't running though.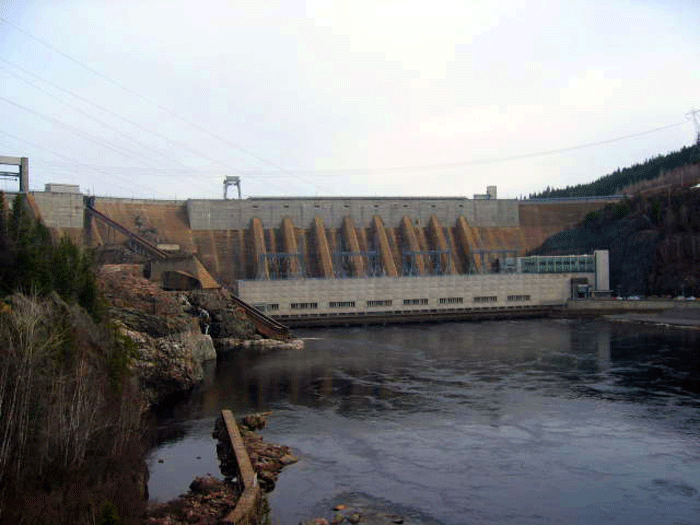 Then I drove back to Betsiamites and found the only restaurant in town (way down in the corner by the beach) and had a club sandwich and coffee. I went to the only bar in town and had a Pepsi (Bar Meshk-Uits on Ashini Street), then drove up to Baie Comeau.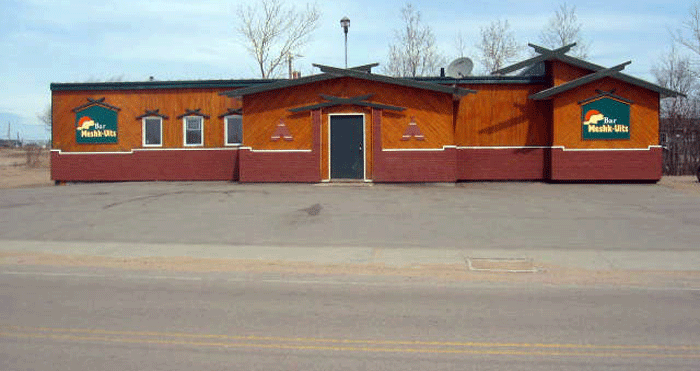 The ferry from Baie Comeau to Matane started off quite nicely, but the middle two thirds were extremely unpleasant. The water was very rough, and the ferry was pitching every which way. Still, I somehow made it through intact (though at least one passenger did not!).
Arriving in Matane, I checked into a pleasant if crudely designed hotel smack on the water. I purchased a package that provided both dinner and breakfast; I had the salmon, the local specialty. Nightlife in Matane during the off-season was non-existent—even the town bar was closed, and so I made it an early night.
In the morning after breakfast I got a massage (80% of which is paid for by my insurance), and then headed northeast along Gaspe's north shore.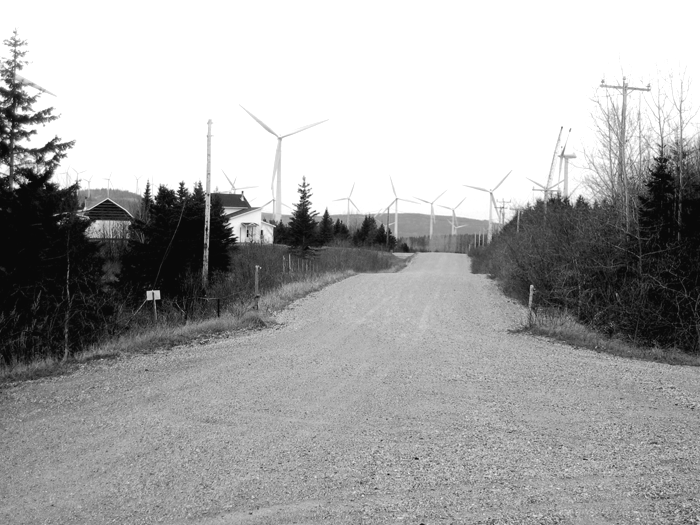 The scenery was quite magnificent, the road zigging around mountains that jut into the water, then zagging along the coves dotted with tiny fishing villages. I stopped at various points to take some pictures of waterfalls, or of particularly striking mountain and sea views.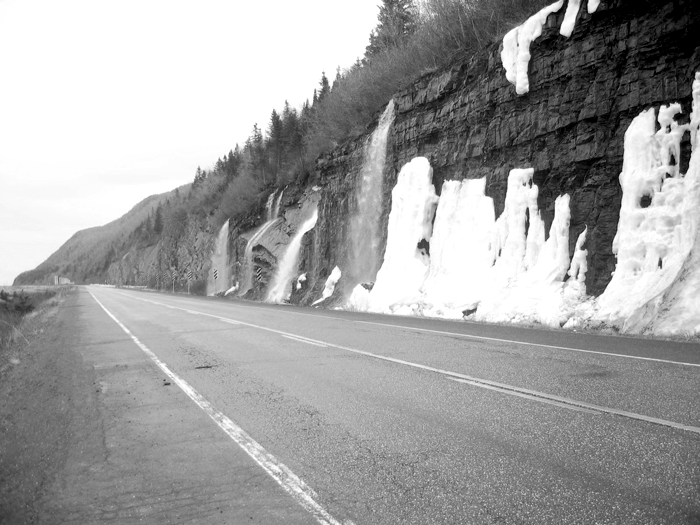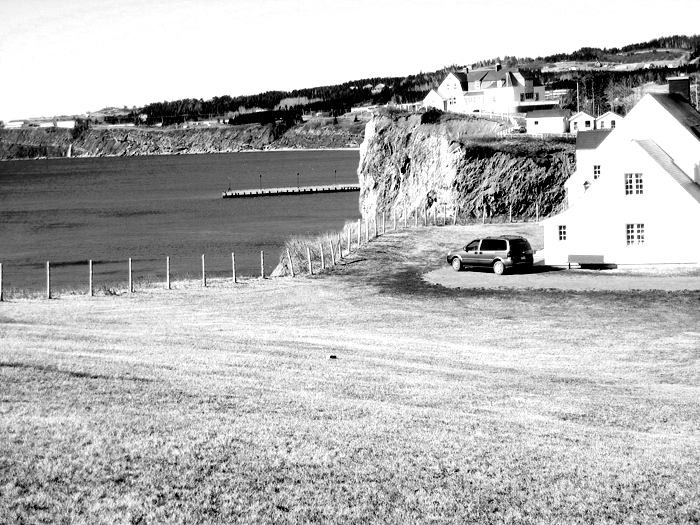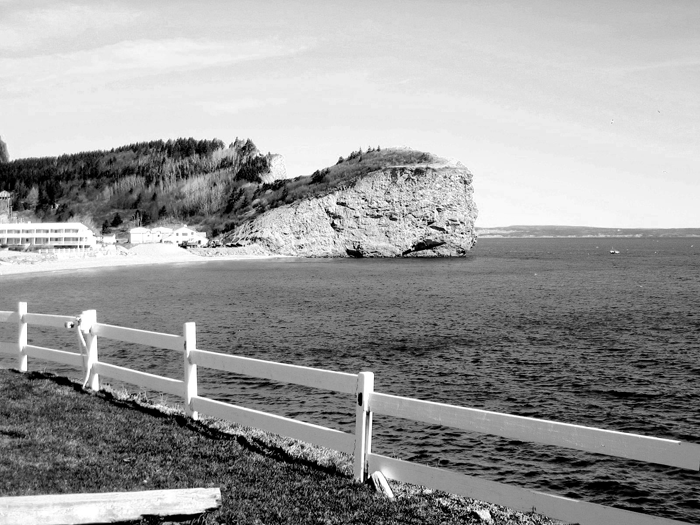 I then turned inland into the beautiful Chic-chocs, toward a tiny isolated mountain town called Murdochville, over 50 km from any other settlements.
Murdochville was built as a mining town, and it certainly has the feel of a regimented, pre-fab community, right out of Sinclair or Steinbeck. Despite the stunning setting—surrounded on all sides by mountains—the town itself is awfully drab and depressing. It can't help that the mine closed down a few years ago. Really, Murdochville was a haunting experience for me. I just don't know what these poor people can do now, so isolated and without work. Apparently, they are getting into wind power, so let's see.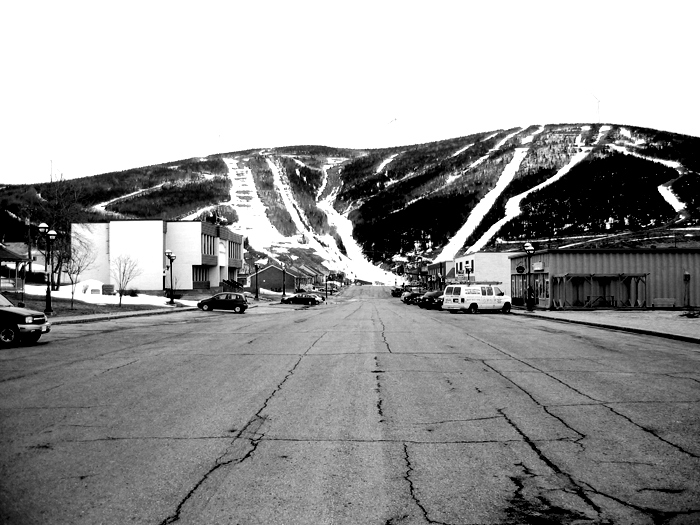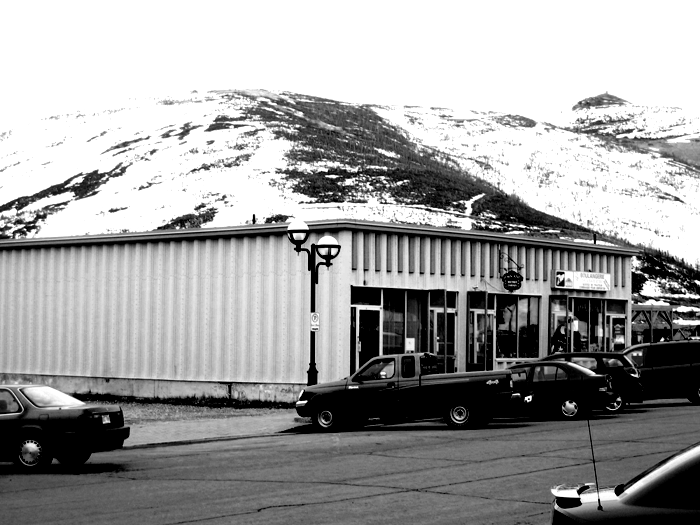 The road out of Murdochville eventually ends in the town of Gaspe at the far tip of the peninsula. Along this 70 km route I spotted a female moose grazing by the side of the road—certainly the first time I've ever seen a moose in the wild.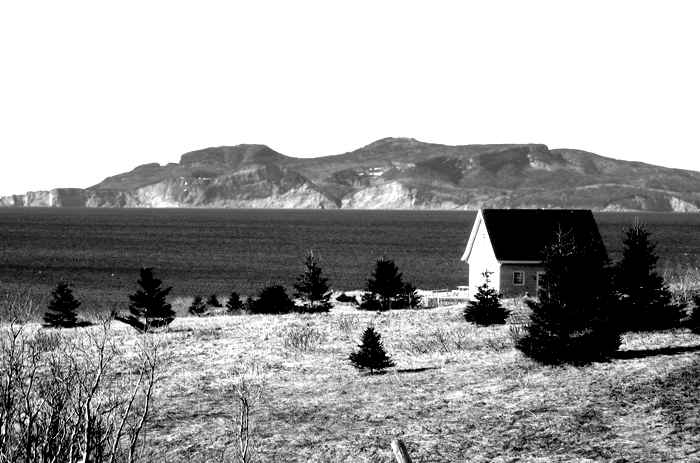 After two fantastic days in Gaspe I drove to Perce, a magnificently striking seaside town, with the stunning Perce rock dominating its seascape.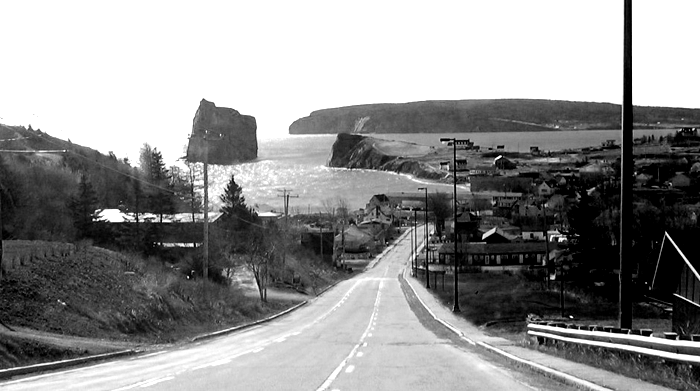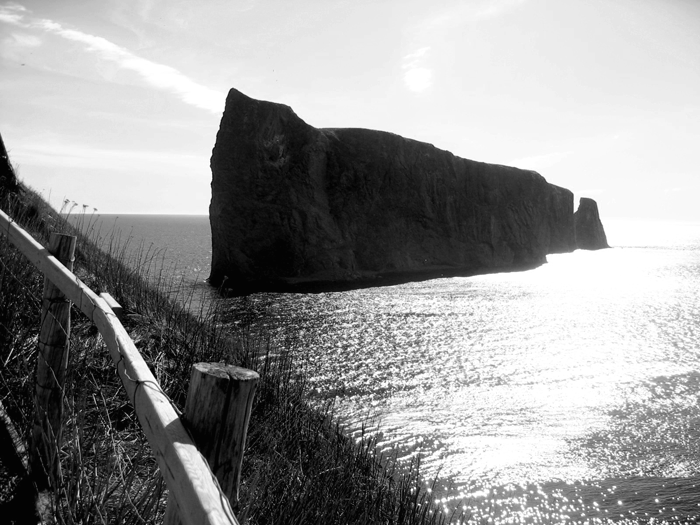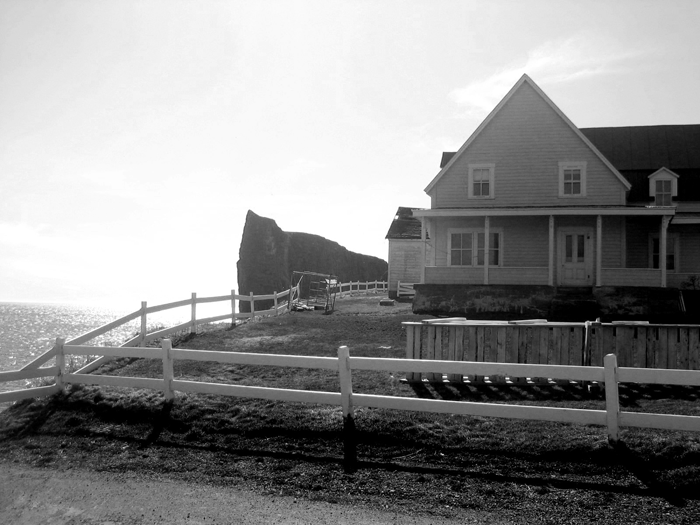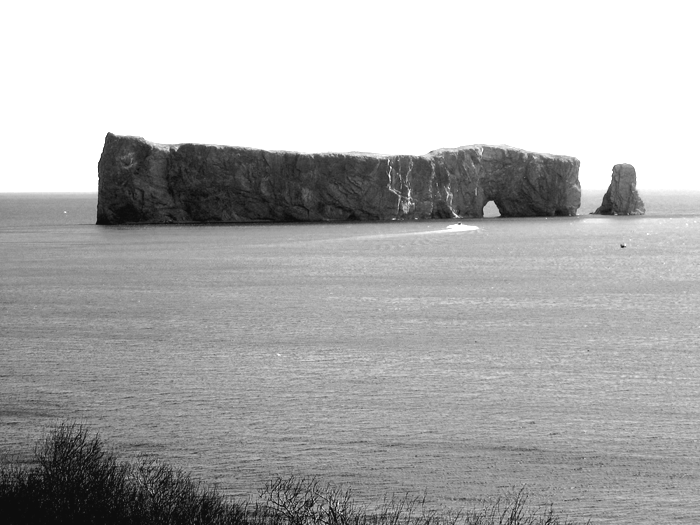 And I drove and drove, through the Acadien village of Bonaventure, and to the end of the peninsula, crossing into New Brunswick at Campbellton. New Brunswick is the only officially bilingual province, and I found that the people here spoke very good English, whereas just across the river they spoke barely a word.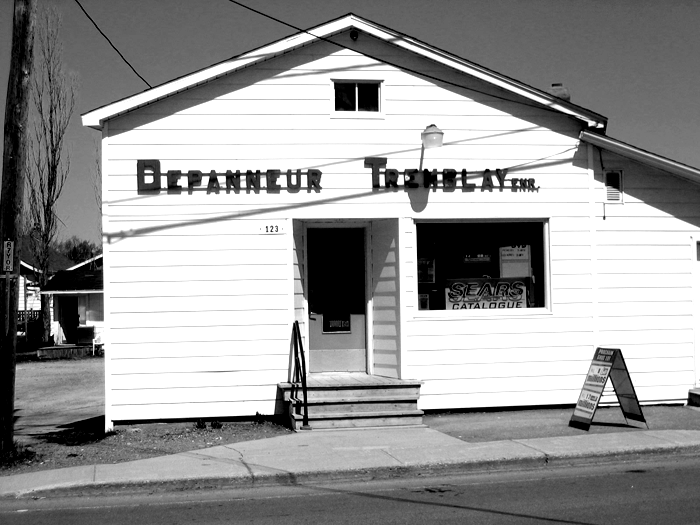 Although Campbellton is technically a city, it has only 7000 people, and has basically nothing to offer. I more or less confirmed this when, after finding the tourist office closed, I went to the library to see if they had any suggestions. They gave me a little map and, well, um, no, they didn't really have any suggestions. They were very friendly though, and jokingly pointed out the hospital on the map, because, after all, you never know what could happen! So I decided to head around to Edmundston before nightfall. Edmundston is an almost exclusively Brayon community, and capital of the jocular "République du Madawaska". The Brayons are neither Quebecois nor Acadien. They have their own cultural and vocational traditions, their own dialect of French, and their own flag. Unfortunately, their "national capital" is basically a dump, with an awful paper mill dominating what might, at some point in history, have been a lovely river valley.
I "dined" at "Spilley's" pub, though, after trying the local brew (Alpine) I decided a better name would be "Swilley's" (I can't be the first to have thought of that one!).
I later walked into a real hole in the wall located under a motel that was very friendly (I should say that everyone I met in Edmundston was remarkably friendly—except for the creepy Cecille at my motel). This was pure worker territory. Beer drinkers with the requisite uniform in place: big gut, ratty shirt, baseball cap. An exceptionally friendly young guy of about 25 called Eric began talking to me and, when I told him I'm from New York, he asked a most incisive question: "What the fuck are you doing here?" He said that in the evening I should head over to the Le Vieux Poêle pub, a nicer place where he'd be, and we could talk.
Unfortunately, although he told me that the place had recently moved, and had made a clear map for me, stupid me, I found the old place, that still had its sign up, and completely missed the new location (which, I discovered the next morning, did not yet even have a sign). So I missed my nice evening with Eric and I feel really bad about that. I ended up taking a "two-headed taxi" home that night. A New Brunswick tradition, a "two-headed taxi" is a cab with two drivers. One drives the cab, and the other drives your car.
The next morning I checked out a village of the Malecites, just on the edge of town. These are a tiny band of Amerinds related to the Cree. Their village consists of neat homes whose most interesting characteristic is their L.E.D. house numbers!
I drove and drove. Back in Quebec, I stopped at the very northern tip of Maine, and observed the rustic border crossing at Pohénégamook. And I continued all the way down to Levis, where I ate a small lunch in an old town restaurant, and looked across the St. Lawrence to the Frontenac.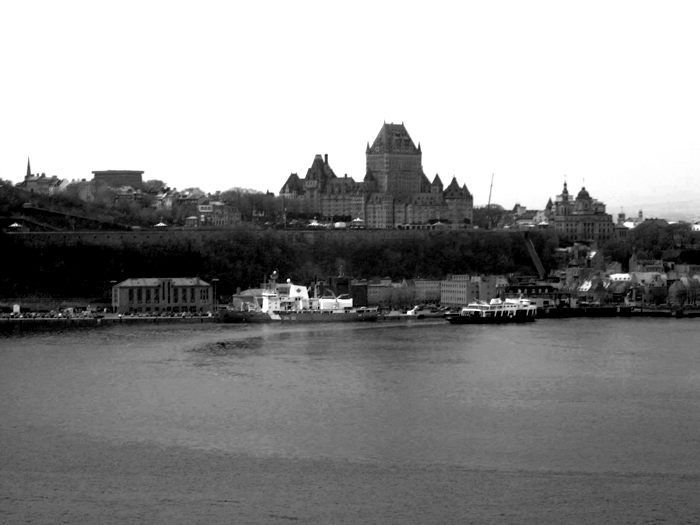 And the last leg, home.