The aerial view as the plane descended towards Rinas—Tirana's extremely modest airport; small but serviceable—was spectacular: the Montenegrin and Albanian Alps to the east; the blue Adriatic with its endless white beaches to the west.
After checking into my hotel (The Serenity—good!) I just walked and walked around Tirana. Fascinated by Albania since college, finally, I was here, checking out the scene of this now-free (if still-troubled) Adriatic country, a scene I had mostly viewed in poorly reproduced photographs from Socialist Albania propaganda books. First stops: Skanderbeg Square and Enver Hoxha's office and villa (Skanderbeg, or "Alexander The Great"—no relation!—being Albania's 15th century national hero, and Enver Hoxha being Albania's 20th century national villain: tyrant, overlord, dictator of the country for forty endless years, locking out foreign influence to the extent that virtually all post-war developments in social justice and technology have, until only the most recent years, passed the country by).
Albanian Fried Chicken anyone?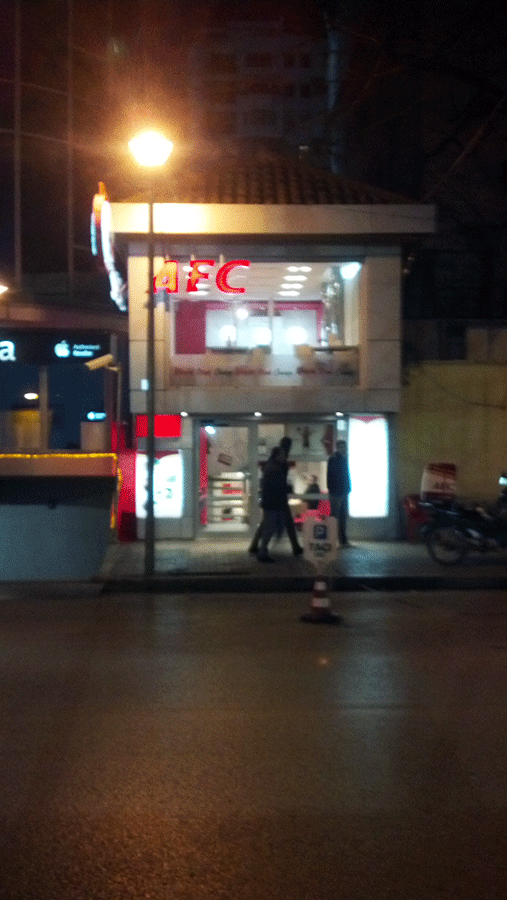 Korça: Albania's finest; a reasonably tasty pils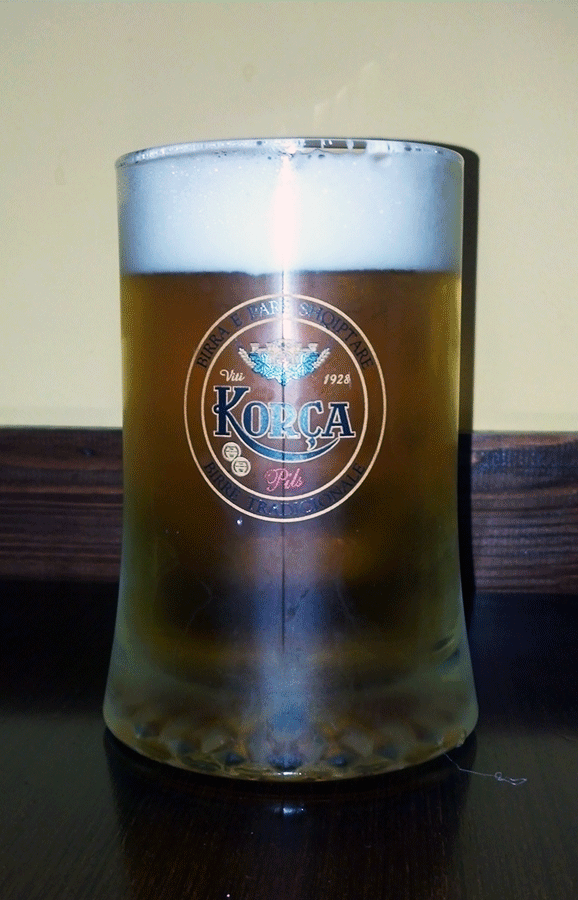 The view from Enver Hoxha's villa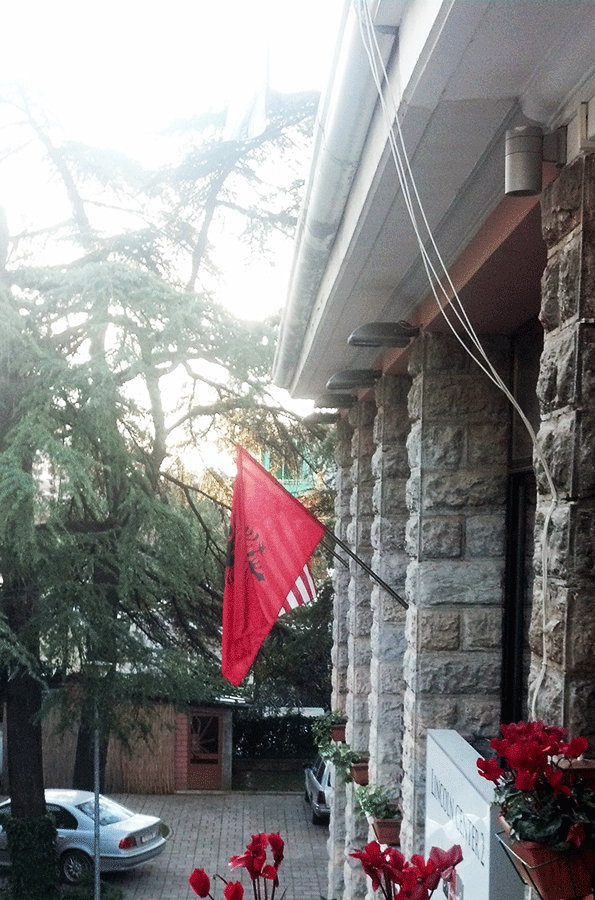 Front of Enver Hoxha's villa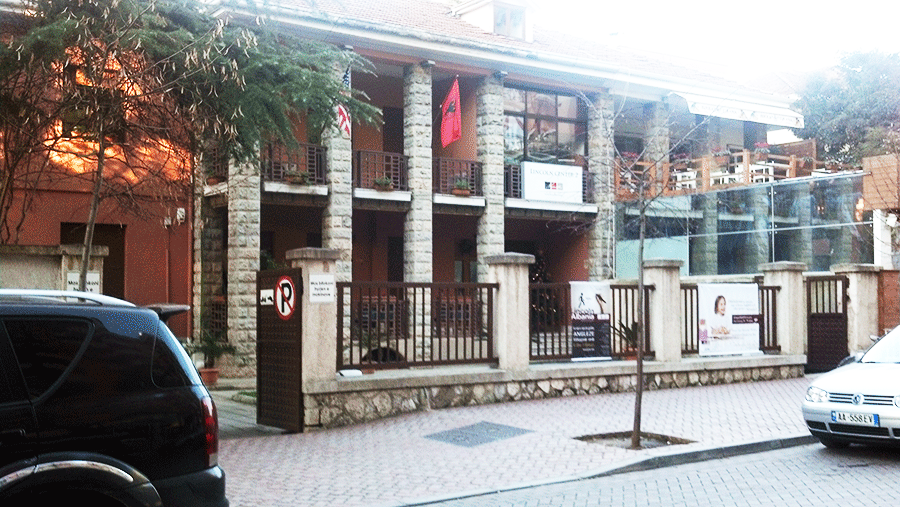 Intended Enver Hoxha shrine, designed by his daughter, Pranvera Hoxha.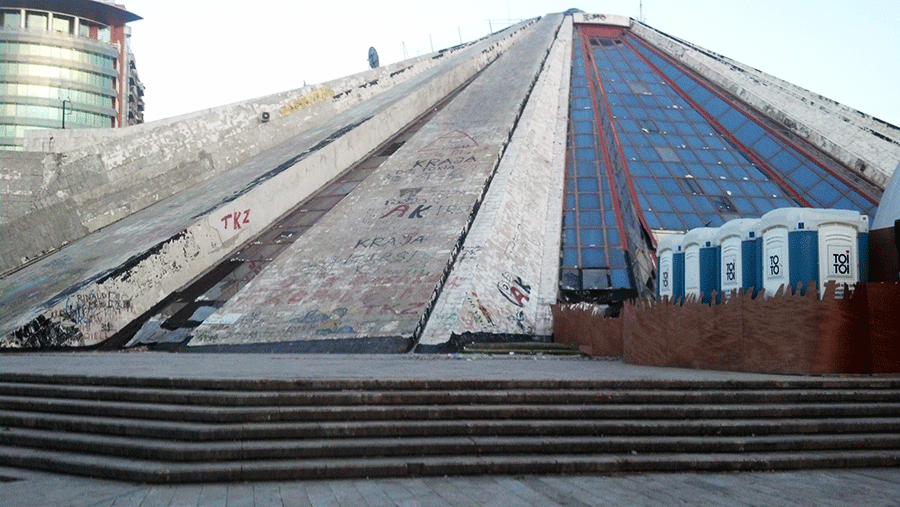 Near Skanderbeg Square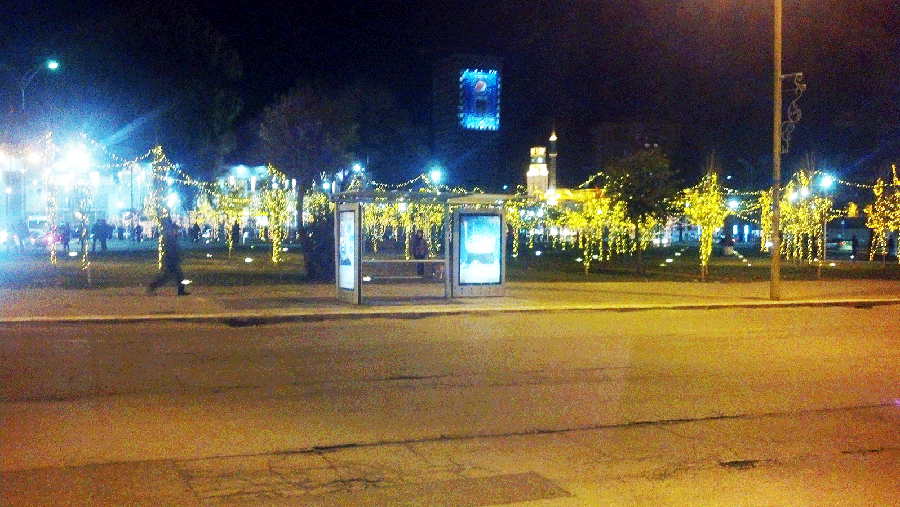 The social center of Tirana is the Blloku (the Block), a lovely, spacious, tree-lined neighborhood that had been cordoned off during the Hoxha years for the exclusive use of Party elites. The people have taken it back. Filled with bars and cafés and boutiques, Blloku is still nonetheless an area apart, Albania's only stab at modern bourgeois living. Its not-quite-there-yet charm is irresistible.
To my astonishment, I encountered an elegantly designed jewelry shop at one of the most fashionable addresses in all Blloku (just catty-corner from the Hoxha villa) adorned with Jewish national symbols and a single word of Hebrew: צורף (goldsmith). Entering, I had the pleasure of meeting the Pirra family, one of the few Jewish families remaining in the country since the 1992 mass aliya (exodus to Israel), just as the country was finally opening. Owner Sokol Solomon Pirra graciously indulged my many questions about the Jews of Albania. He stressed that he has never encountered anti-Semitism in Albania, that both the Moslem majority and the Christian minority have extremely cordial relations with their Jewish neighbors.
(The 1992 exodus was not a response to anti-Semitism. As a group of young guys I drank beer with one evening assured me, given the chance, any Albanian would jump at the opportunity to leave, to forge a better life. "The whole country would empty out!" they laughed. The 200-strong Jewish community had Israel to welcome them, whereas other Albanians, quite simply, have nowhere to go.)
Chabad now runs a small synagogue out of an office just down the street from his shop, but Solomon's dream is to build a functioning free-standing synagogue in Tirana for both the city's few Jewish souls, and for foreign visitors. He has good connections with Chabad and with both local and Israeli government officials, and so the main obstacles are not racial prejudice at all, but rather, are acquiring the legal permissions to build, and of course, acquiring the funds.
Albania's unique relationship with its Jewish minority was put to its greatest test as the Nazis descended and took control. Remarkably, not only did Albania save its Jews by secreting them into the countryside and hiding them in plain sight in the cities, but it actually served as a haven for those few Jews with the foresight to seek safety within its borders.
Albania is the only country in Europe to have more Jews after the Holocaust than before. Its Jewish population increased ten-fold. There is not a single documented case of an Albanian betraying Jews to the Germans and their European allies.
There is no simple answer to the matter-of-fact collective heroism of the Albanian people during the Holocaust. Attempting to reduce their remarkable humanity to a simple and simplistic explanation involving "national character" (as is the thesis of lightweight theorists like photographer Norman H. Gershman) is offensive in both intellectual and in human terms, just as facile as, say, Daniel Goldhagen's quasi-racist ruminating on a supposed "eliminationist anti-Semitism" within the German volk. The incalculably complex confluence of historical twists and turns that culminated in this remarkable outcome for Albania and its Jews, could have, with a sway here or a tilt there, culminated in the barbarism that engulfed the rest of Europe.
Does this in any way undermine the Albanian achievement? Absolutely not. Albania saved its Jews, and that's what matters. Indeed, if a country's worth were determined by its treatment of those in peril, then Albania would be rightly regarded as one of the wealthiest nations on this poverty-stricken planet of ours.
Sokol Solomon Pirra's jewelry shop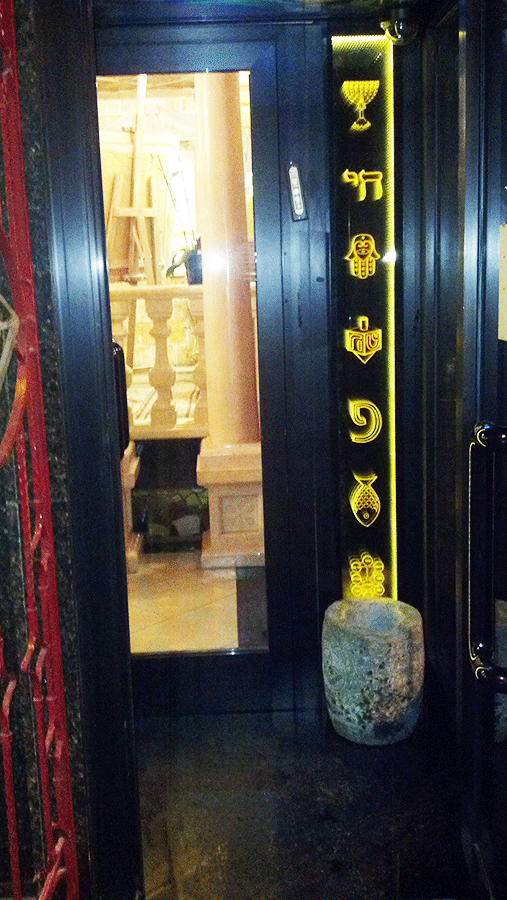 The Pirras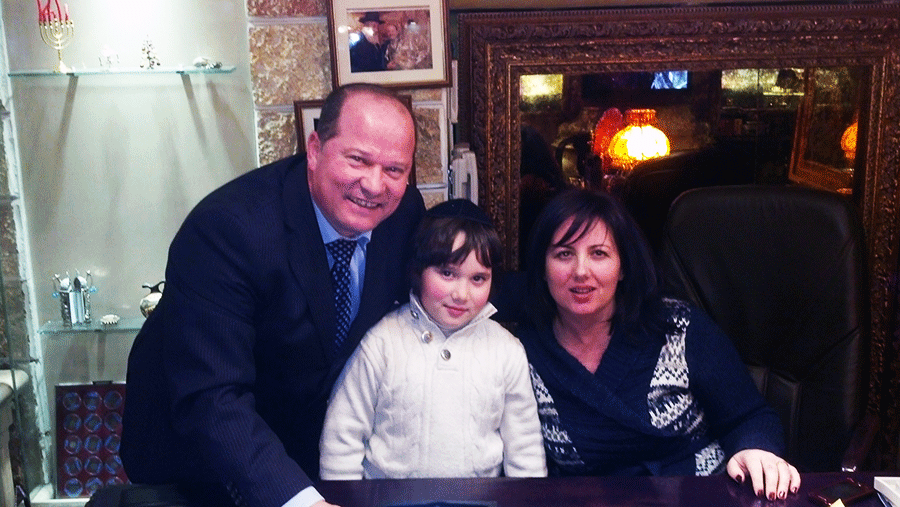 I met Solomon again the next day, at a hotel café a few doors down from his shop, just across the street from the Hoxha villa. At one point, he gestured out the window to an elegantly dressed woman just walking into the hotel, the Hoxha villa looming behind her. "Do you see that woman? That's Enver Hoxha's daughter. I see her often, and she always gives me a big 'Shalom Solomon!'."
It's difficult to describe what I felt at that moment. Thinking back to my college days reading about the fascist monster Hoxha who sealed the borders, imprisoned dissenters—both real and imagined—en masse in the gulags, completely outlawed religion in 1967 and declared Albania the world's first atheist state, and who broke with the Soviets because of Kruschchev's post-Stalin thawing, and then broke with China as it softened after the Cultural Revolution, and here was the man's daughter, Pranvera Hoxha, casually walking down the street in an elegant mink collar, right in front of the building she long called home during the protracted era of insanity, her father unleashing his furious rage on his people. Her childhood home is now a children's English language school on its ground floor, a swanky restaurant upstairs. What must she feel as she passes by, day after day?
Albanian church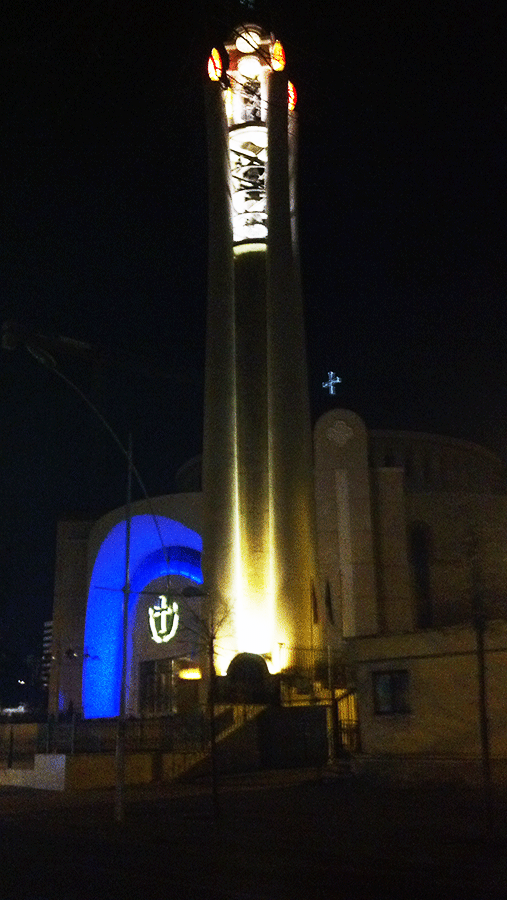 State Museum on Skanderbeg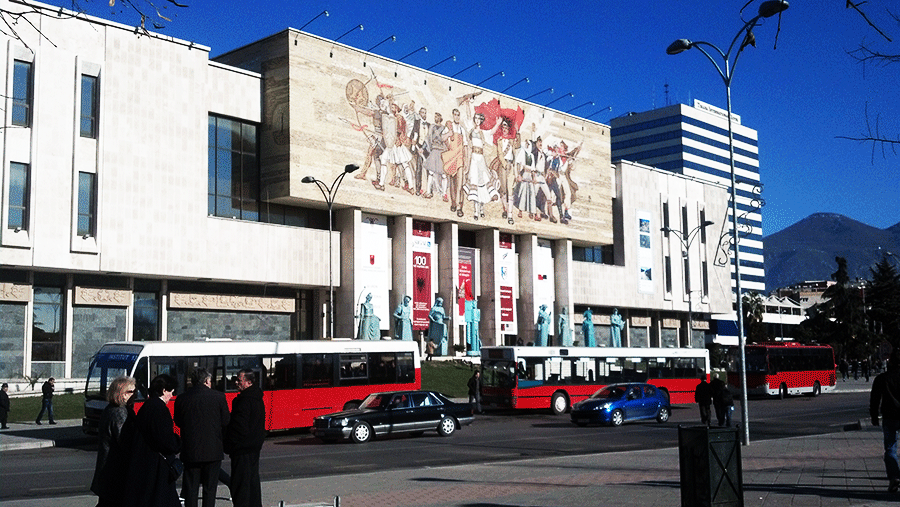 Stairway in the International Hotel, seen in Gianni Amelio's remarkable 1994 film "Lamerica"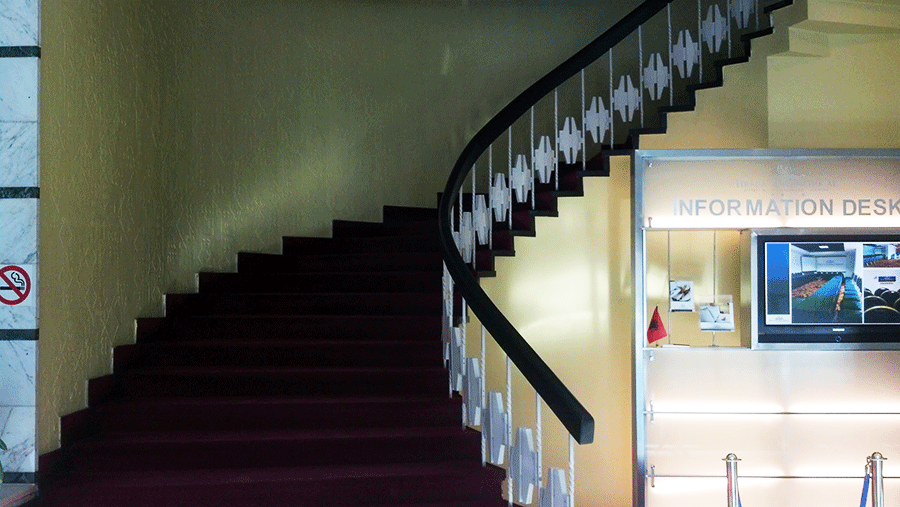 Skanderbeg Square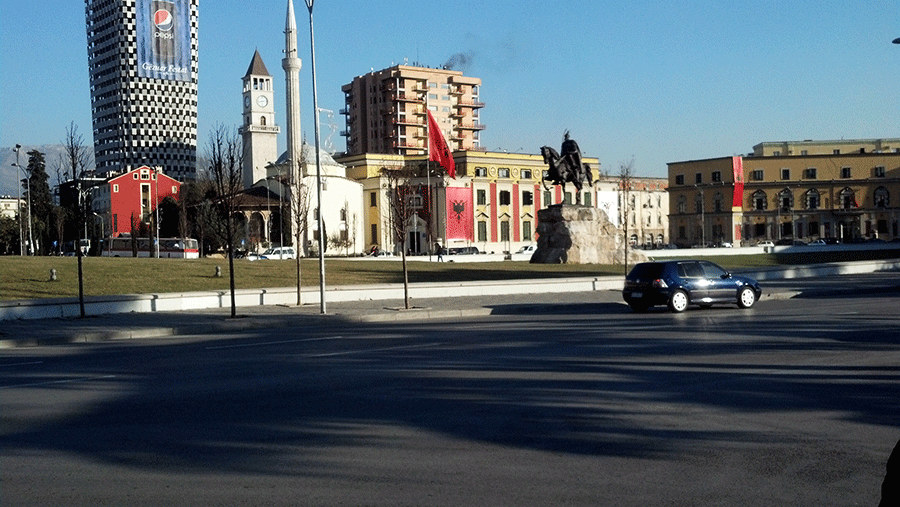 Open Market, a few minutes from Skanderbeg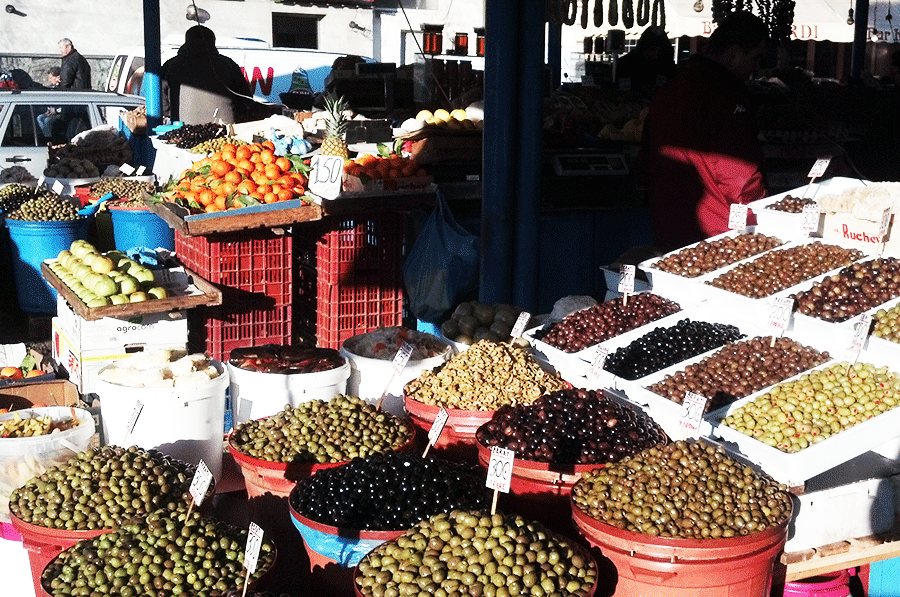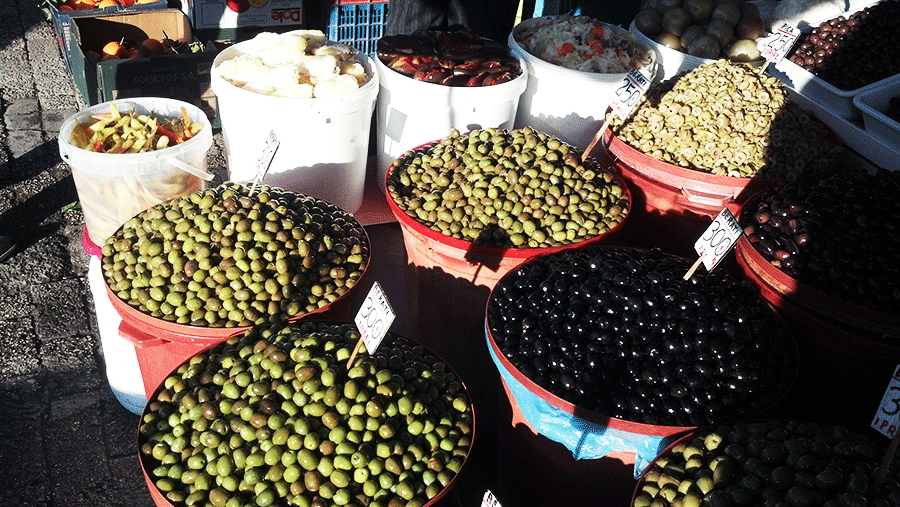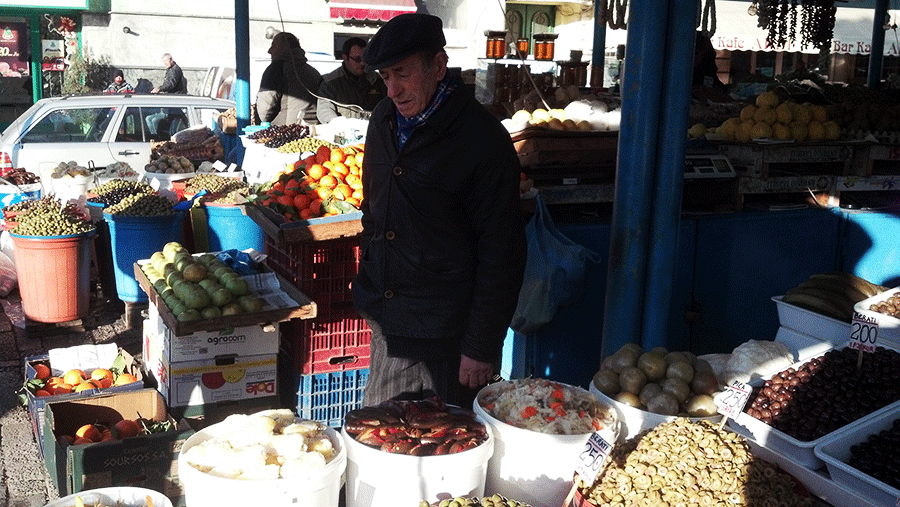 Oops, no one's perfect!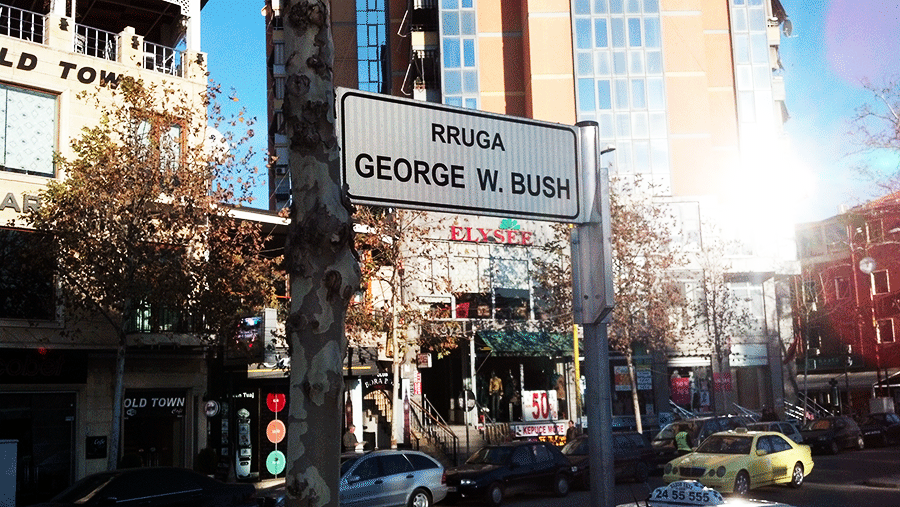 A truism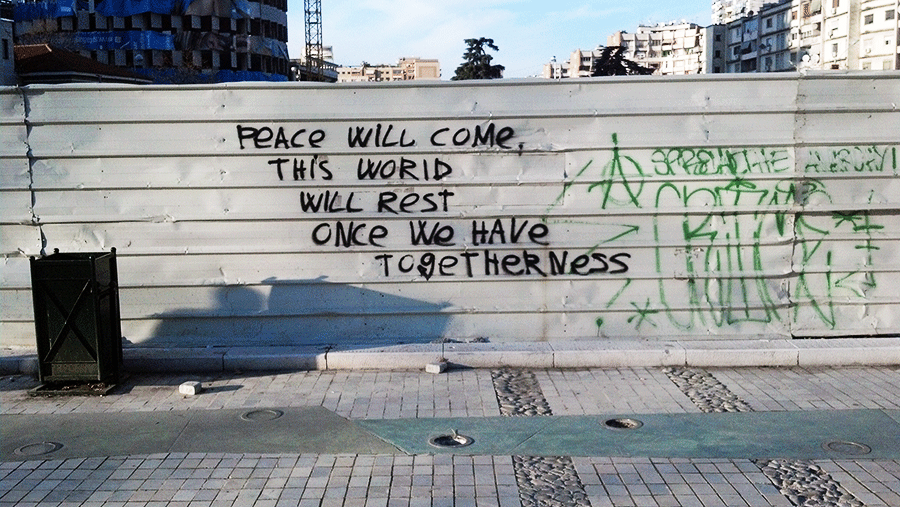 Ottoman-era bridge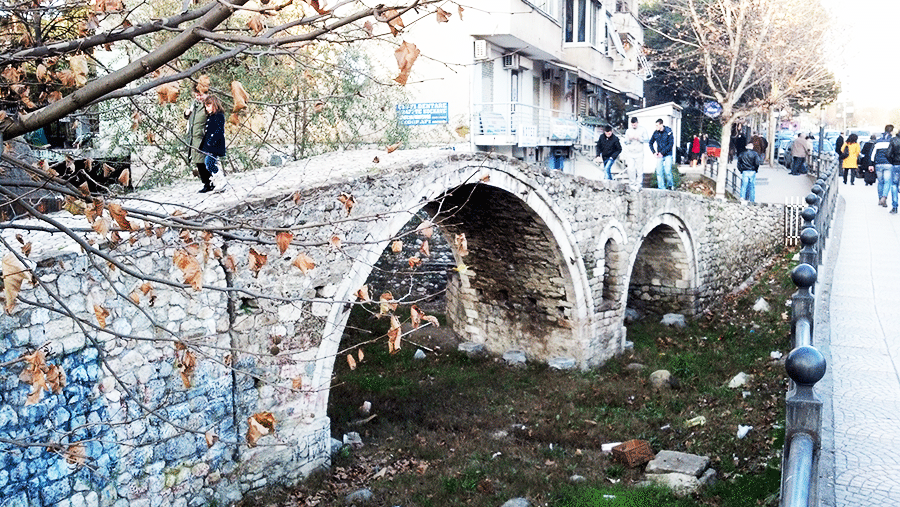 state buildings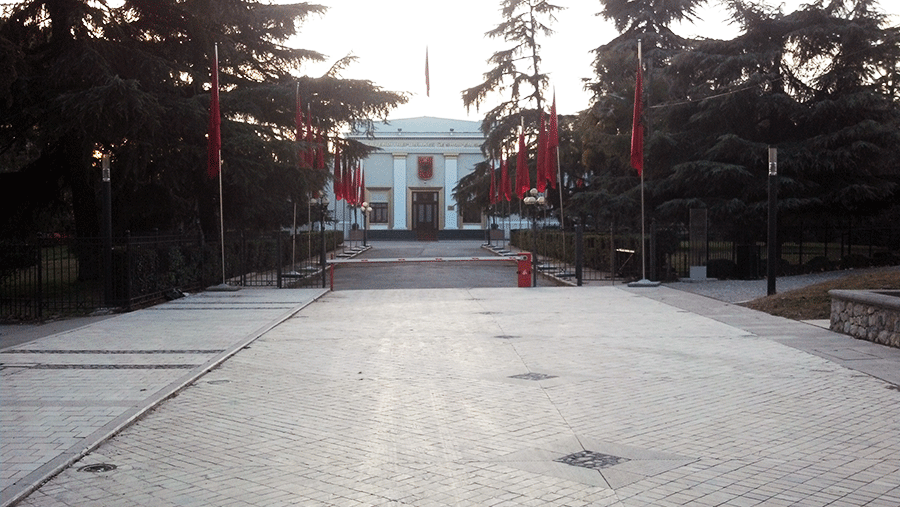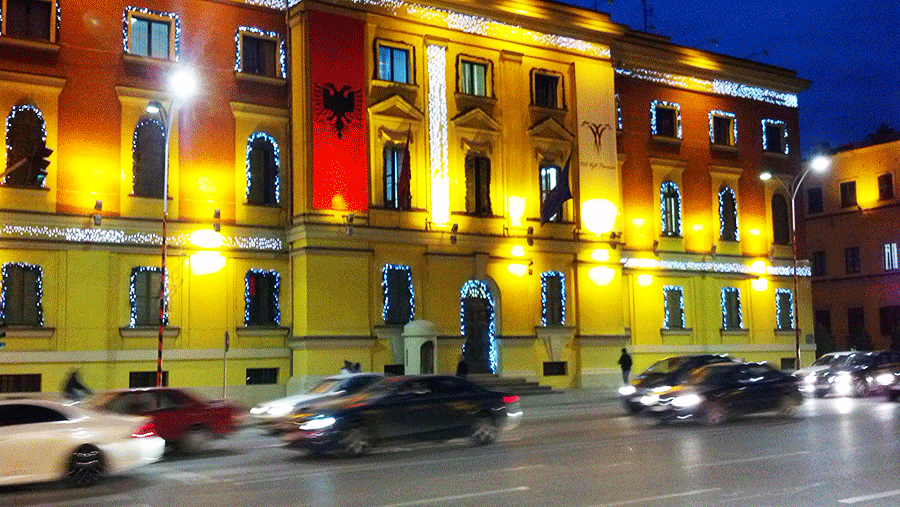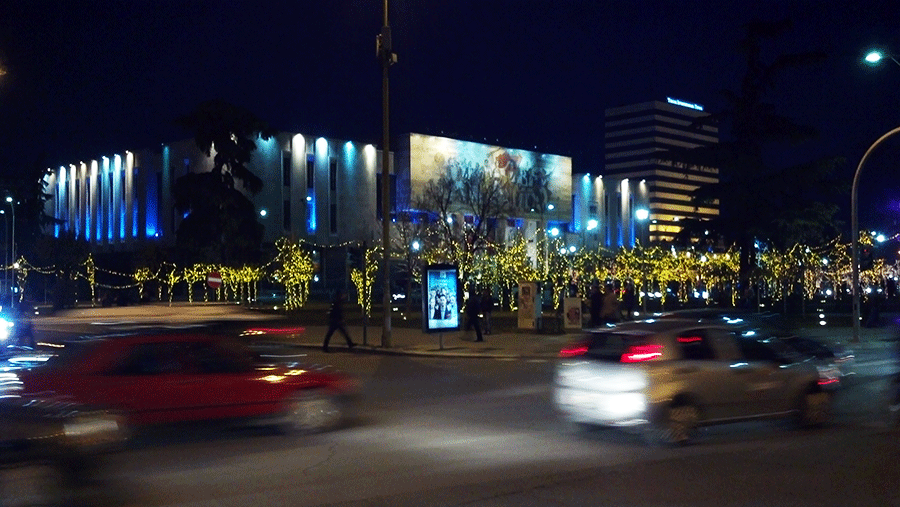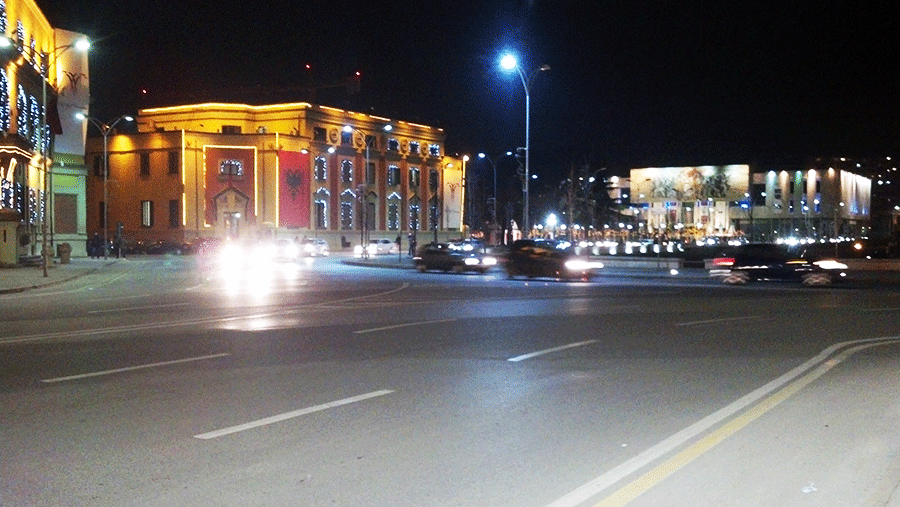 Craft market at night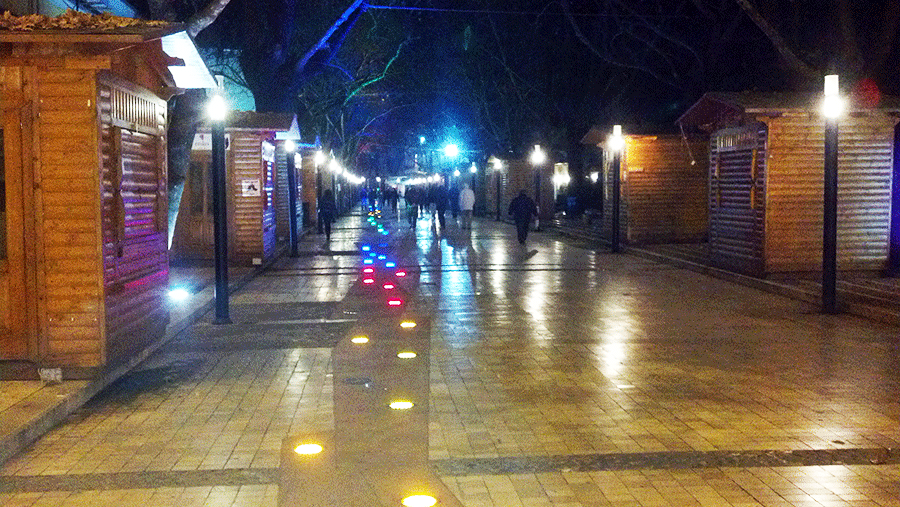 Next day, Berat, which was absolutely beautiful. Solomon had called ahead and set me up in the lovely Mangalemi Hotel at the foot of the old town. Berat is a genuine museum-town, with spectacularly lovely whitewashed homes that crawl up the hillsides to the castle area, itself an inhabited neighborhood. I ate at the Onufri restaurant on the castle mount, named for a famed Albanian icon painter whose works were on display in a nearby church. Adrian, my host at the restaurant, was a friendly guy who now lives in Portsmouth, coming back occasionally to visit and help out at home. I was served a delicious meal heavy on cheeses and vegetables and olive oil, and was charged a pittance.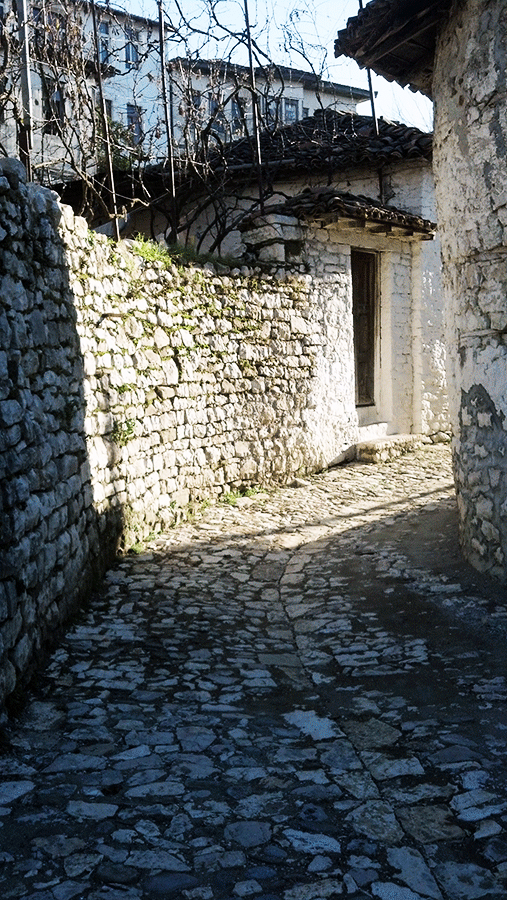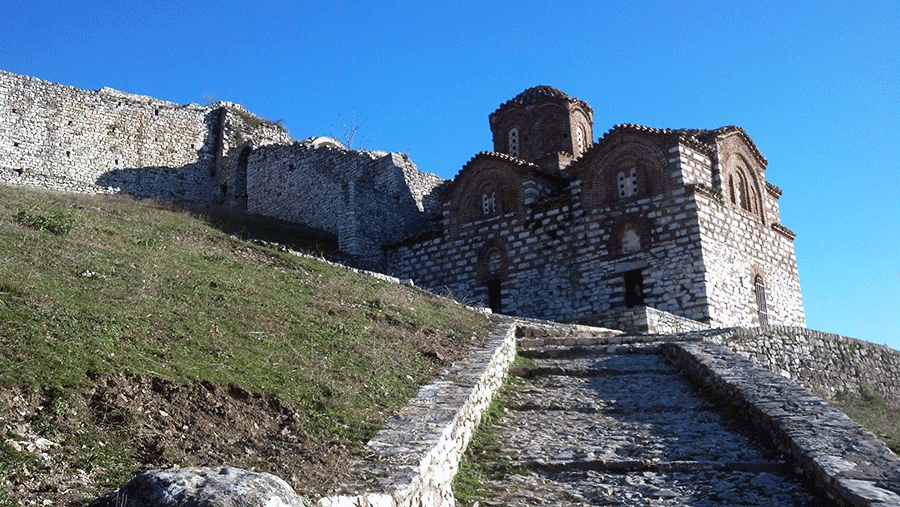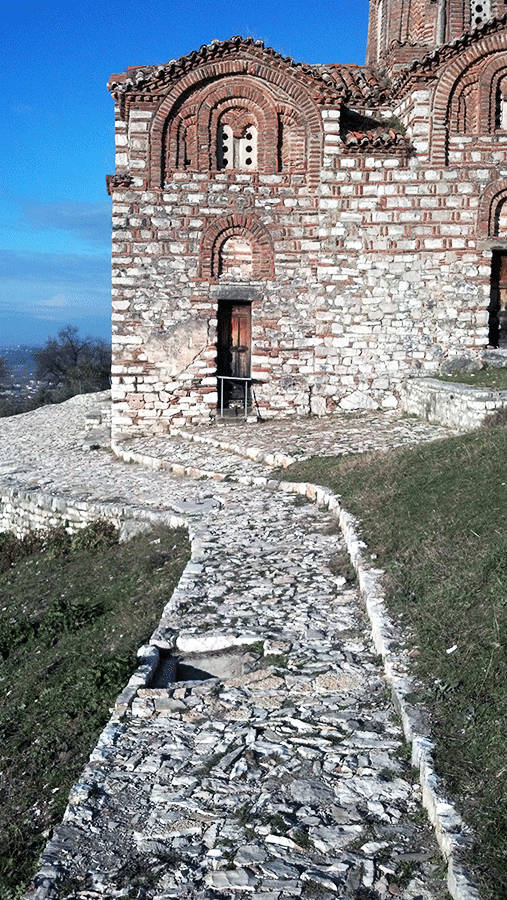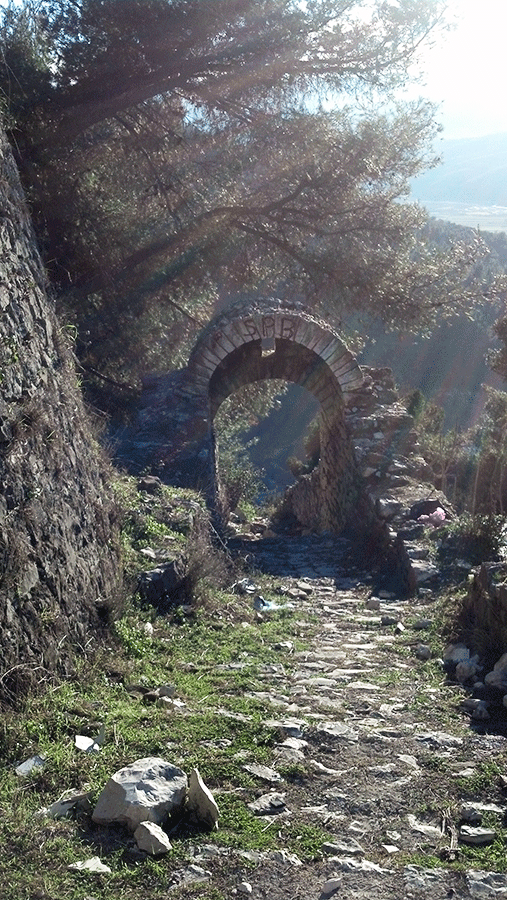 My unsolicited castle guide, Vasil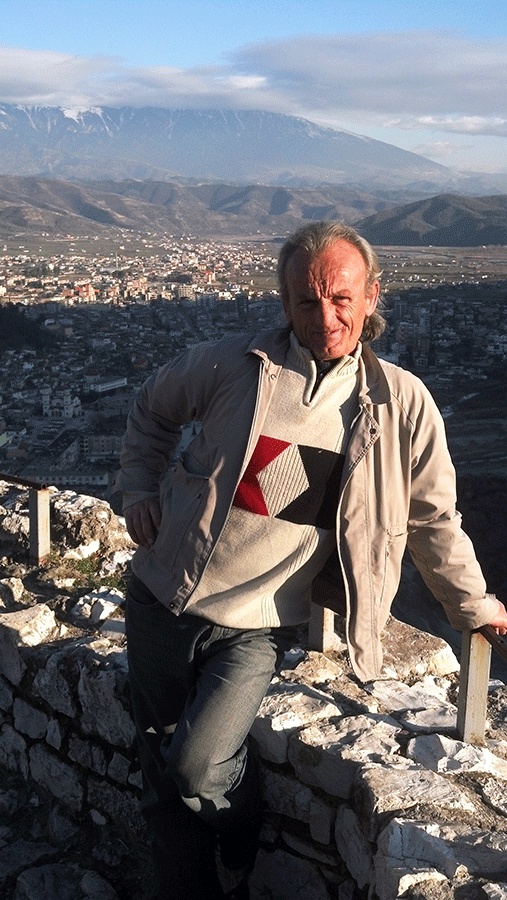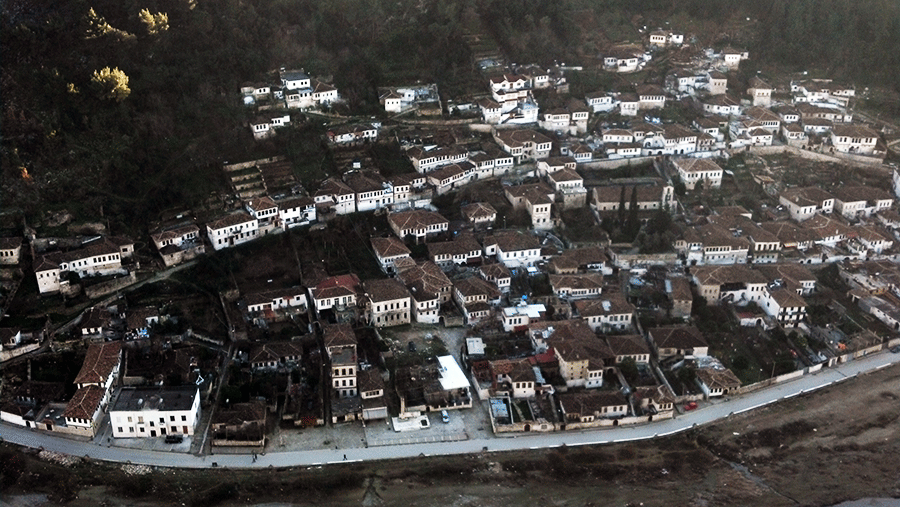 Berat at night...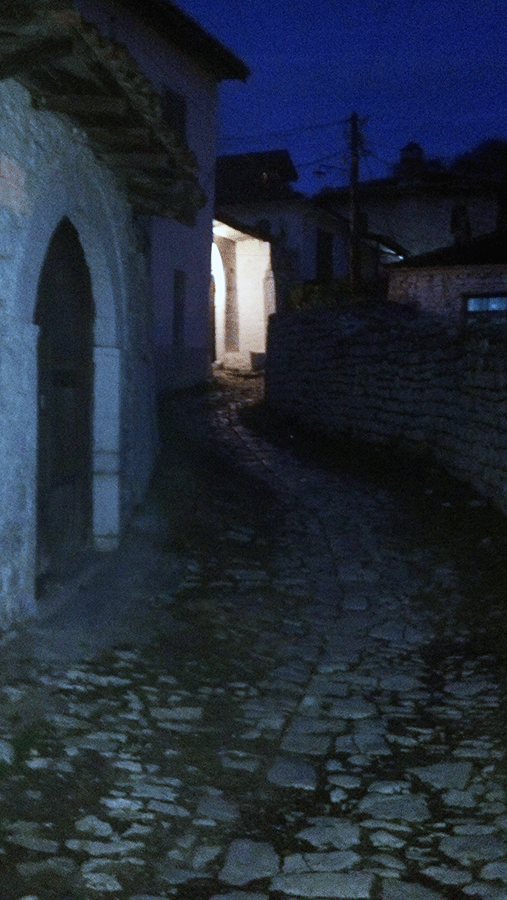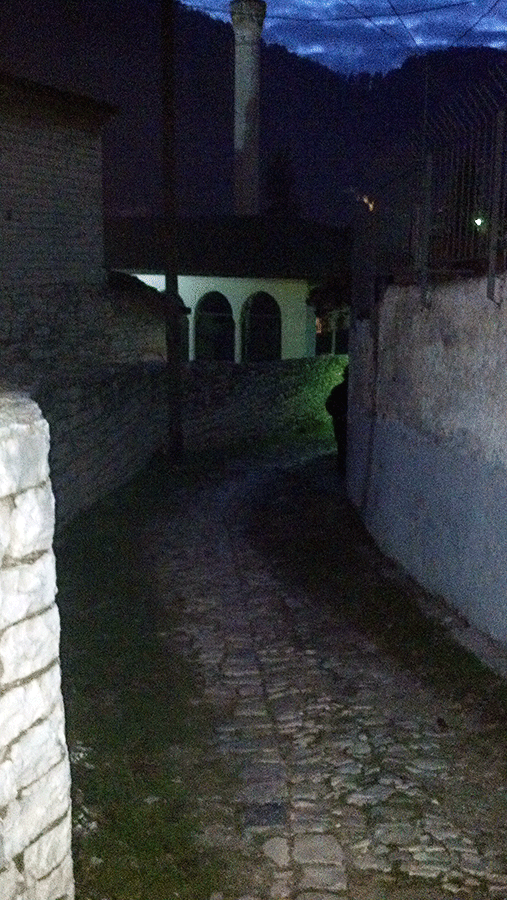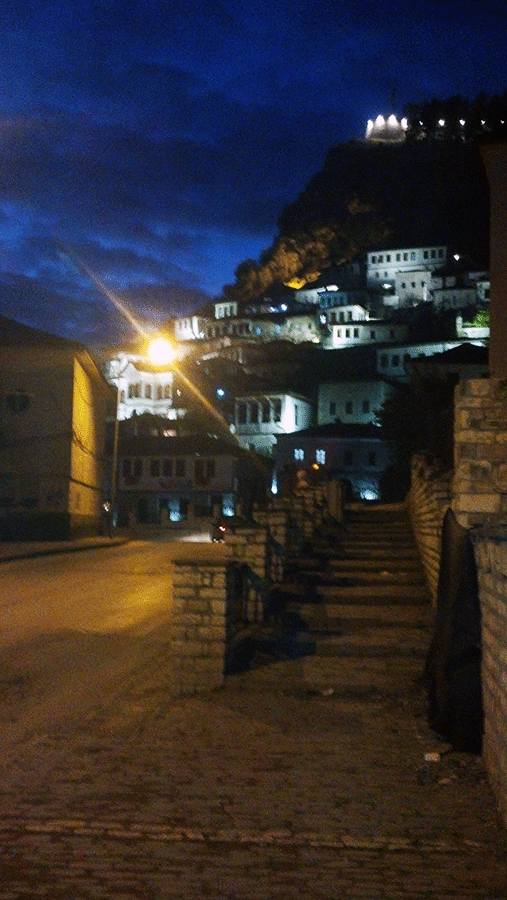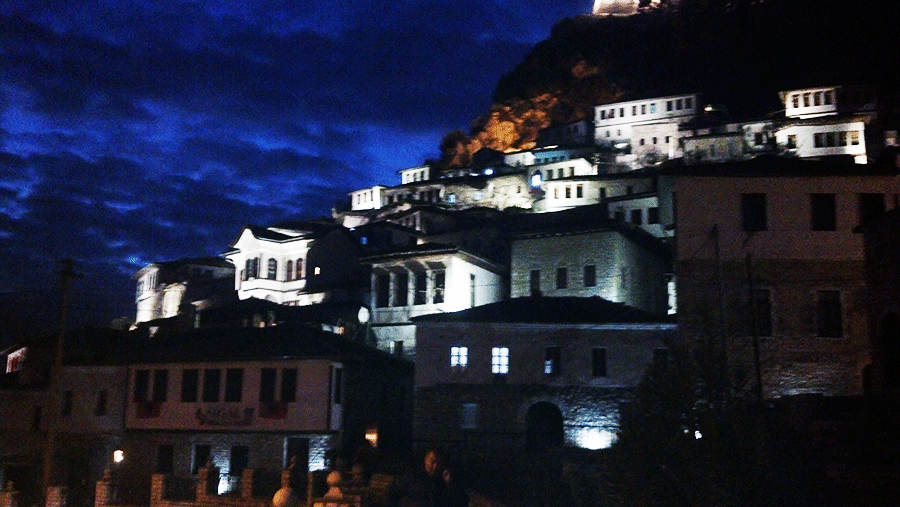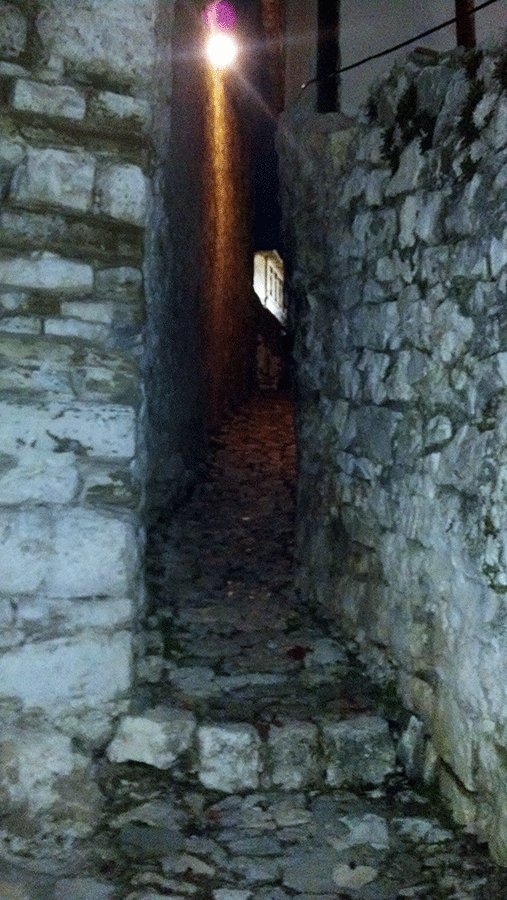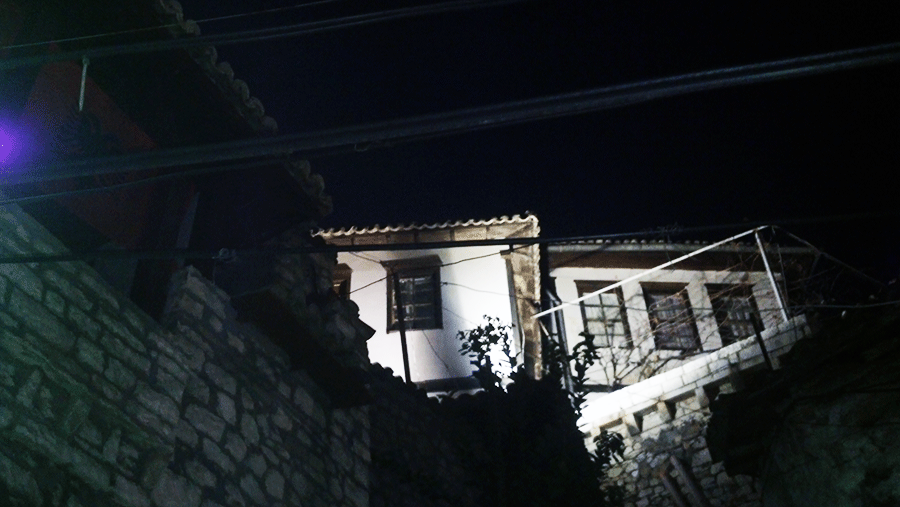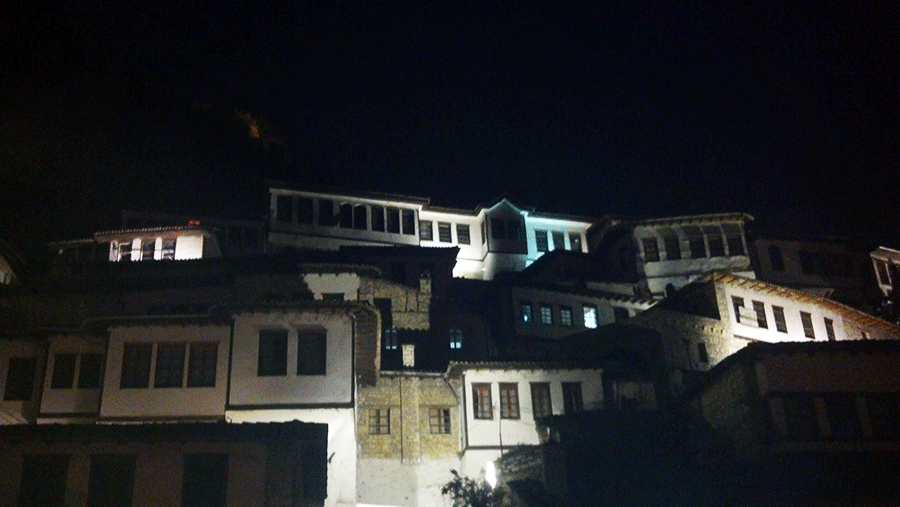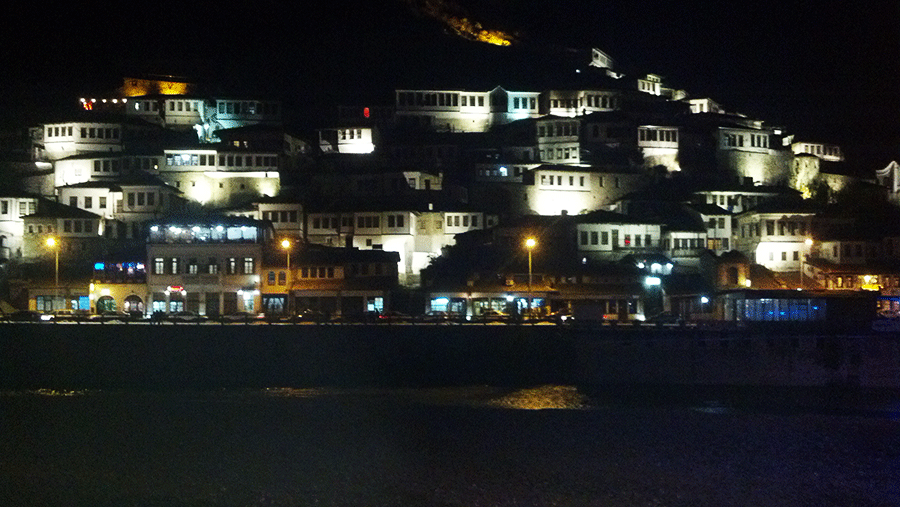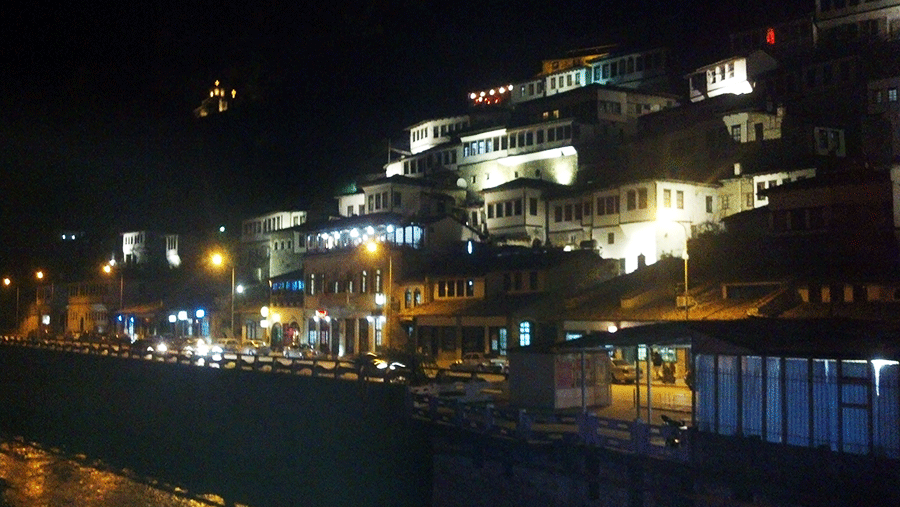 ...and in the morning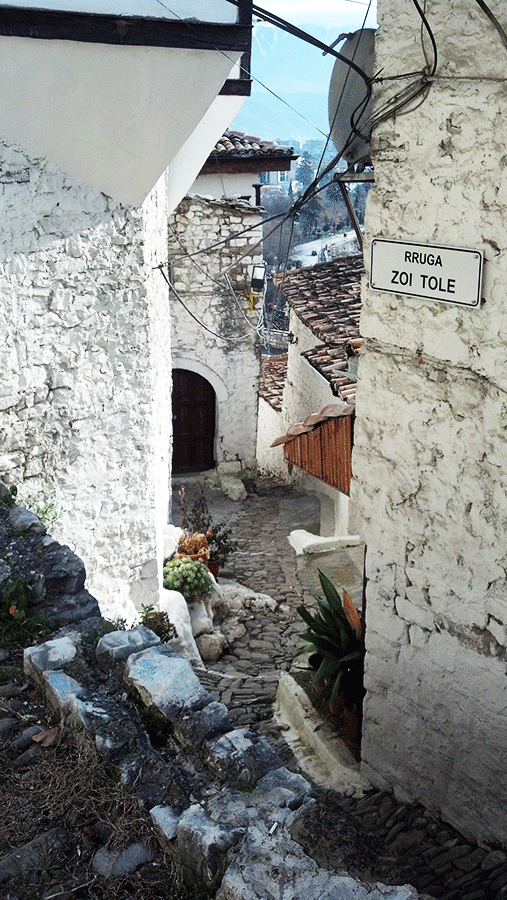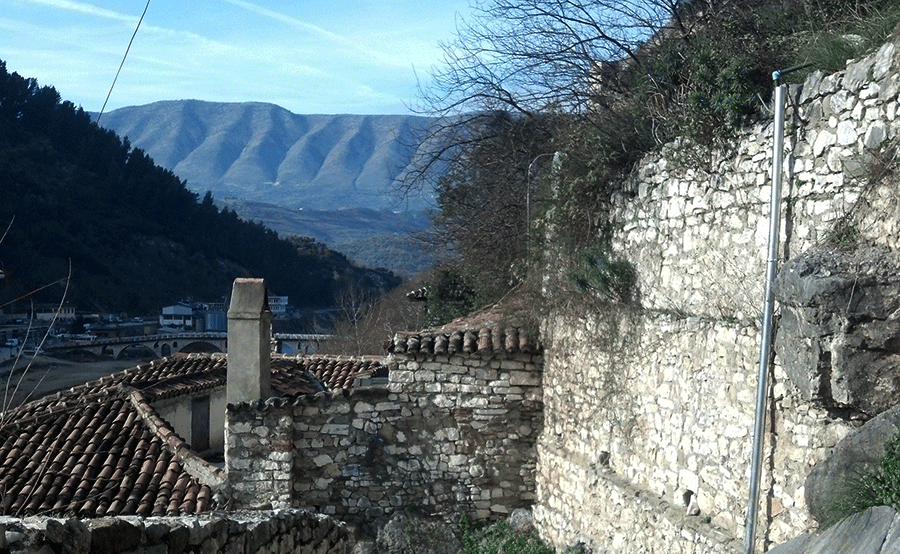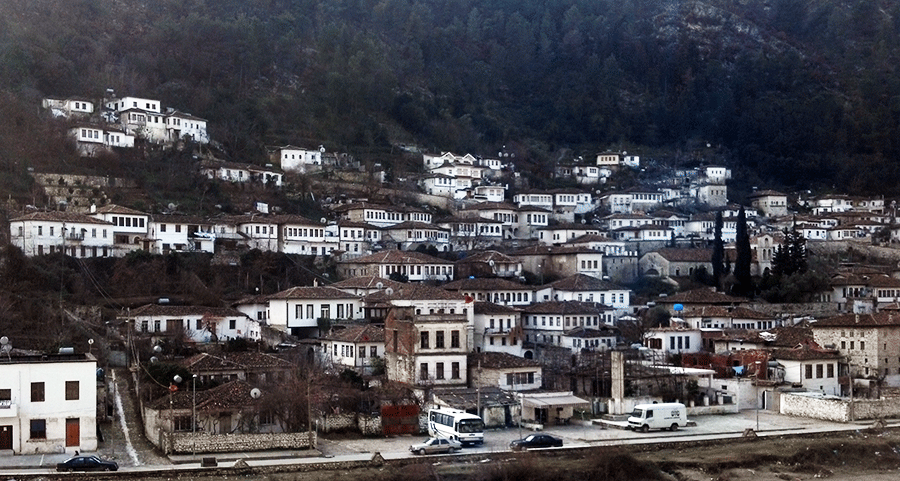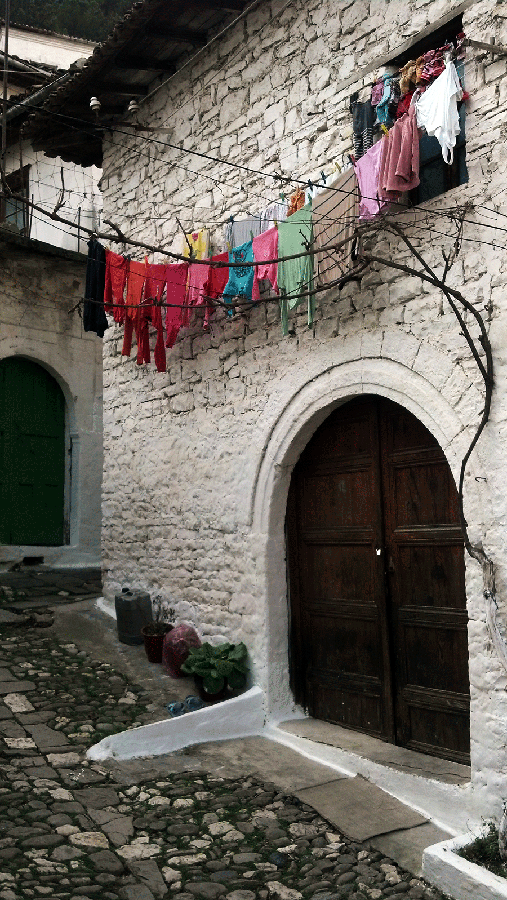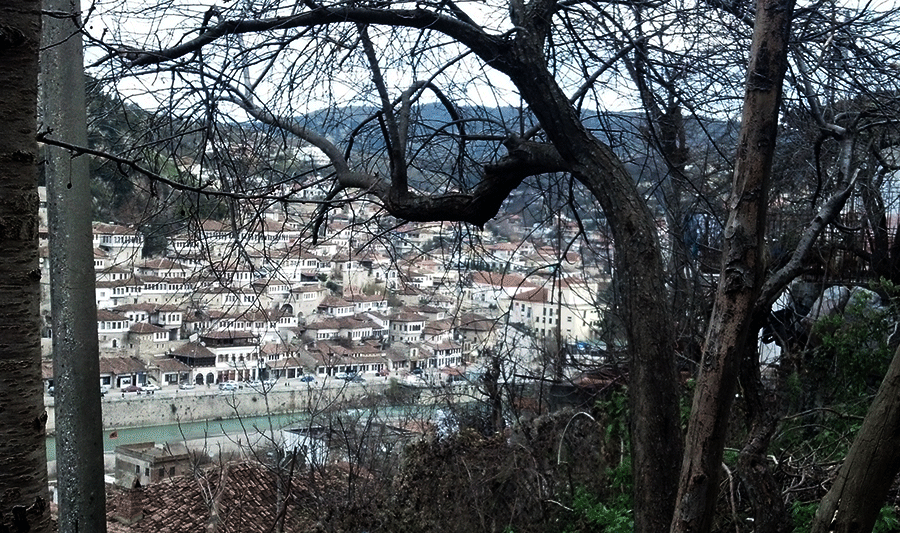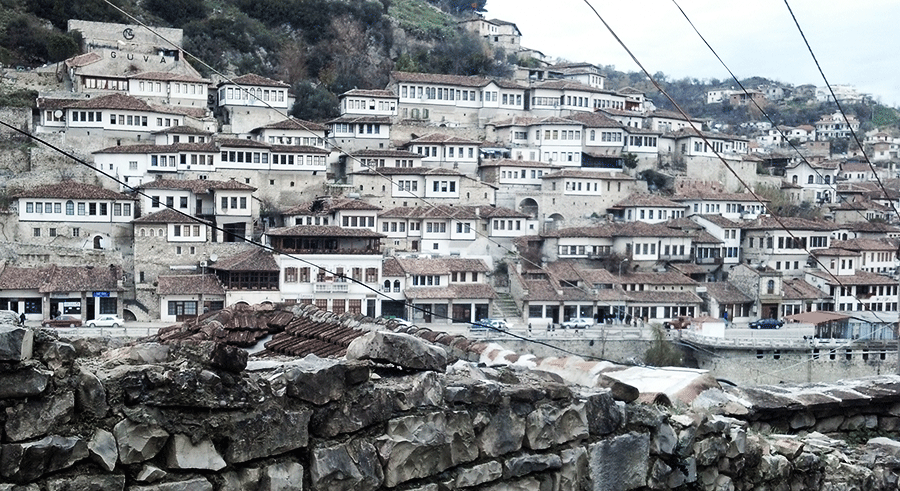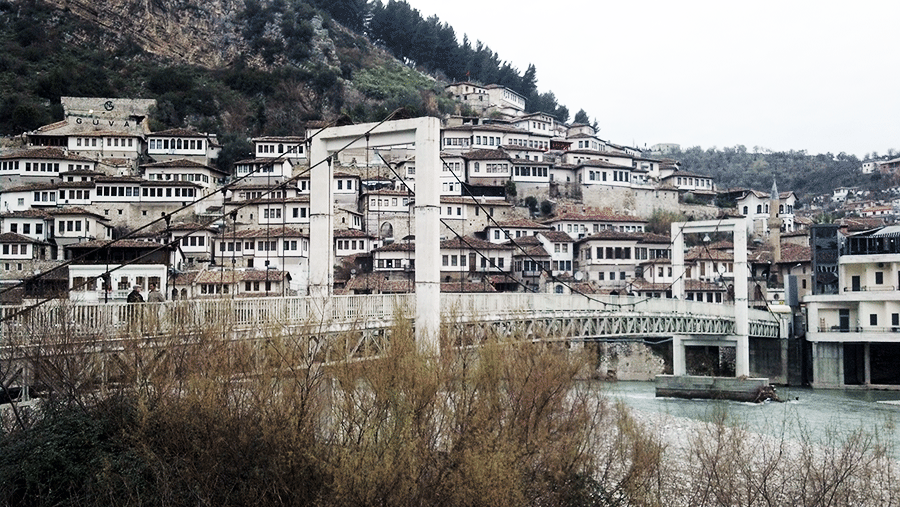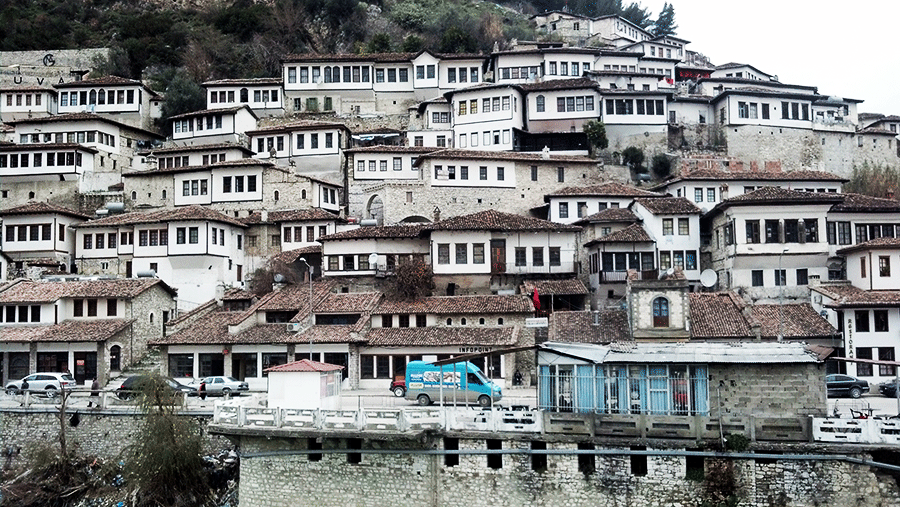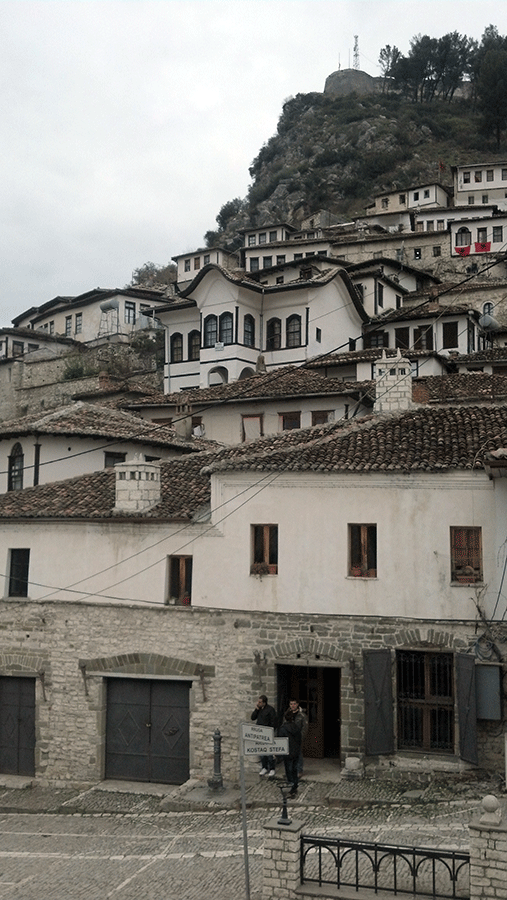 "Attacco di Cuore Albanese "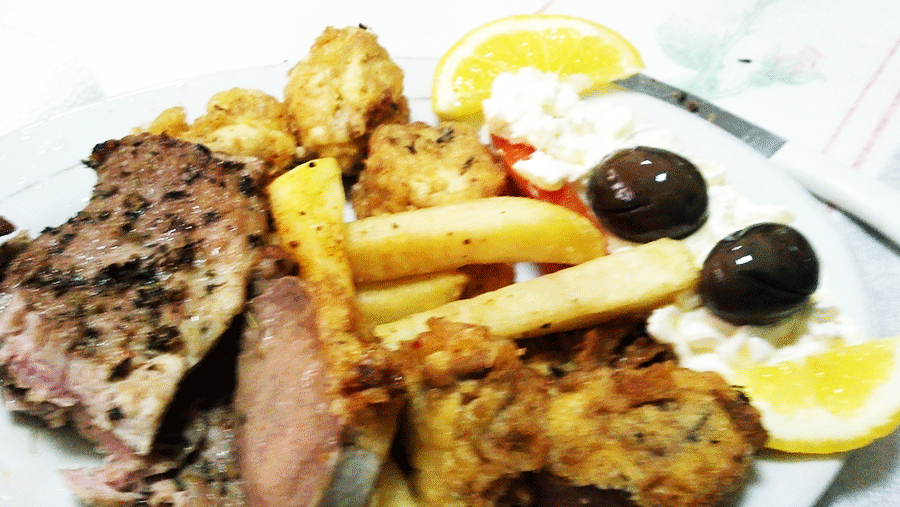 Bus ride to Gjirokaster
Inter-city travel in Albania is rough-going. I encountered no genuine highways. At best, the roads were well-paved two-lane affairs. At worst, they were nearly impassable with kishka-rattling bumps. The nadir of my four-and-a-half hour journey from Berat to Gjirokaster was our crossing the Vjosë River at Tepelenë on a bridge that looked to be built of matchsticks and chewing gum, with a surface so pockmarked I thought for sure we'd just fall through. Well, I'm here to tell the tale.
Turns out our bus driver, with whom I got to talk at our rest stop, had studied Italian literature and linguistics in college. Sitting in a rundown café in the remote Albanian mountains, storming outside, we had a nice chat about the history of Albanian. Pretty cool! "Now I'm driving a bus," he laughed apologetically.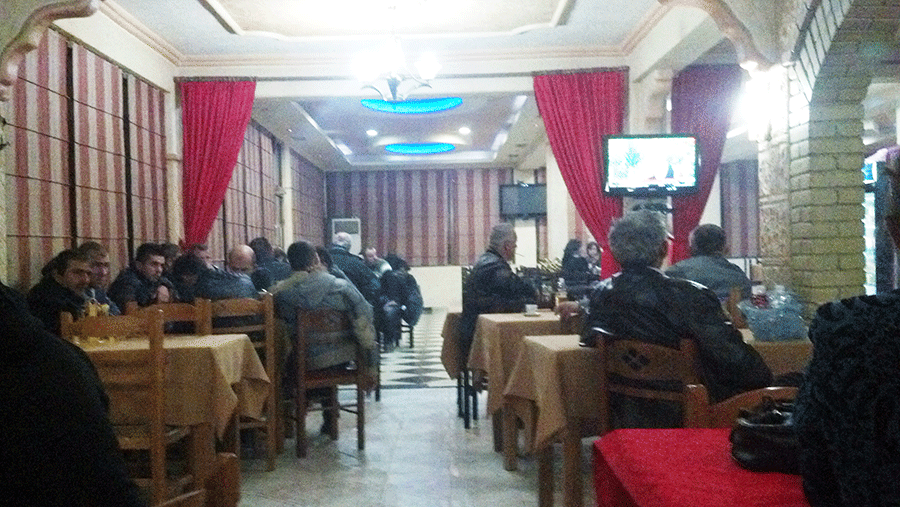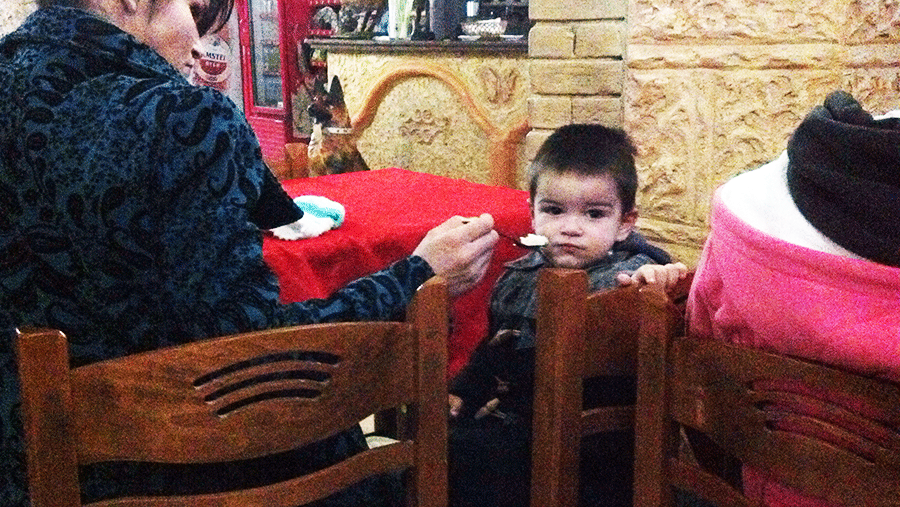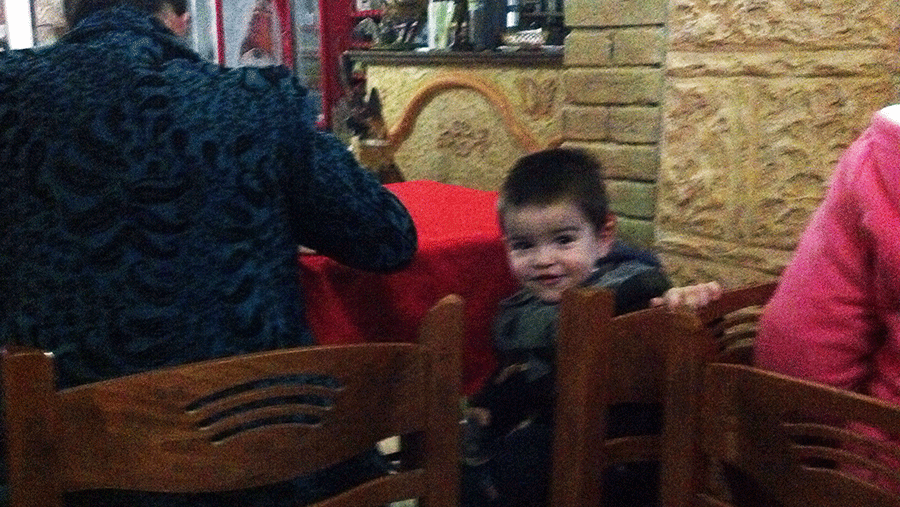 It was cold and rainy as nighttime fell. Arriving in Gjirokaster, I hopped into a cab (not my wont, not by a longshot, but the weather was miserable), and asked to be taken to Hotel Gjirokastra, again, a reservation set up by the incredible Solomon back in Tirana. We pulled up to a hotel and I was whisked into the room, and though the name of the hotel was not the Gjirokaster (it was "Kotoni"), the driver assured me it was one and the same place. It was only the next morning, when I walked around the corner and found the actual Gjirokaster Hotel, that I realized I had been scammed by both the driver and the Kotonis, who were clearly in cahoots.
Yes, I was scammed, and especially given Solomon's generous help, I was embarrassed as well. At the Gjirokastra Hotel, as I sat down for lunch, the owners realized immediately who I was (there were no other foreign tourists in town, or almost anywhere else in Albania, for that matter). They told me that Solomon had made several concerned calls to them when he checked and discovered I had not arrived that previous evening. I could not have felt worse at this situation: (1) I was scammed by the Kotoni Hotel, (2) I caused Solomon completely unnecessary concern after his remarkably generous help, (3) the Kotoni hotel stank of cat piss throughout its cramped confines and was an unpleasant experience independent of all else, and (4) The Gjirokastra Hotel was magnificent, with beautiful, tastefully appointed rooms of traditional design and absolutely breathtaking views of the old town, which I learned when the owner proudly showed me around.
I want to make this as clear as possible: when you go to Gjirokaster, stay at the Gjirokastra Hotel. Avoid the Kotoni Hotel (unless you like the smell of cat piss and/or feel compelled to support scam artists).
Gjirokaster is Albania's second museum-town. One might call it the tough-guy big brother to Berat's delicate, feminine refinement. Brutally rugged stone and slate homes of no fixed design crammed together up and down the steep hillsides—one home's roof another one's terrace—laced with spectacularly beautiful streets of striped black and gray brick all leading up to the castle perched out on a plateau, and then continuing on up the mountains to the Dunavat neighborhood, with its spectacular views down to the castle, and the modern city and valley beyond.
Still, I ultimately found it somewhat less striking than Berat as a consequence of the intermittent presence of more modern houses in the place of failing original structures.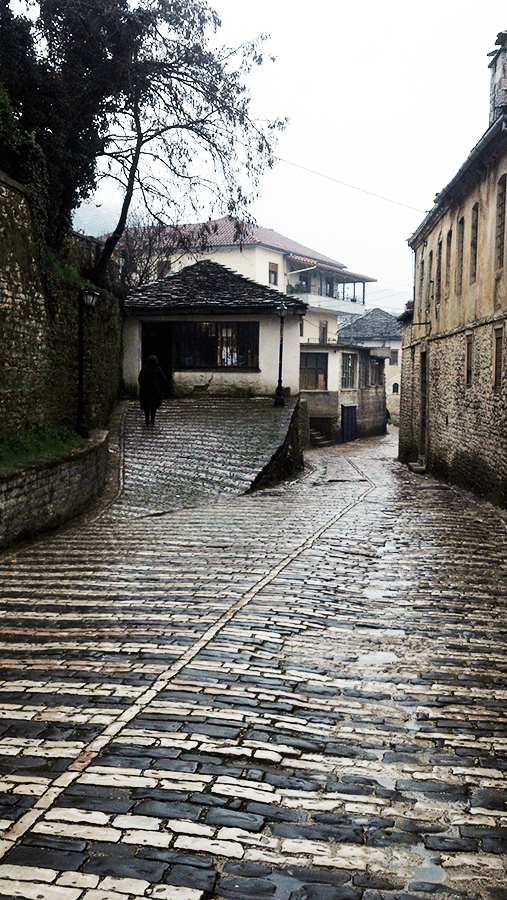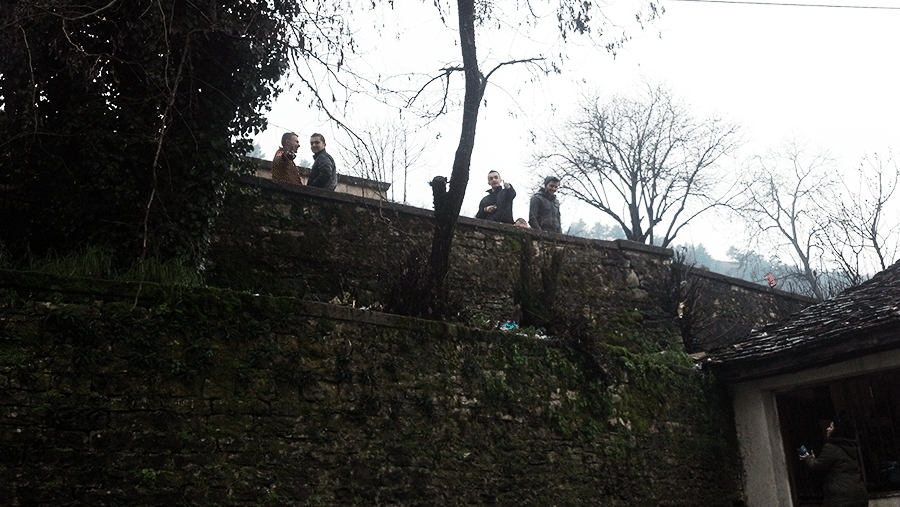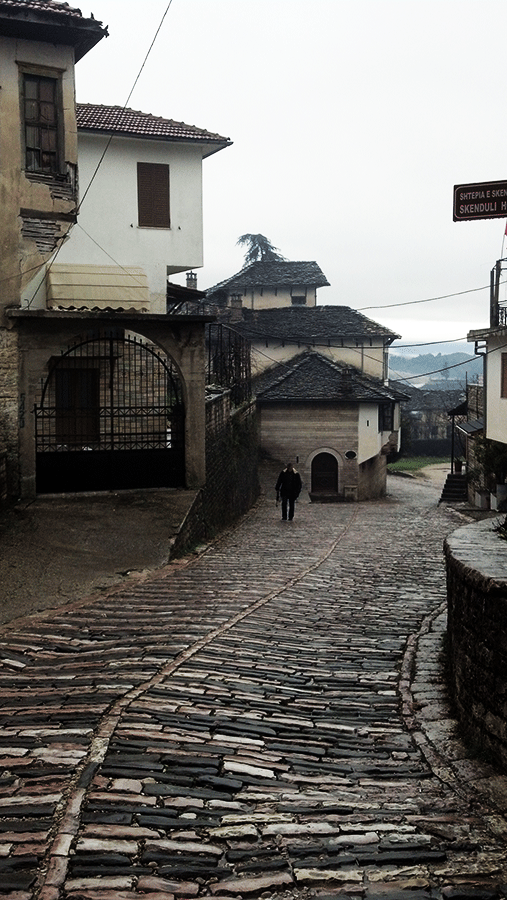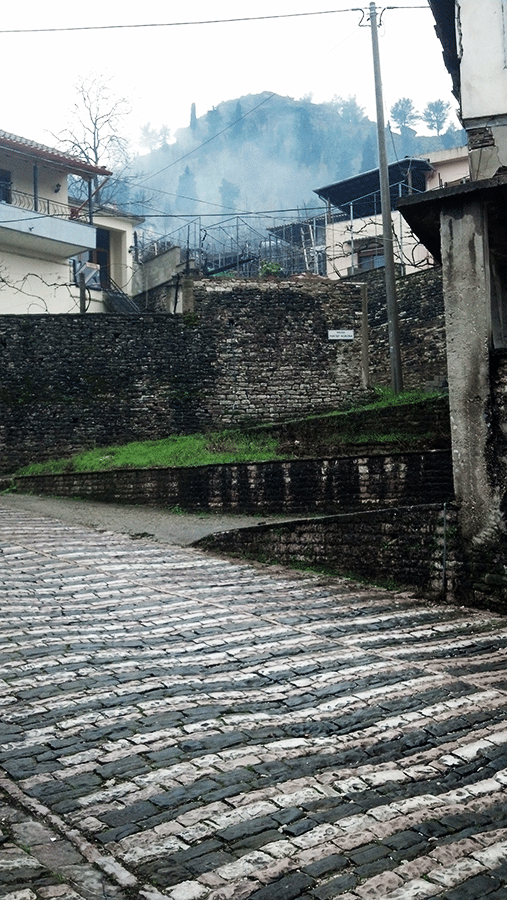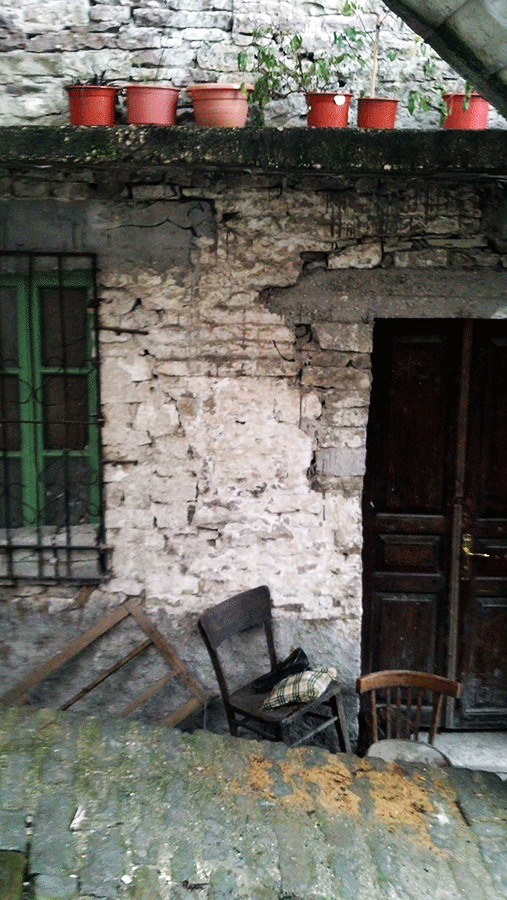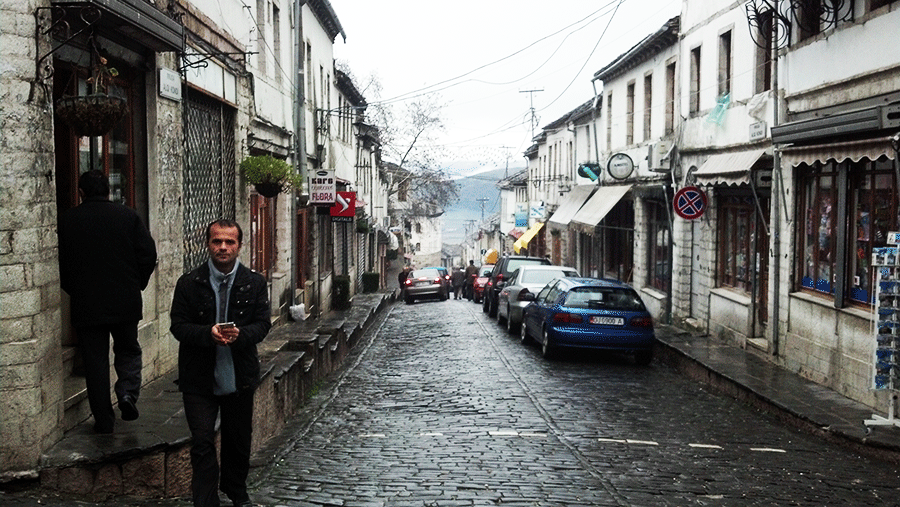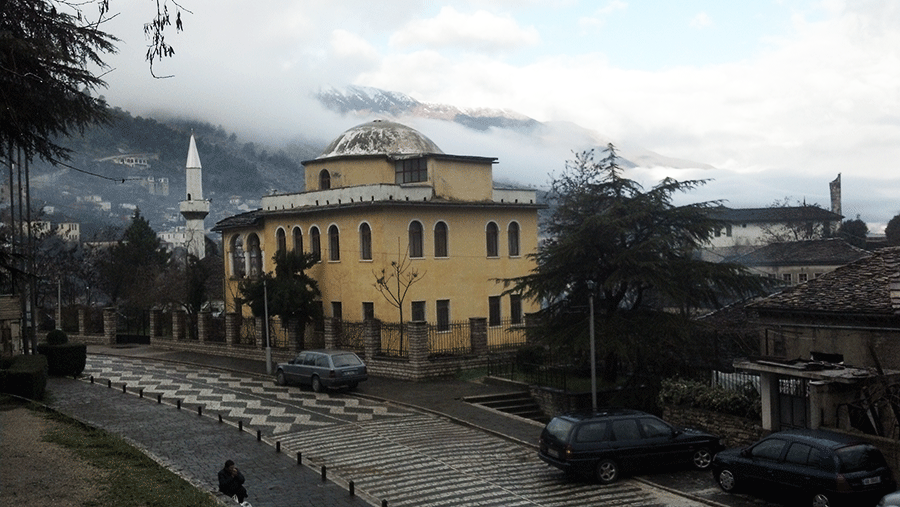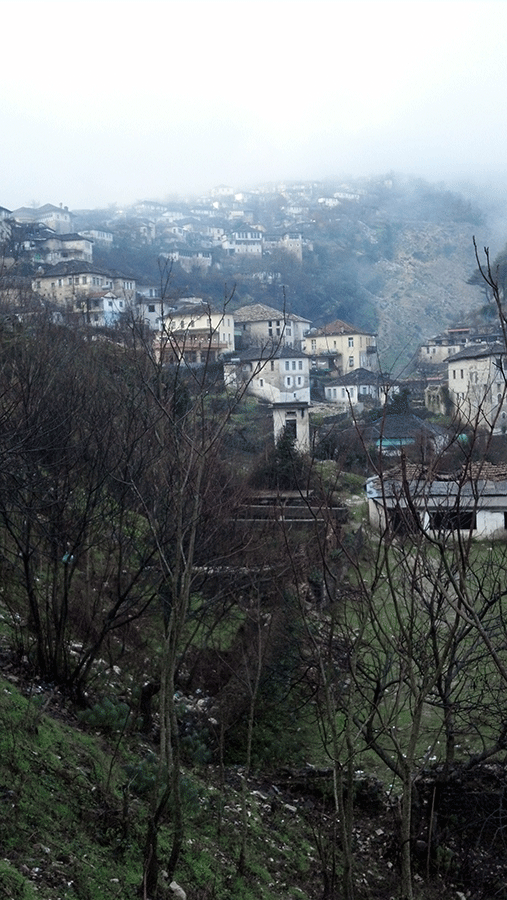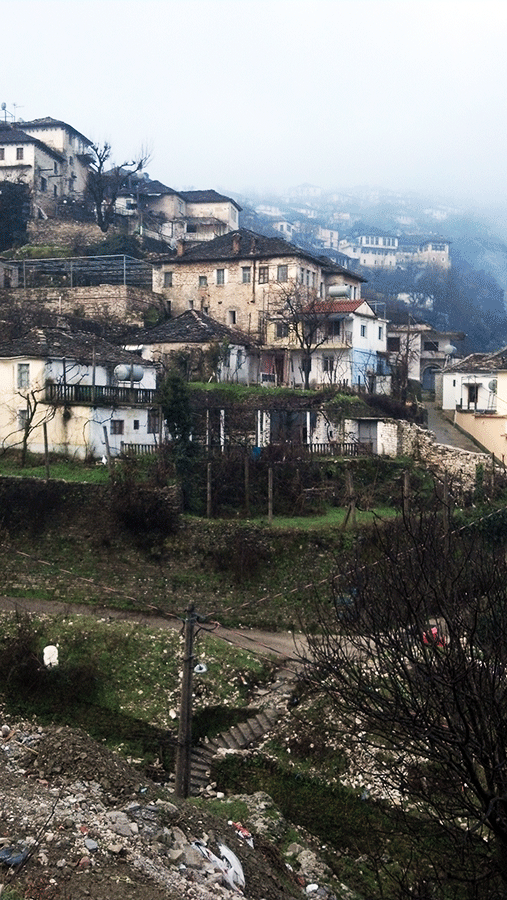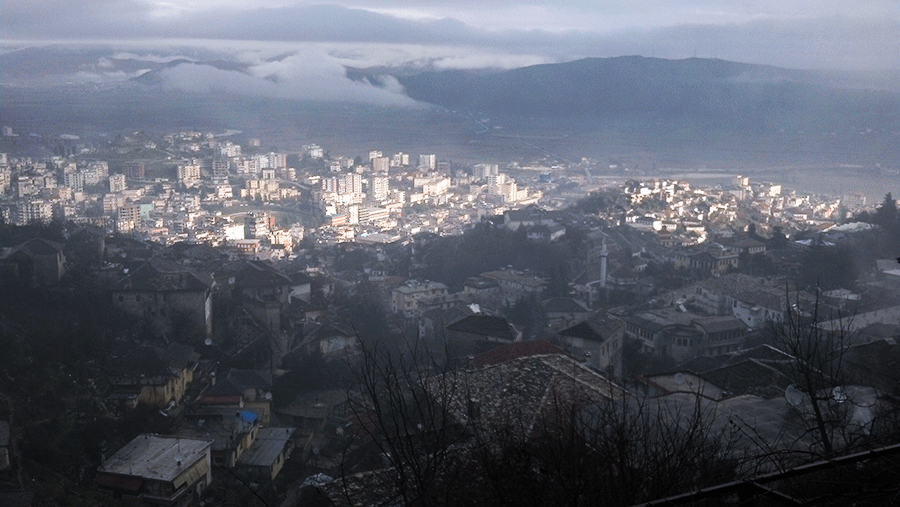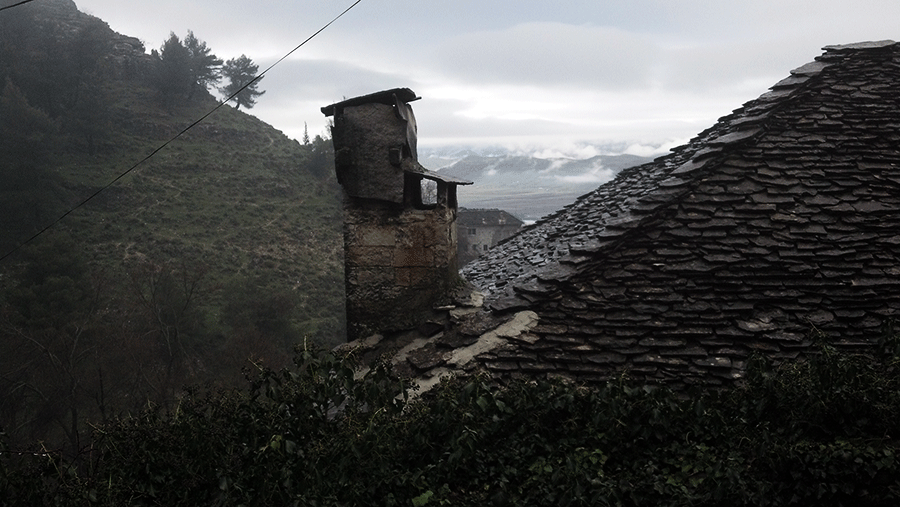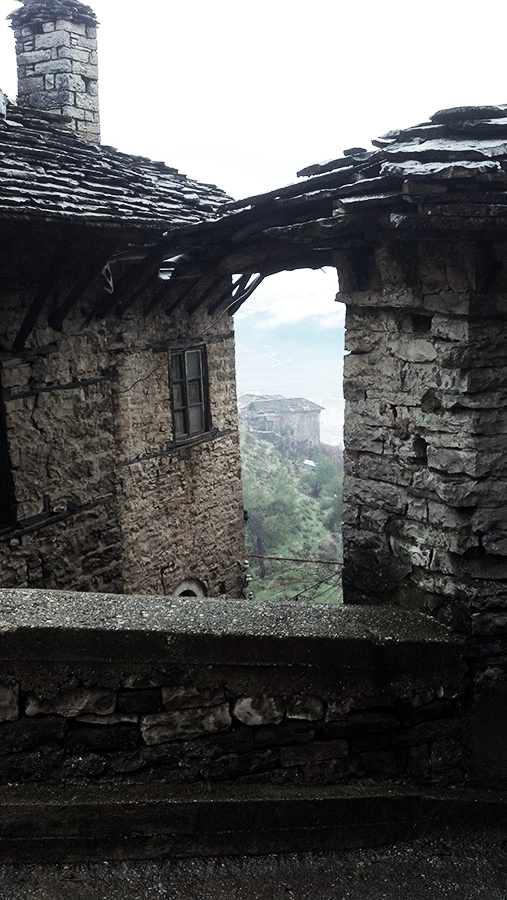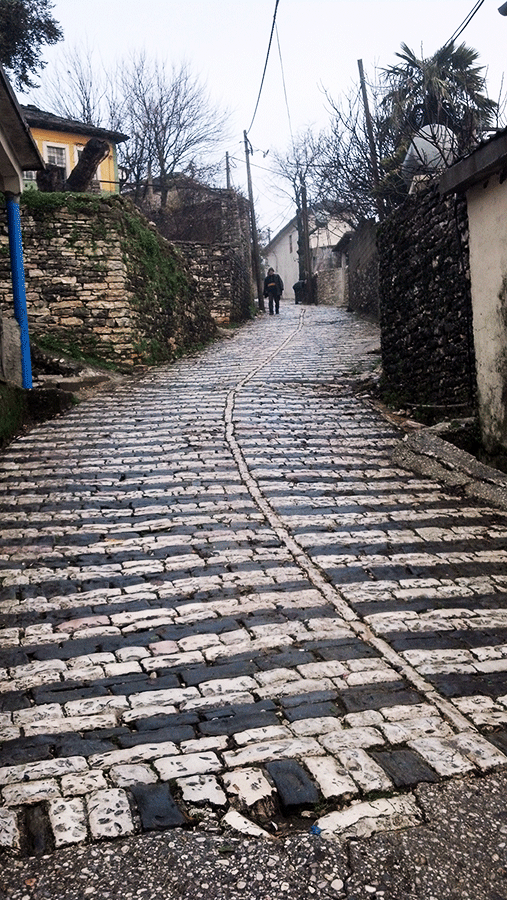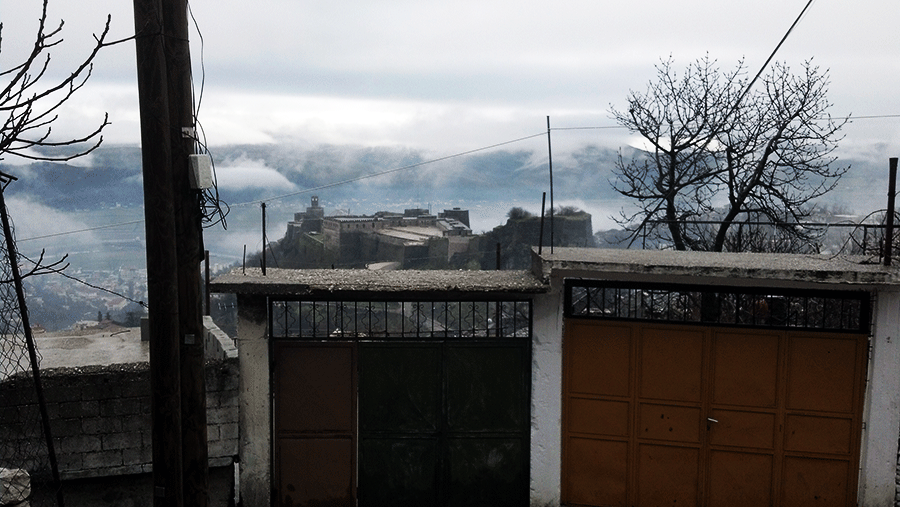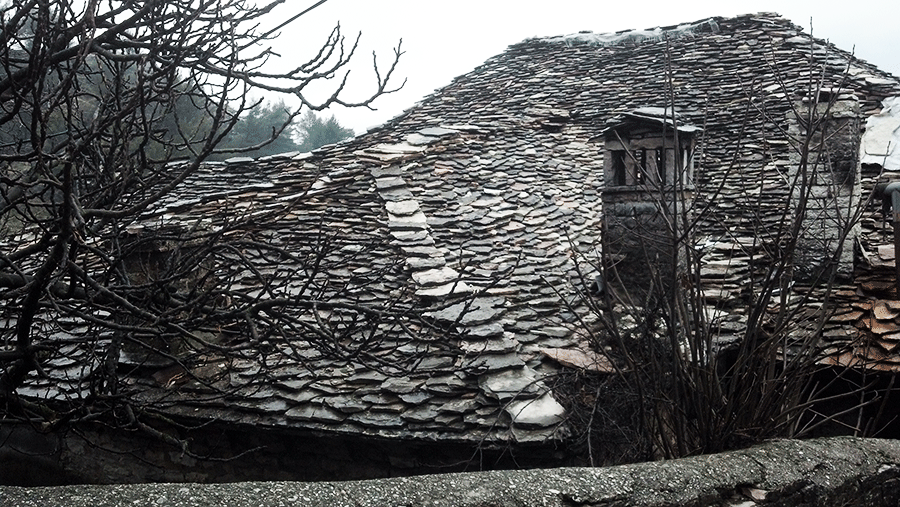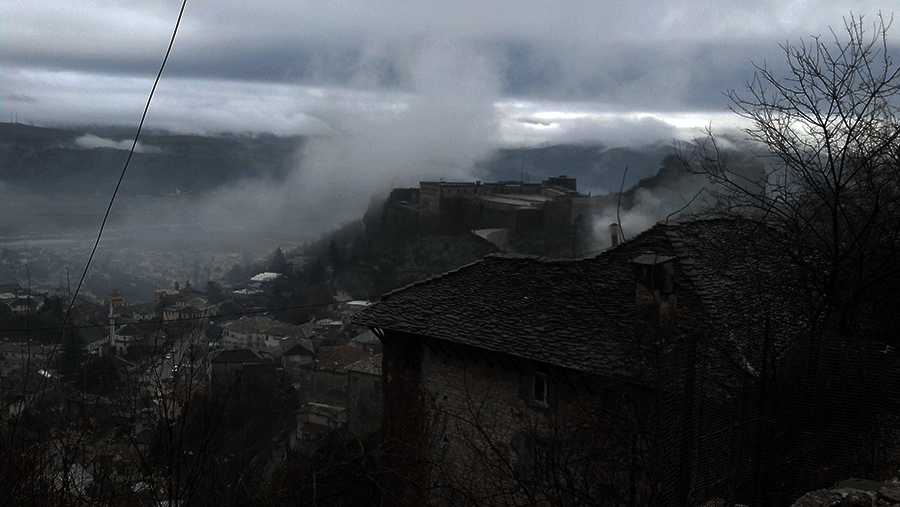 The castle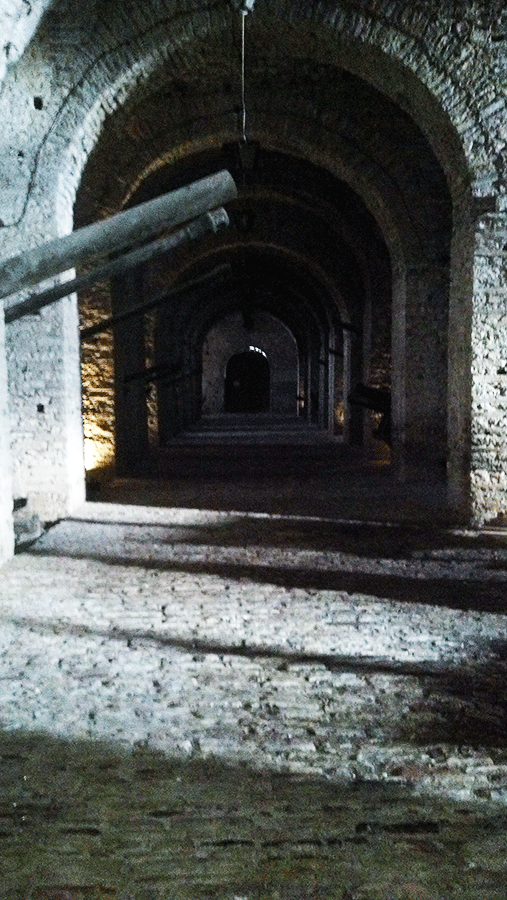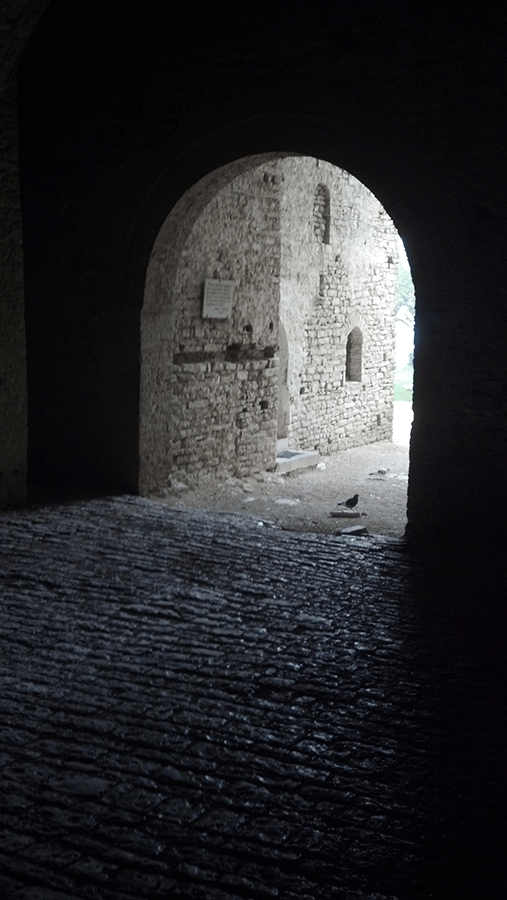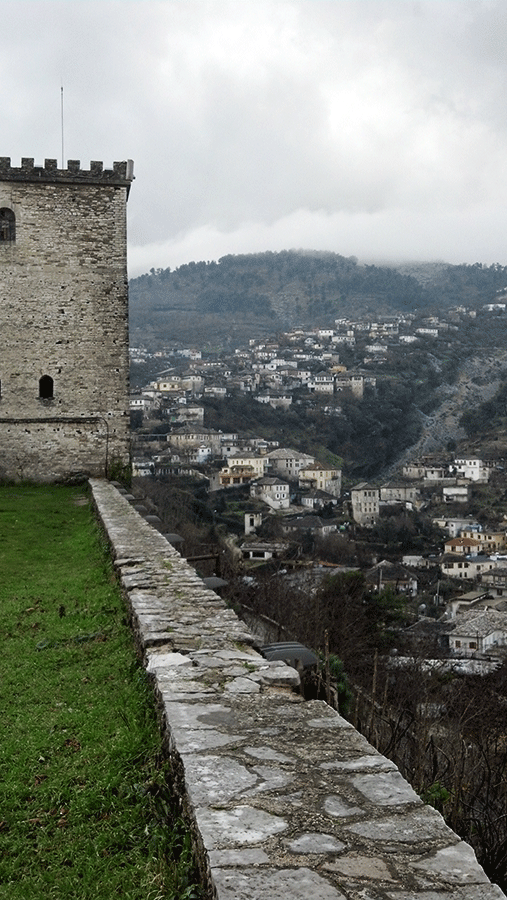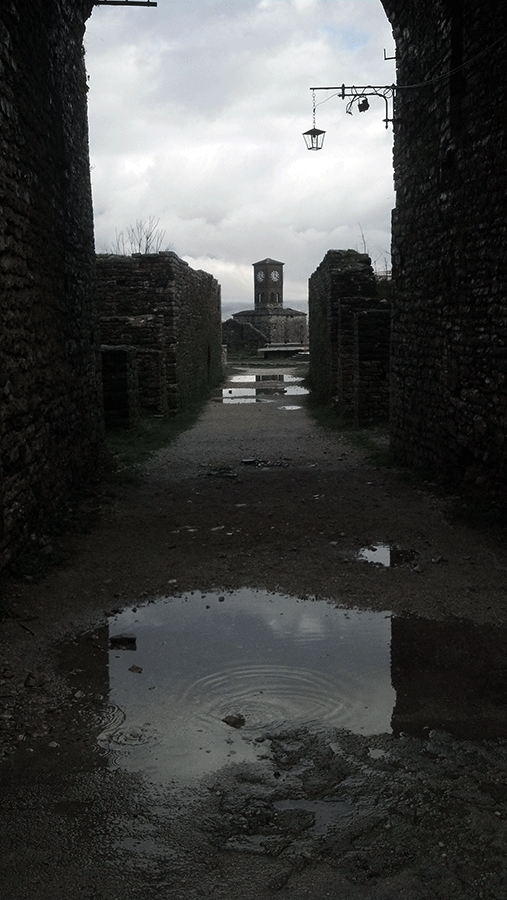 Folk Festival stage at the castle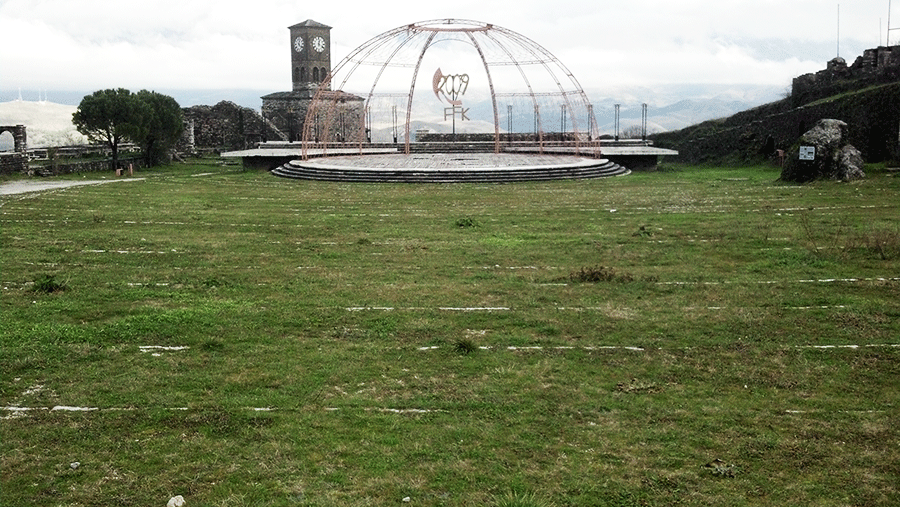 The crowd at my big solo performance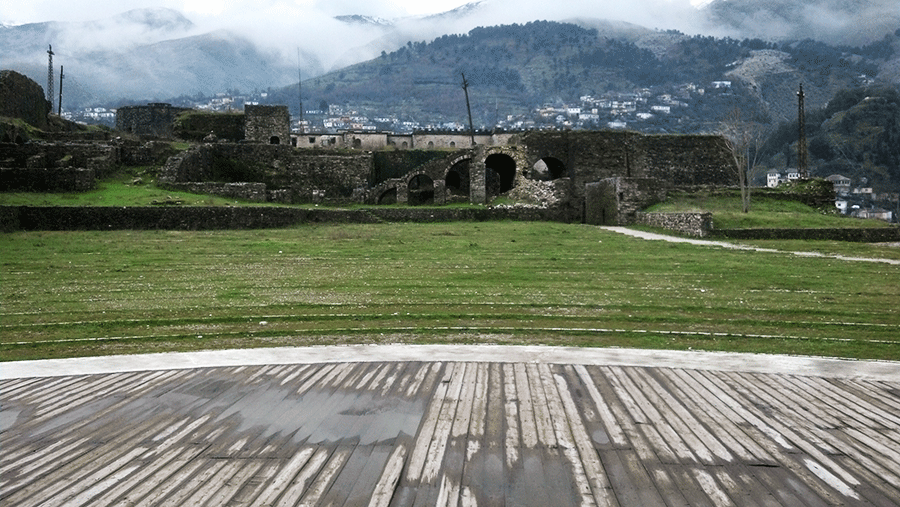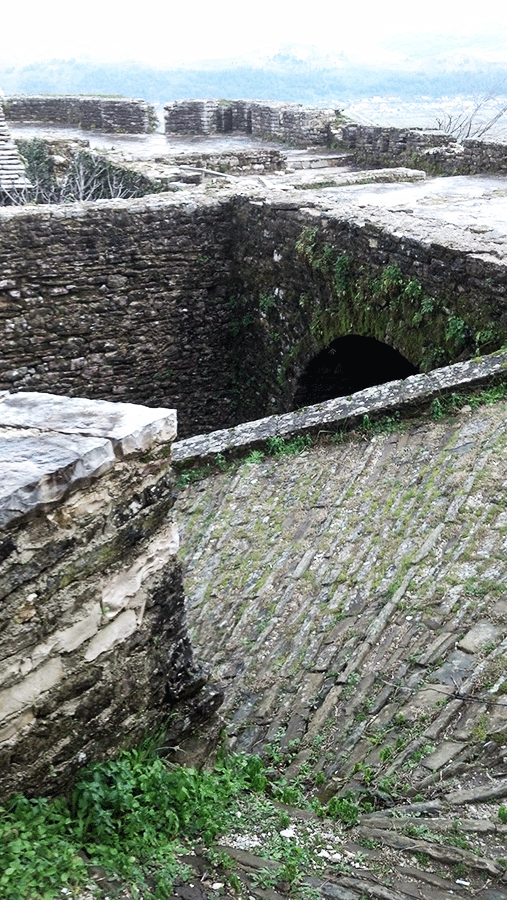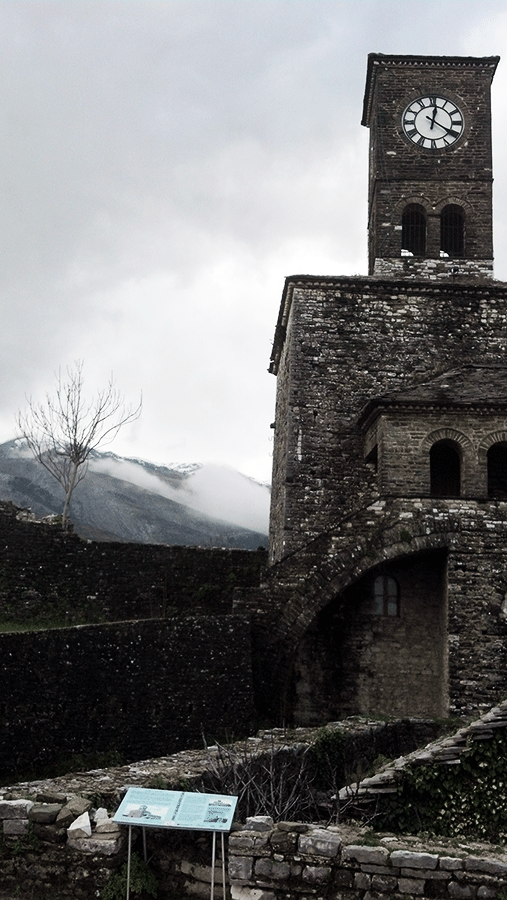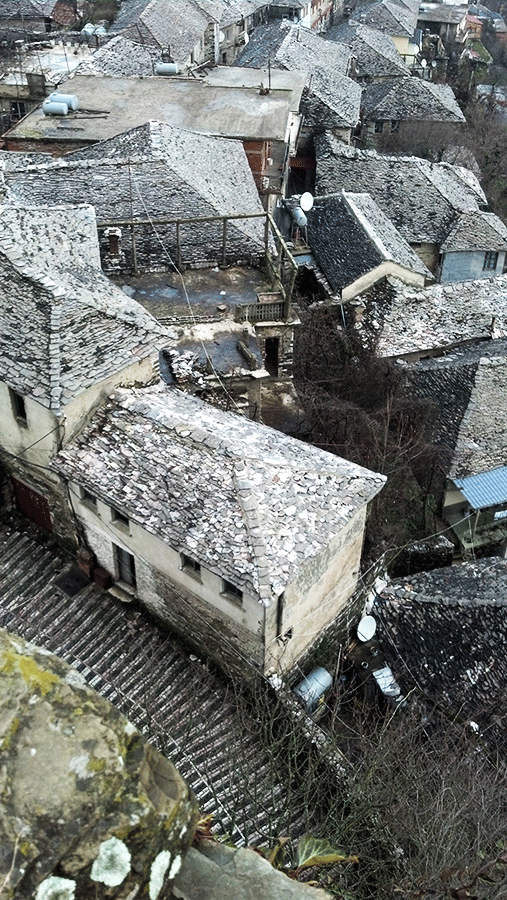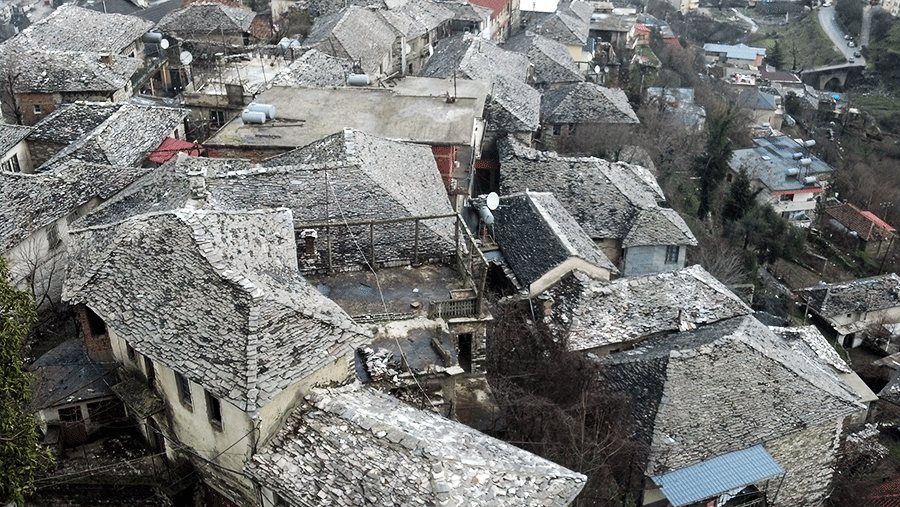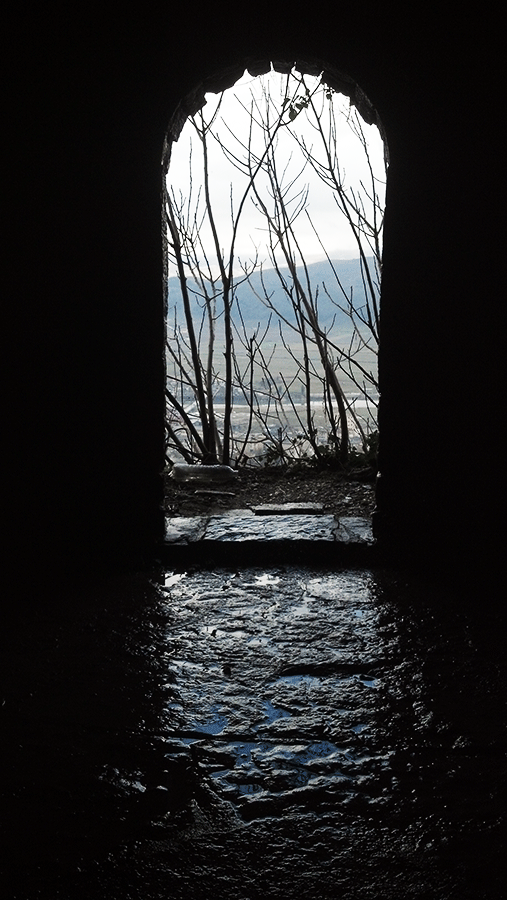 Back down into town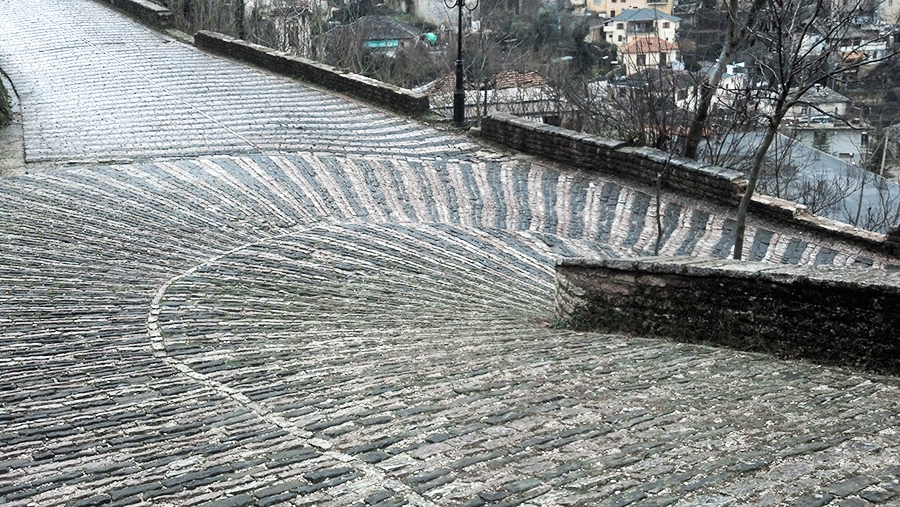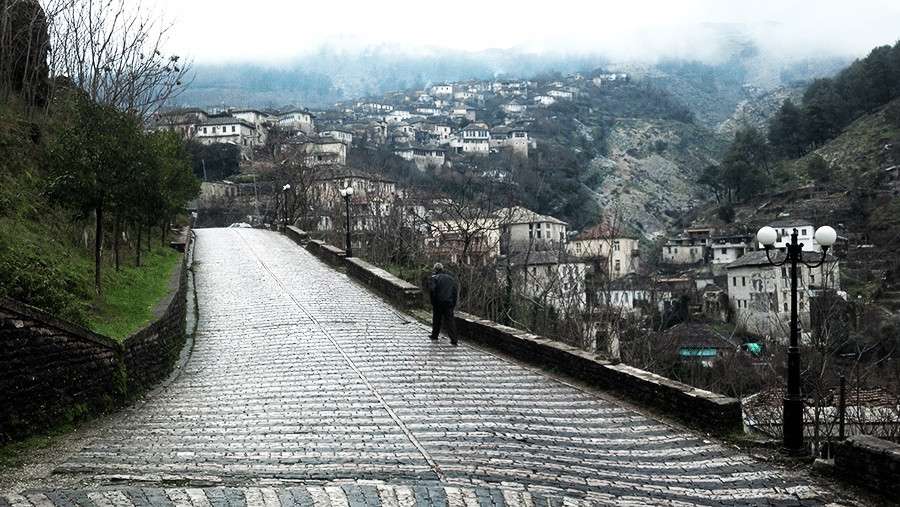 Gjirokaster is Enver Hoxha's birthplace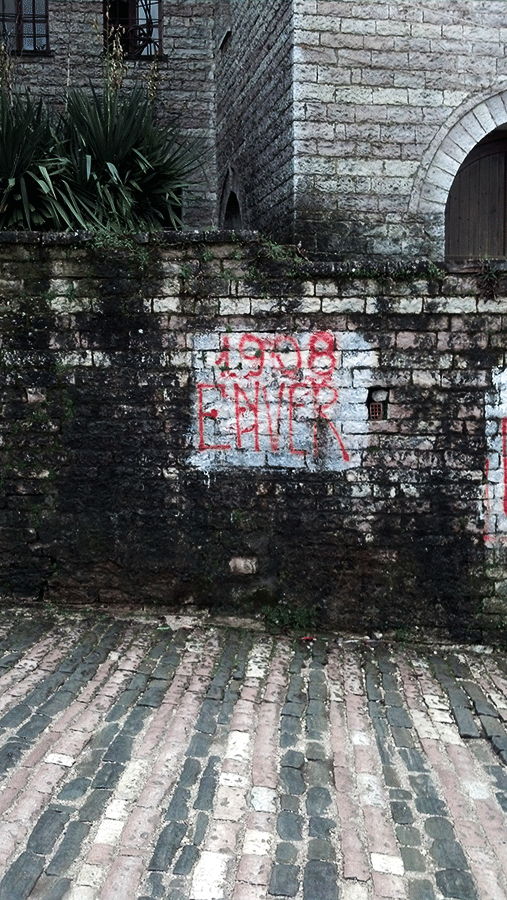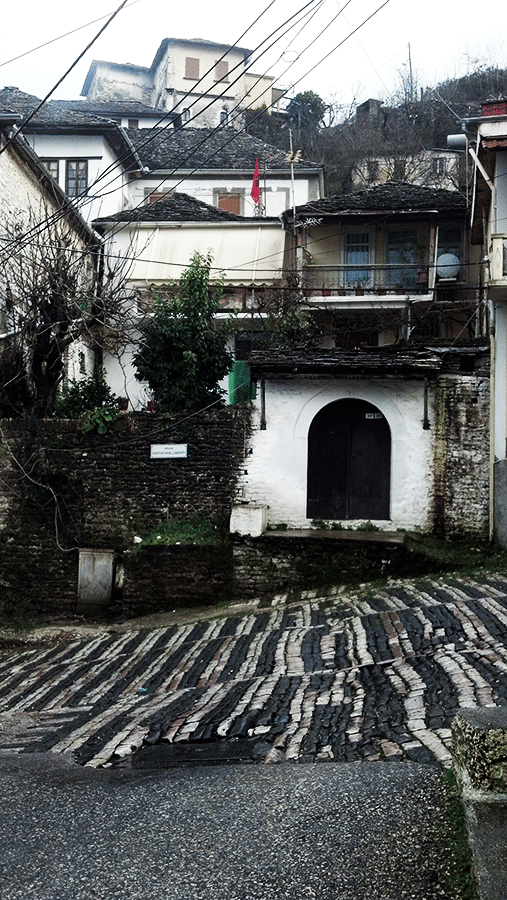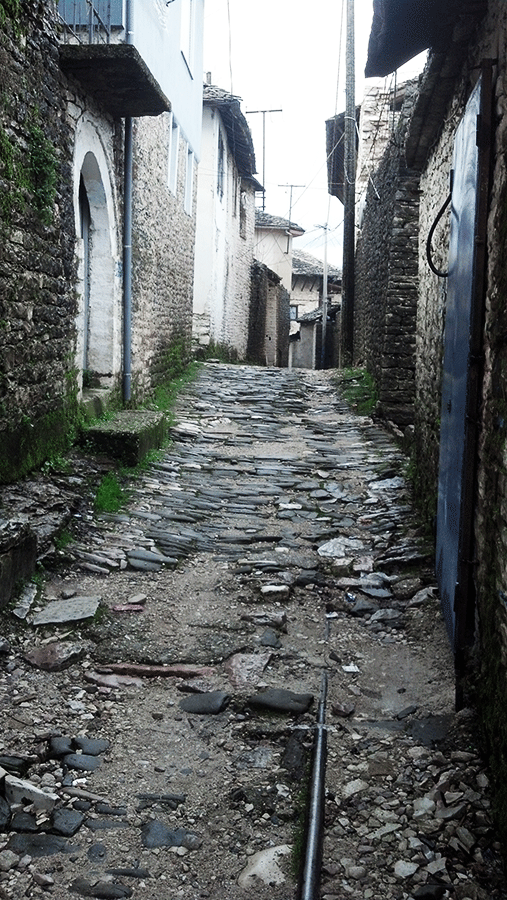 In a Gjirokaster bar: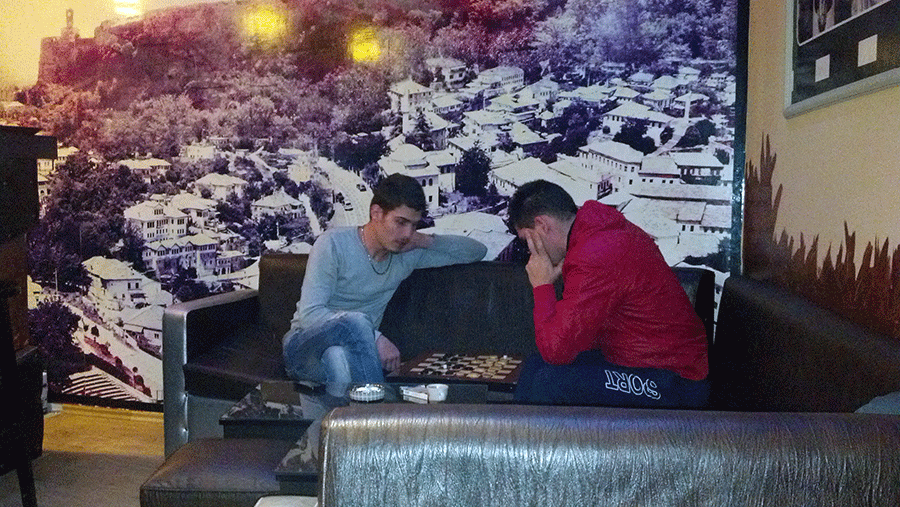 The restaurateurs.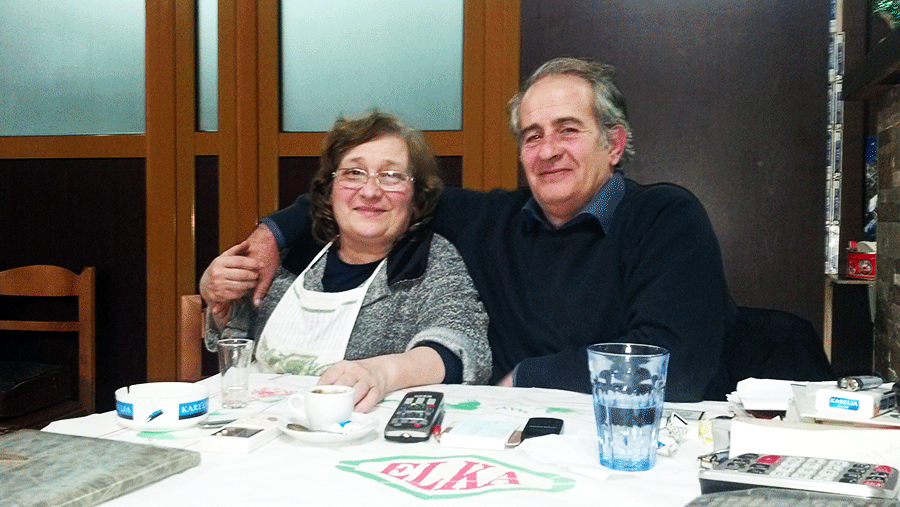 "Night Eagles".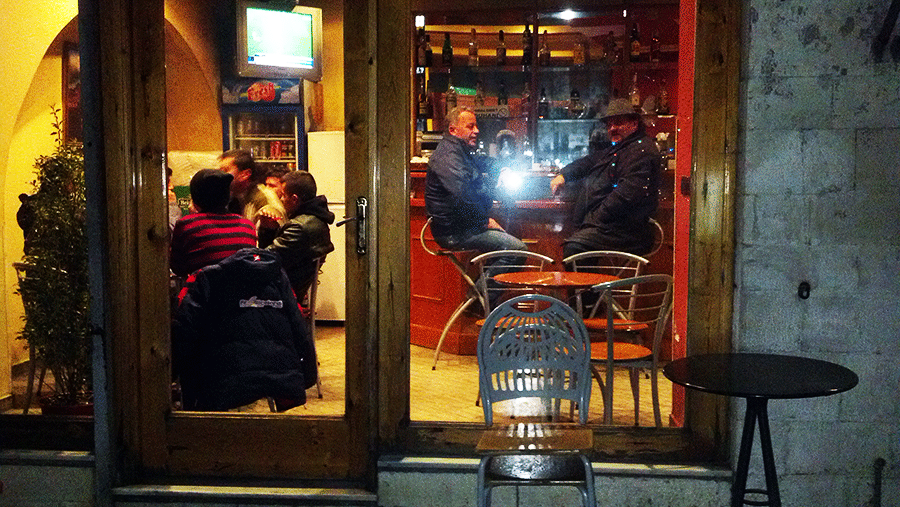 In the far south of the country, only minutes from Corfu by water, Saranda is Albania's primo summer resort. In winter, it serves as a good base for travel to Butrint, a half hour bus ride south.
A 1500 year-old synagogue base was recently uncovered in Saranda, smack on the main square.
Synagogue ruins, 1500 years old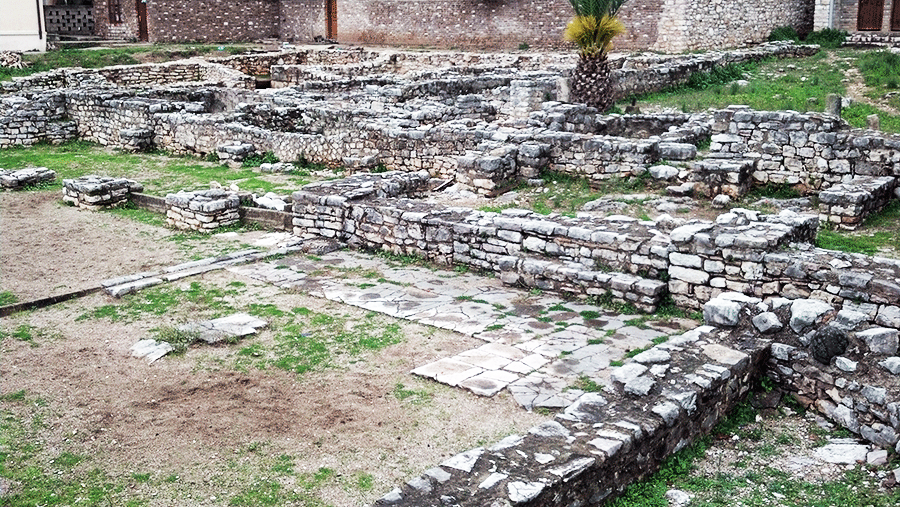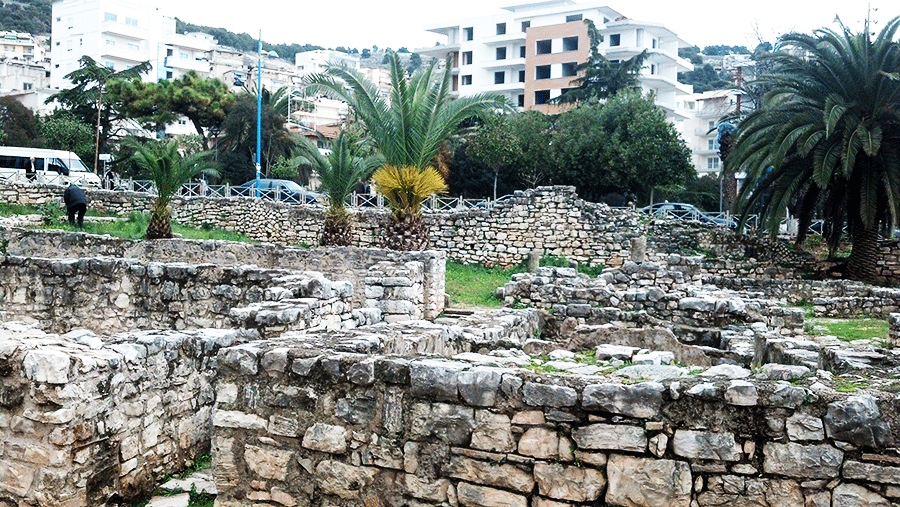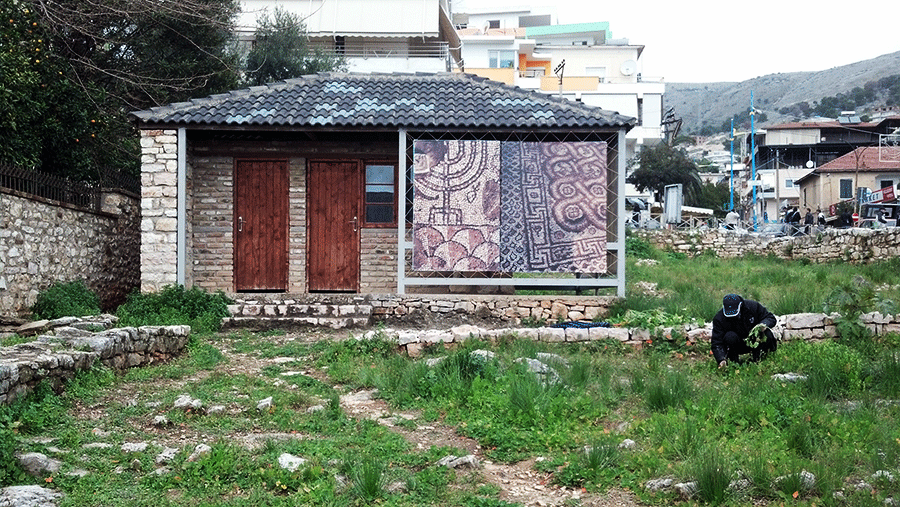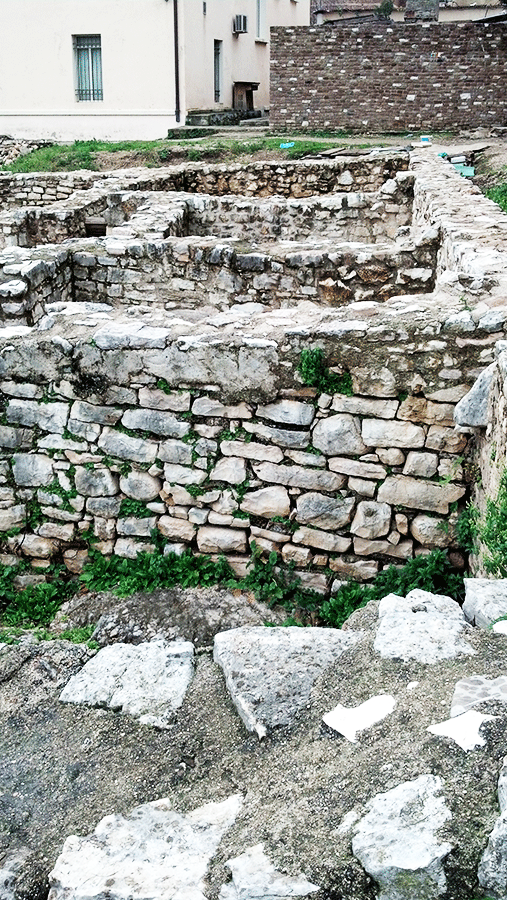 The mikveh (possibly)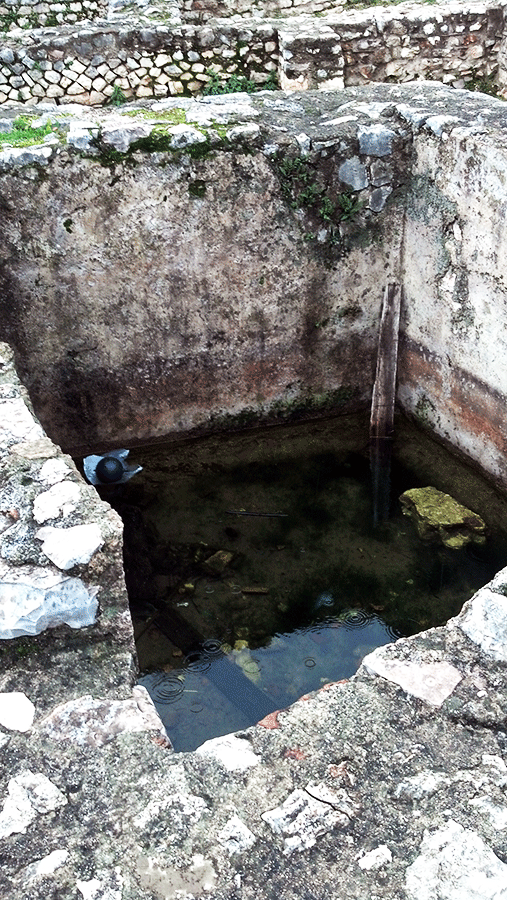 A suburban bus took me from Saranda's main square to Butrint, a remarkable city of ancient Greek, Roman, and Byzantine ruins. Not surprisingly now, I was the only person on the bus by the end of the trip: Butrint was all but empty of people at this time of year, making it even more lovely. In the light rain, I walked the shaded paths between the many remarkable sites: the theatre, the church, the baptistery, the castle. The only people I met were a few ethnic Greeks, some nice guys with whom I chatted for a bit.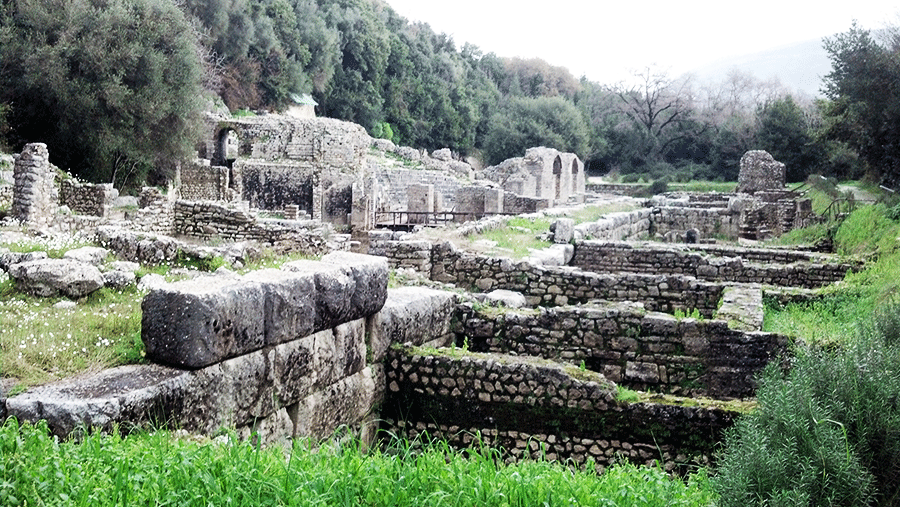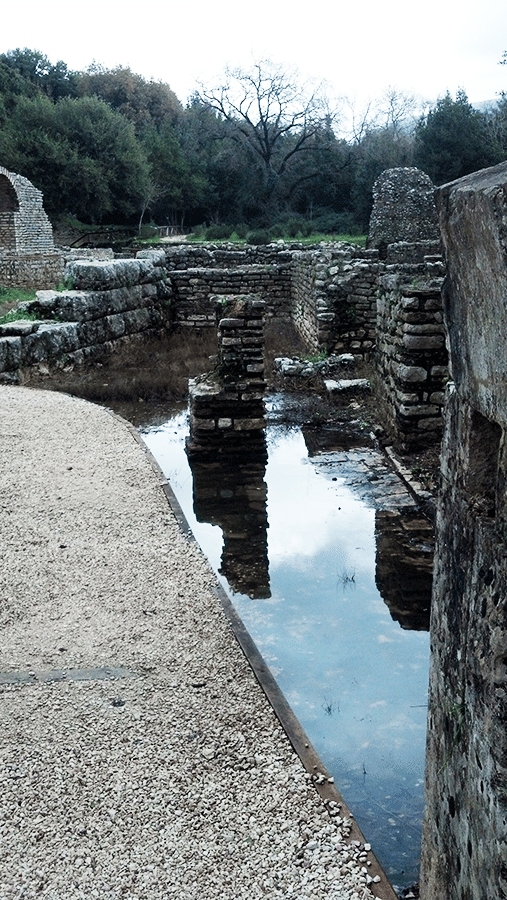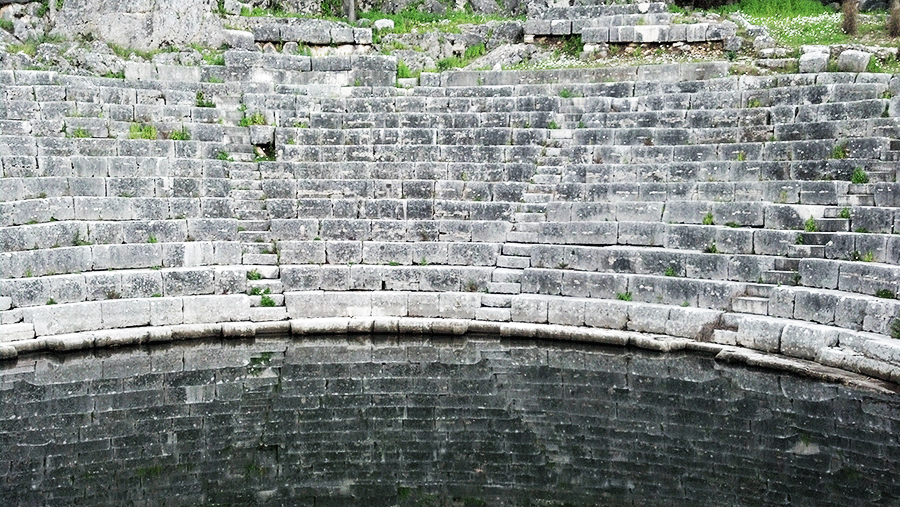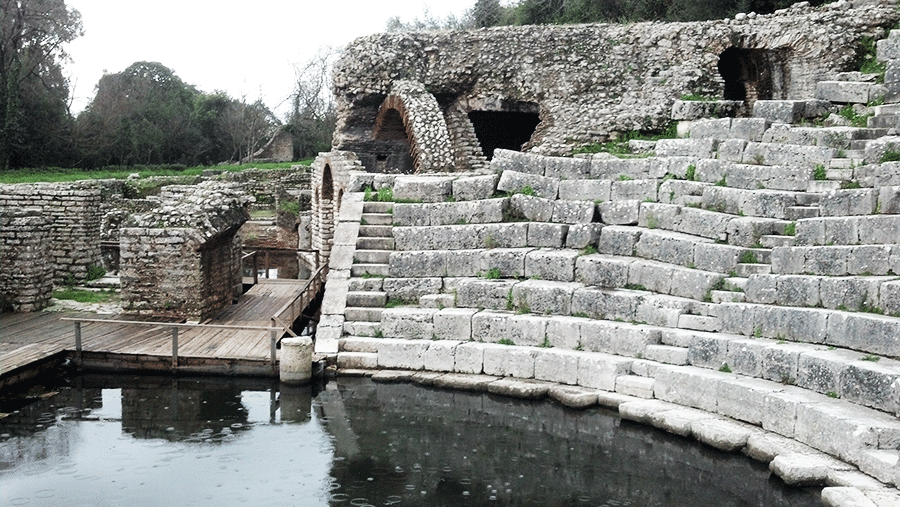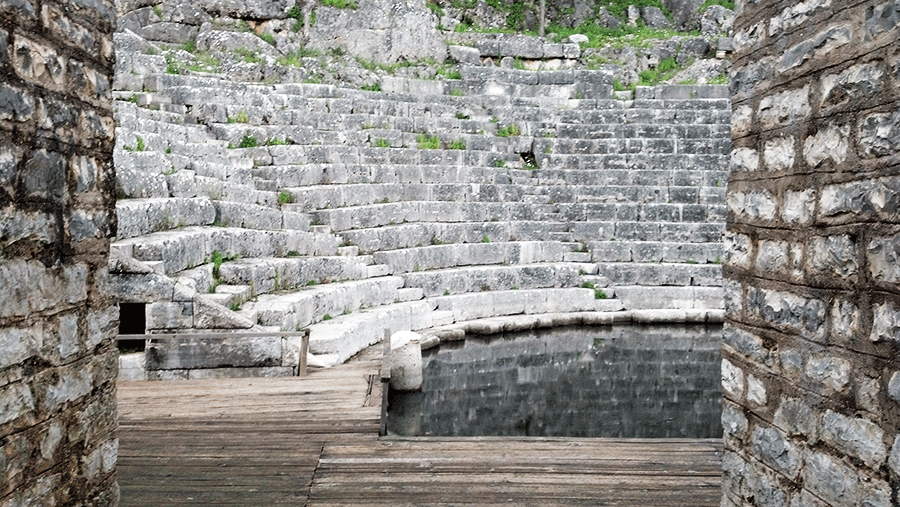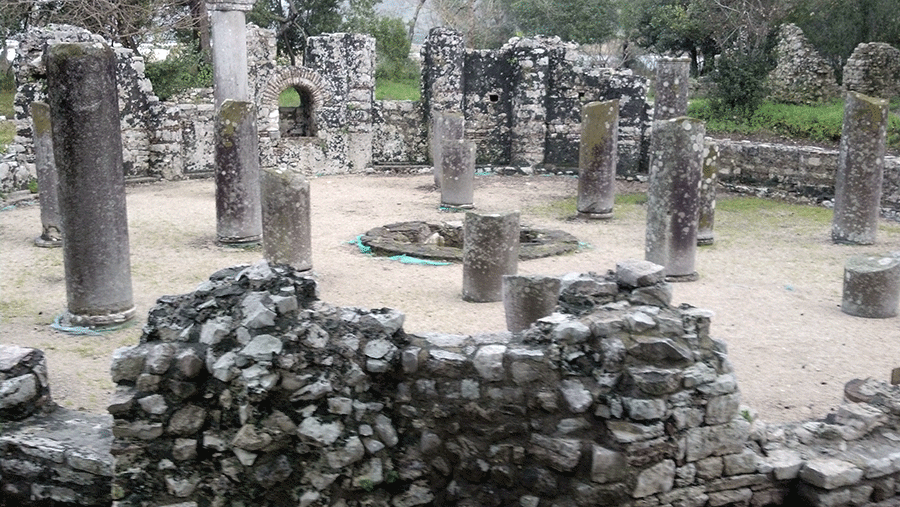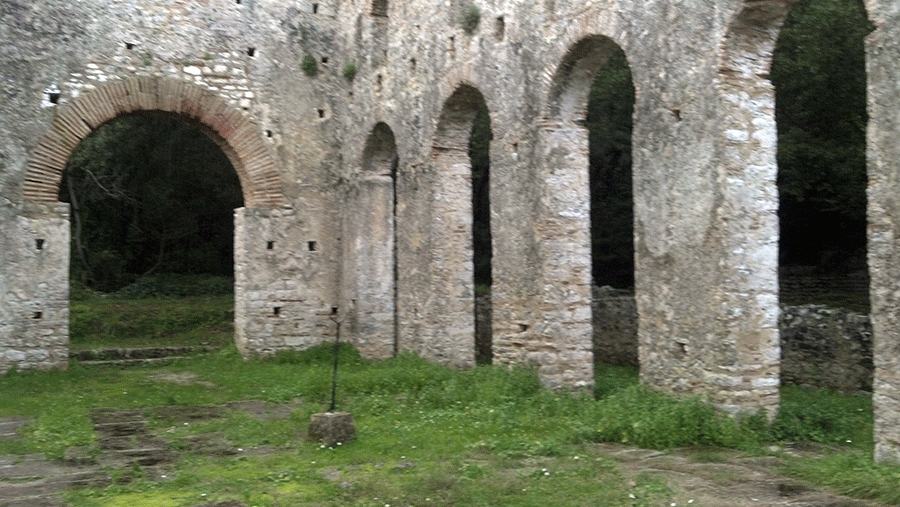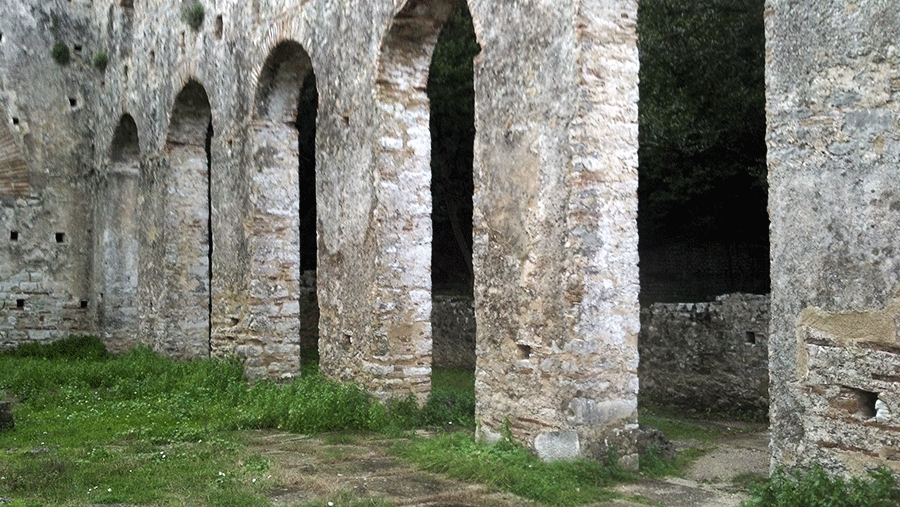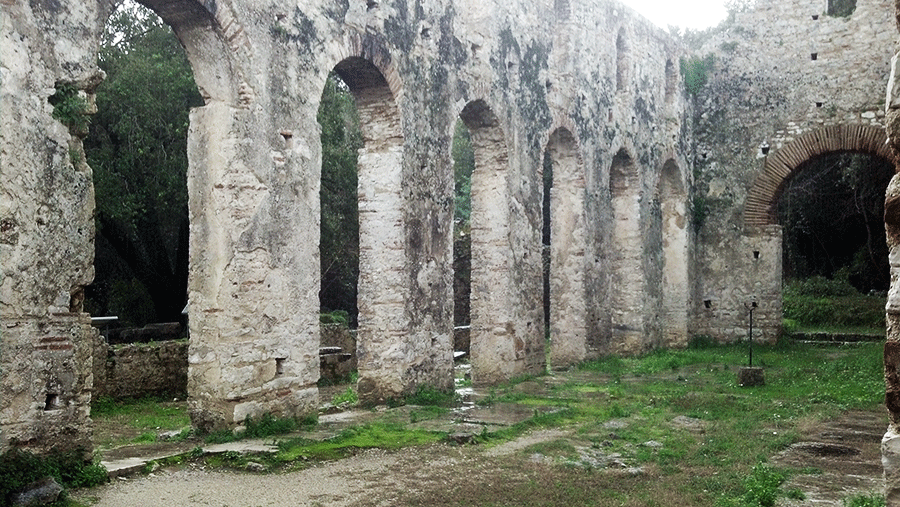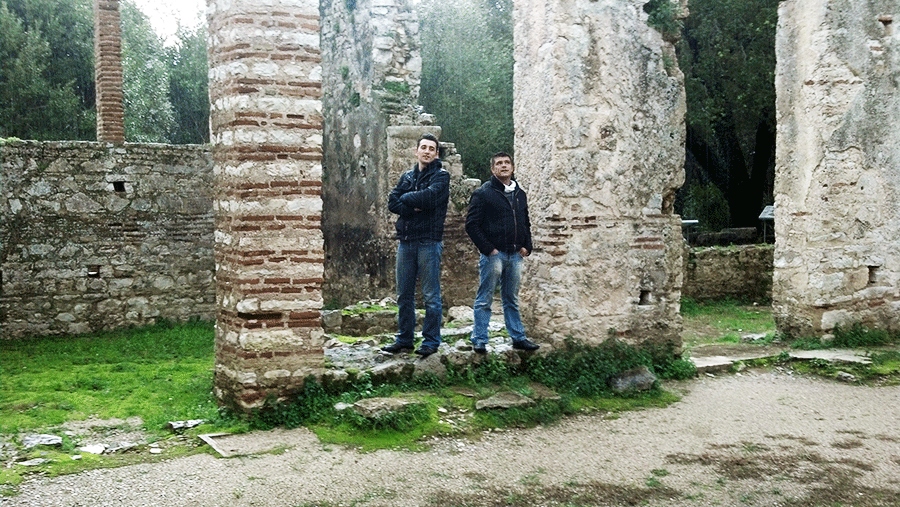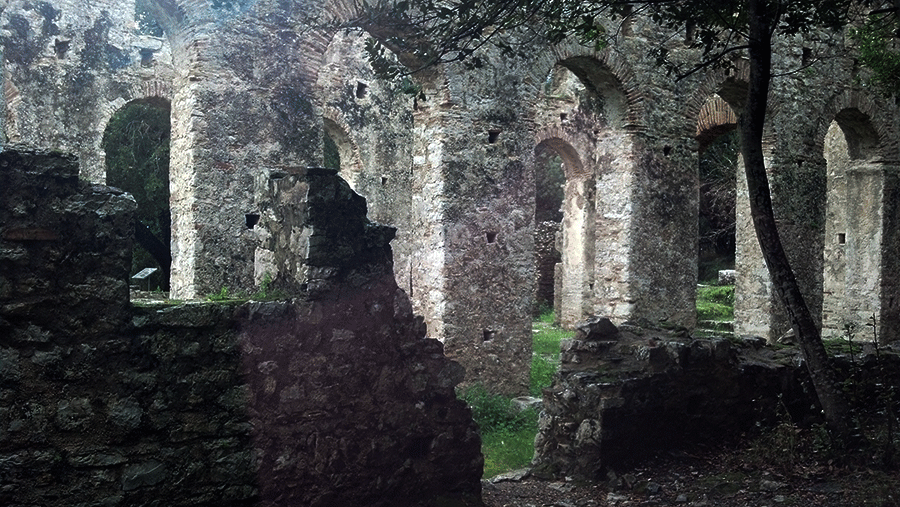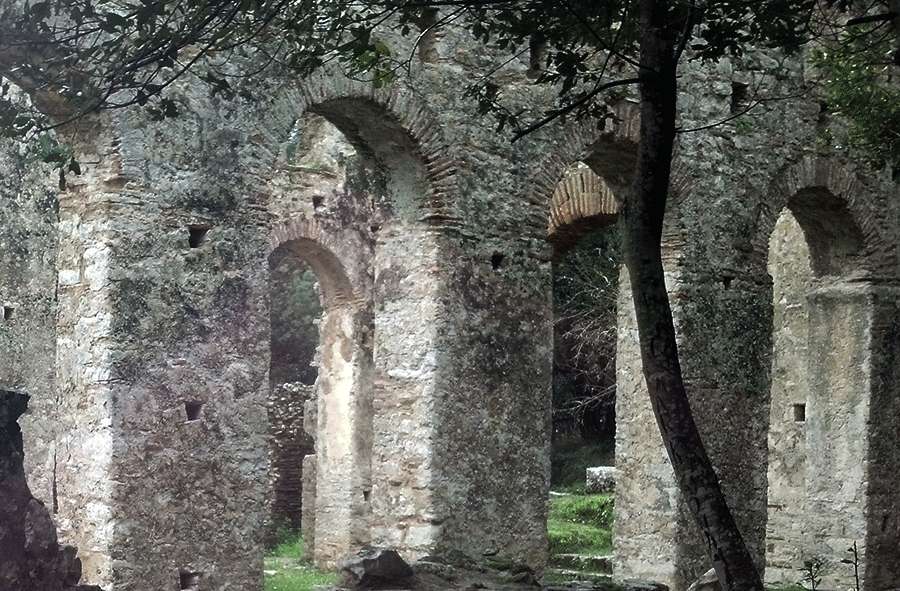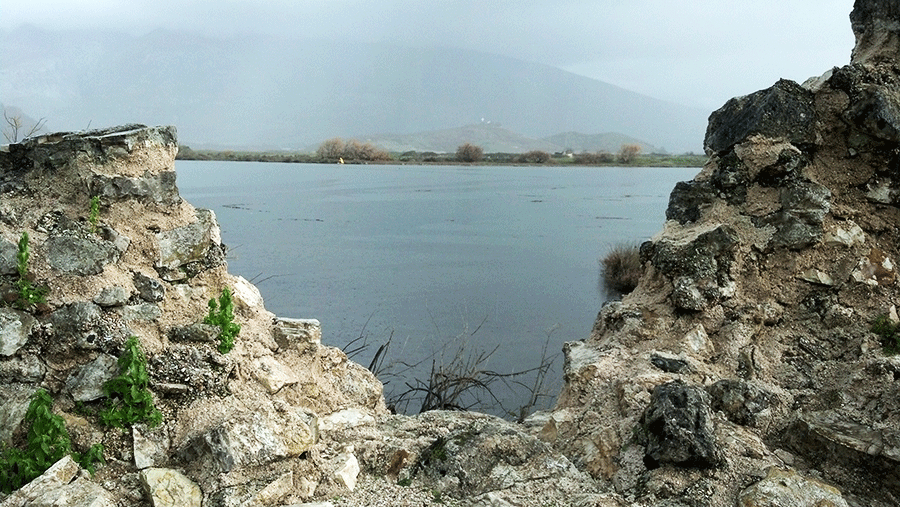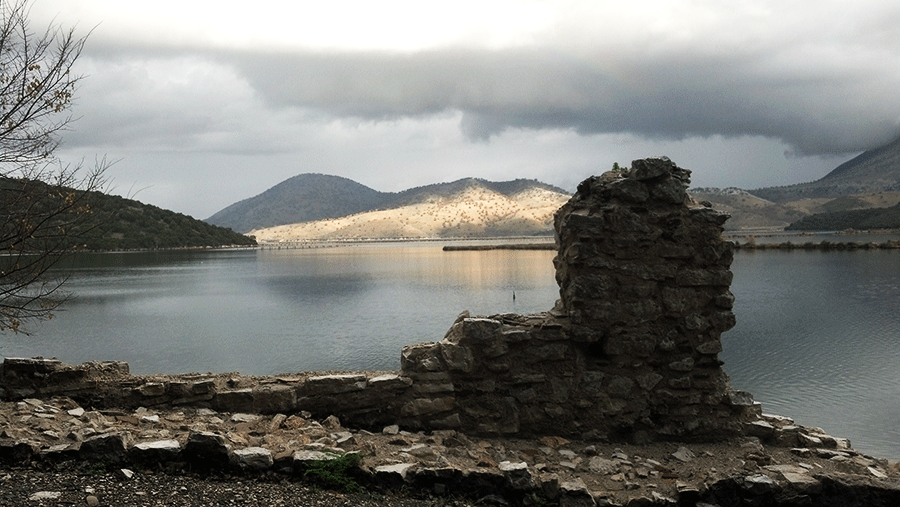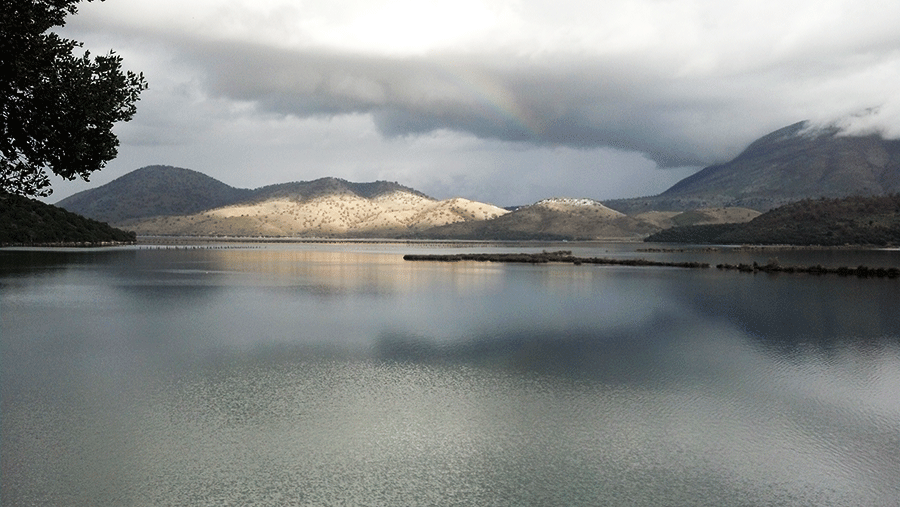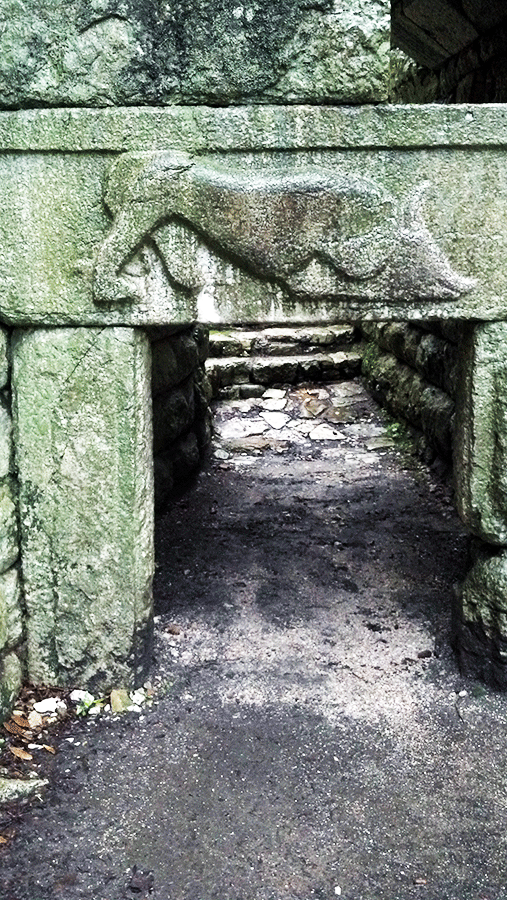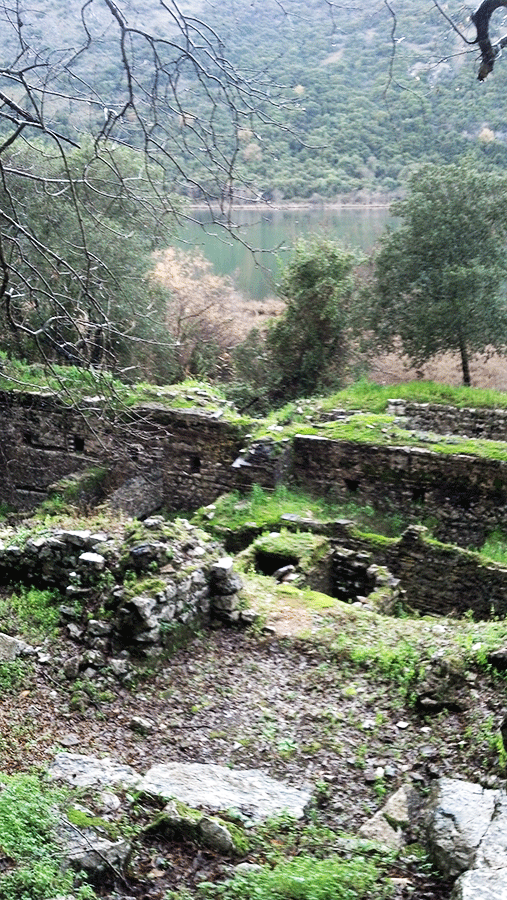 SARANDA again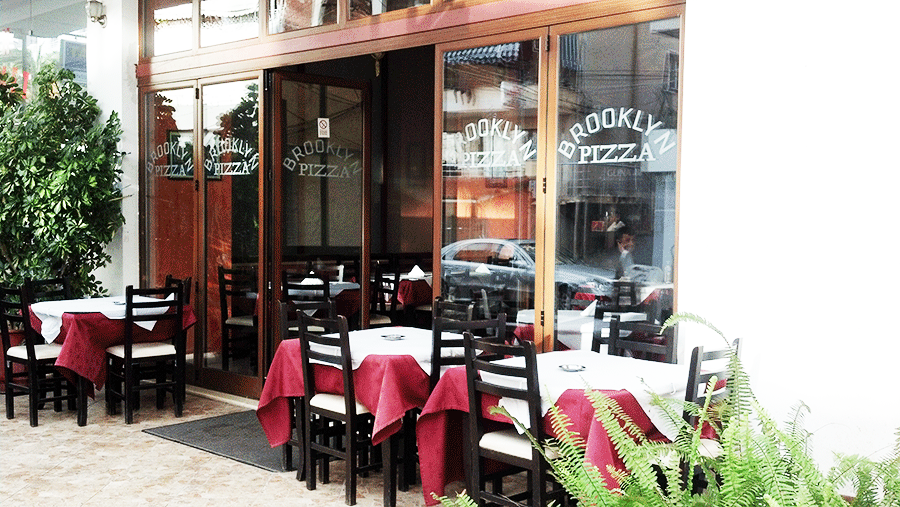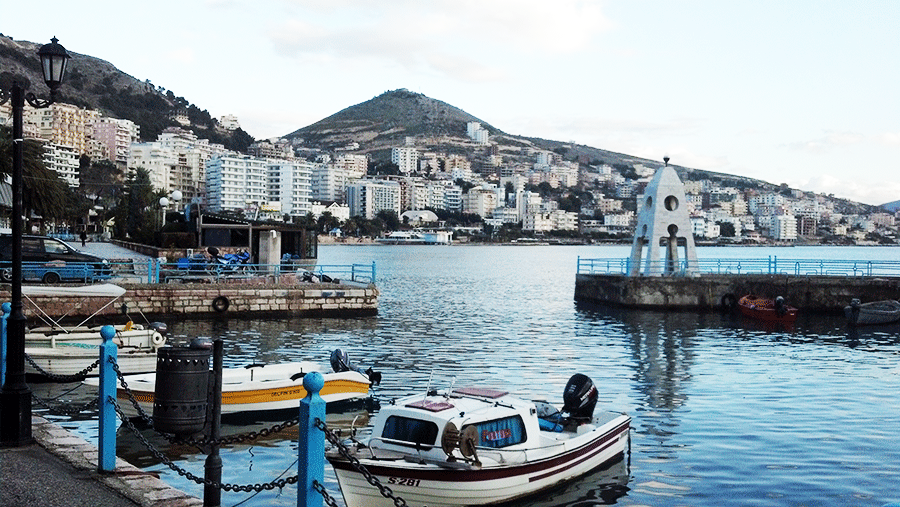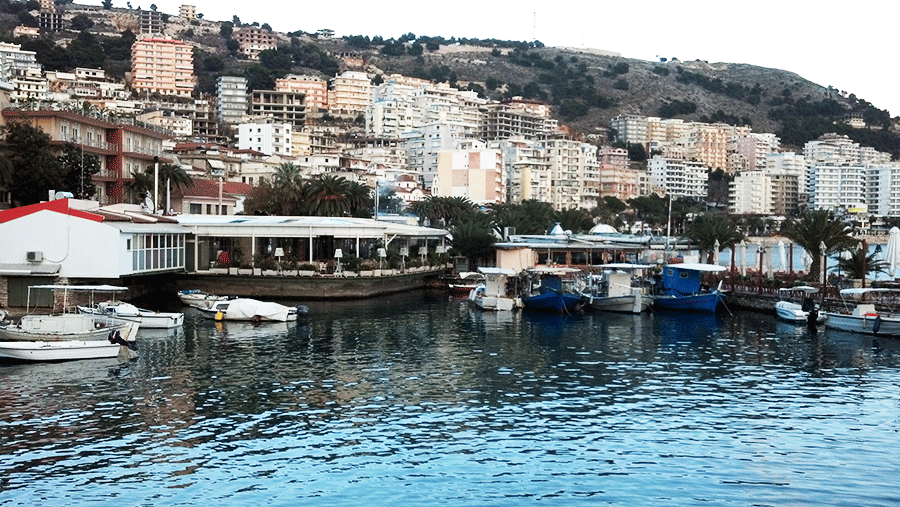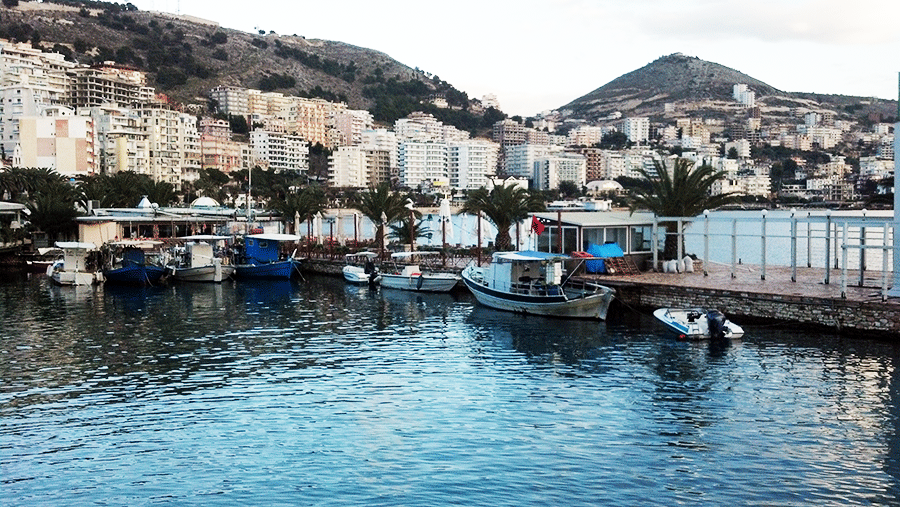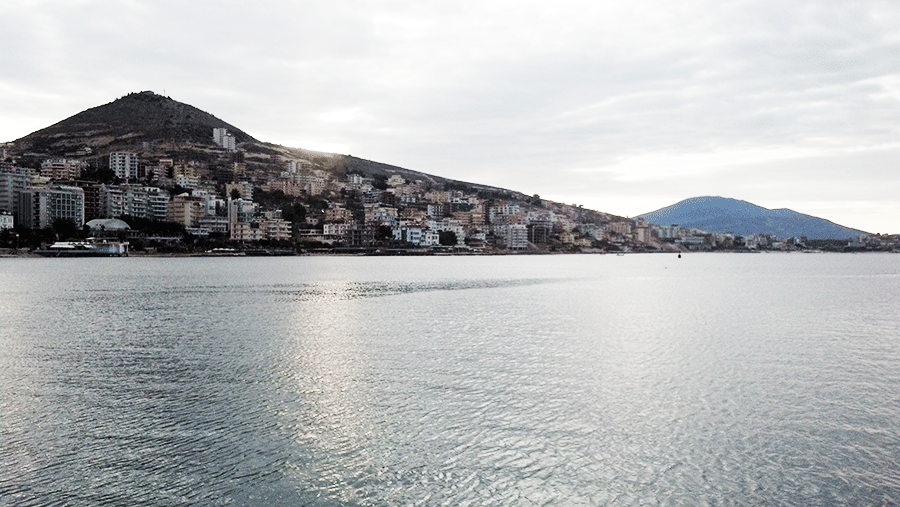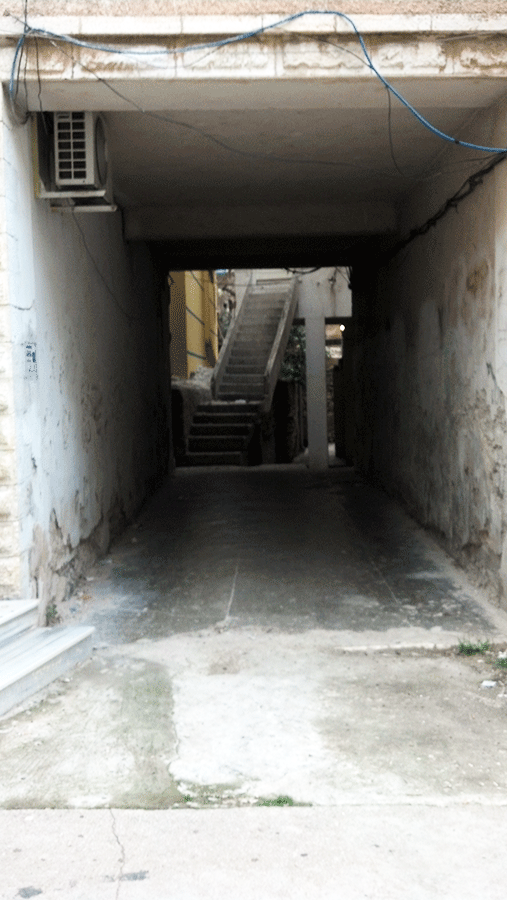 Bus back to TIRANA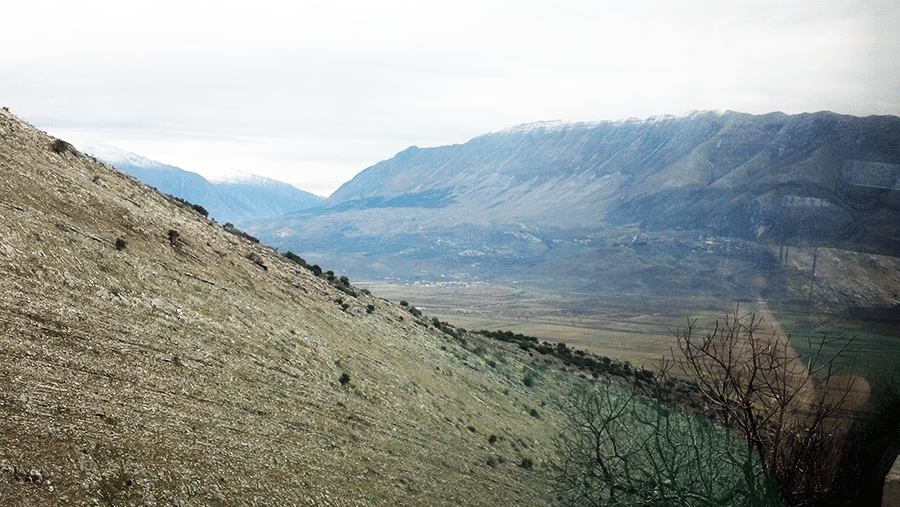 TIRANA again
On the bus back to Tirana I was befriended by a law student called Ermir, who seemed eager to hang out a bit, so after I checked back into my hotel, he took me to a rooftop bar where we drank sufficient amounts of beer so that the absence of a common language made little difference to our enjoying each other's company, and made communication quite effortless (with the great help of my phone's "translate" app.).
At the rooftop bar
From the rooftop bar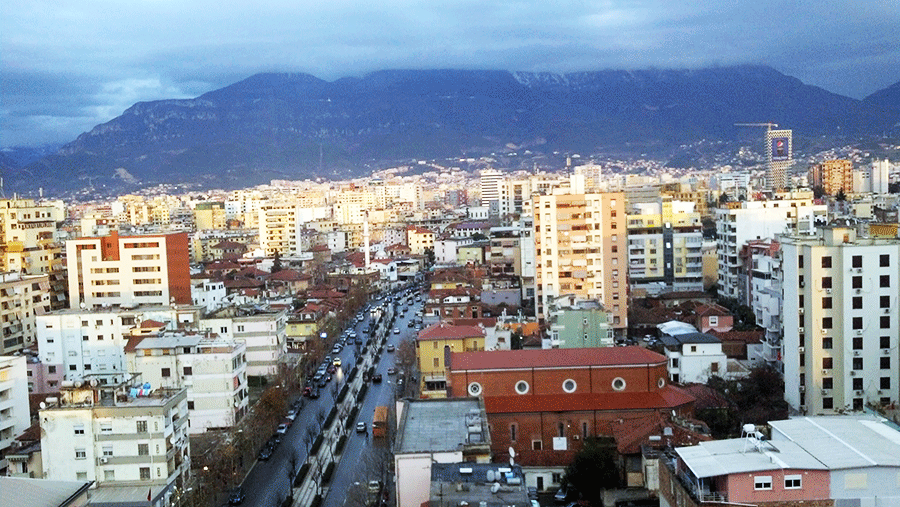 Ermir (terrible picture of a great guy—sorry Ermir!)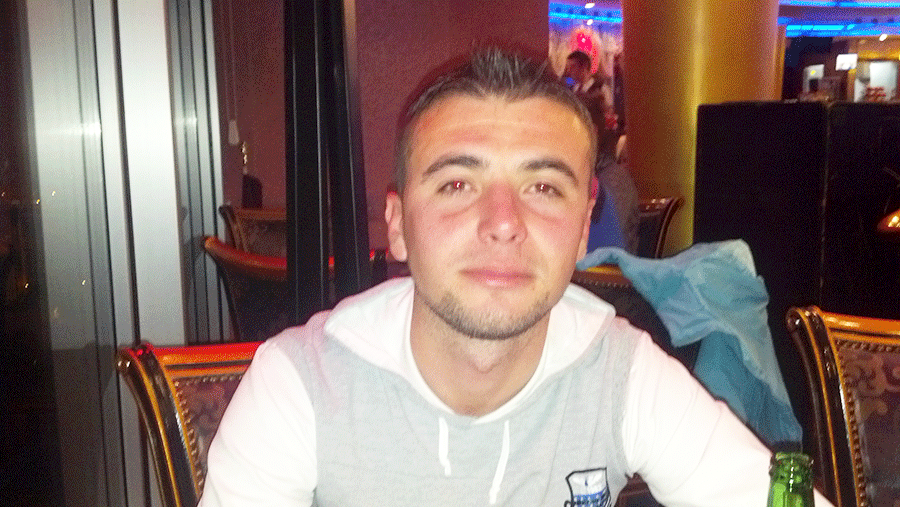 KRUJA
On my last full day, I took a day trip to Kruja. The remarkable rugged beauty of this medieval fortress town is in striking juxtapositon to the relative cosmopolitanism of Tirana, less than two hours down the road.
Skanderbeg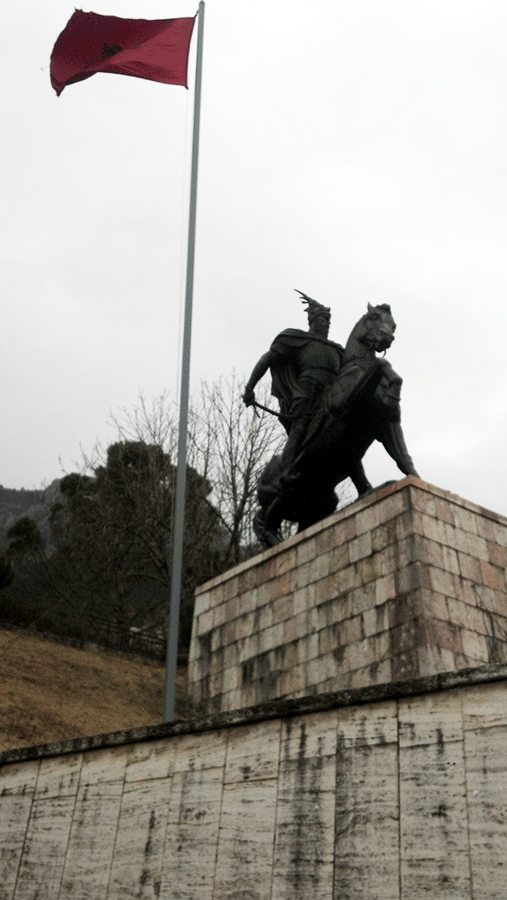 The Ottoman market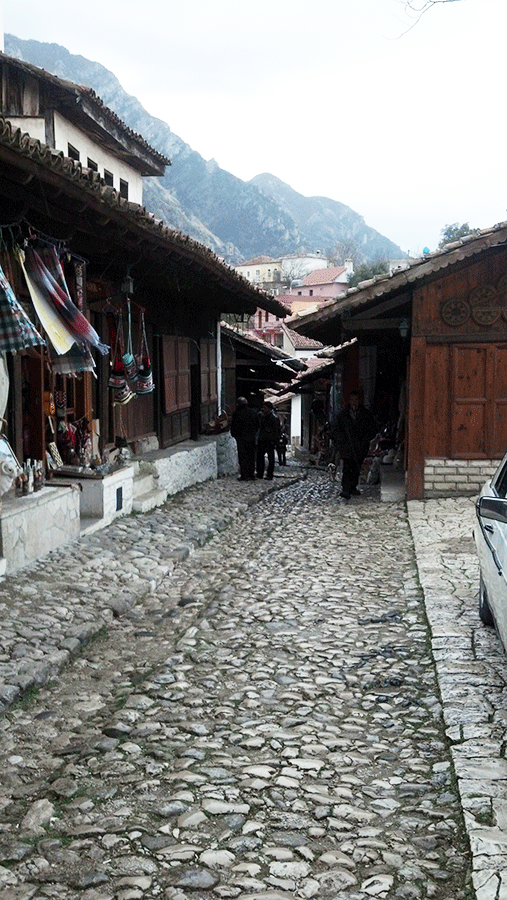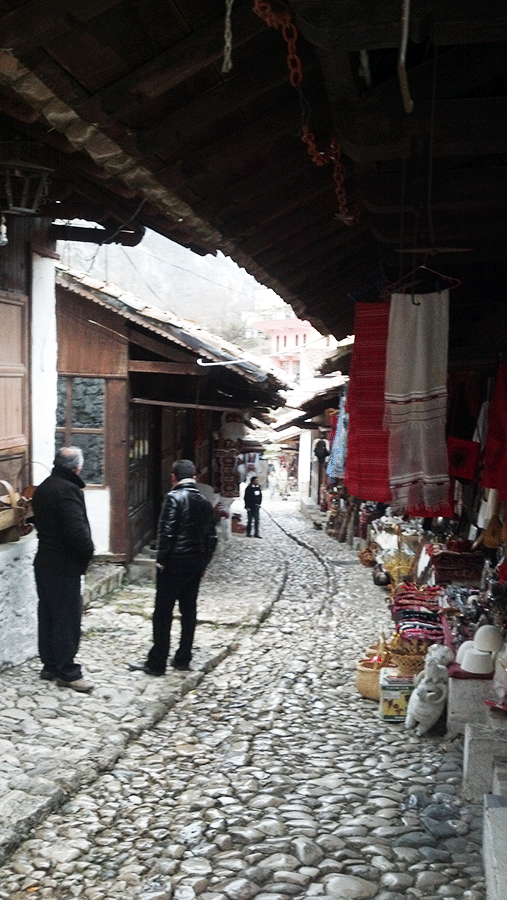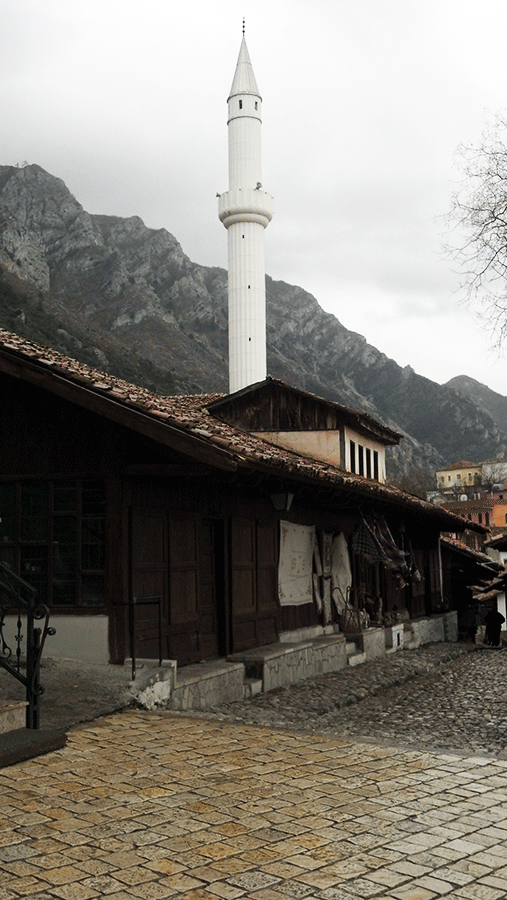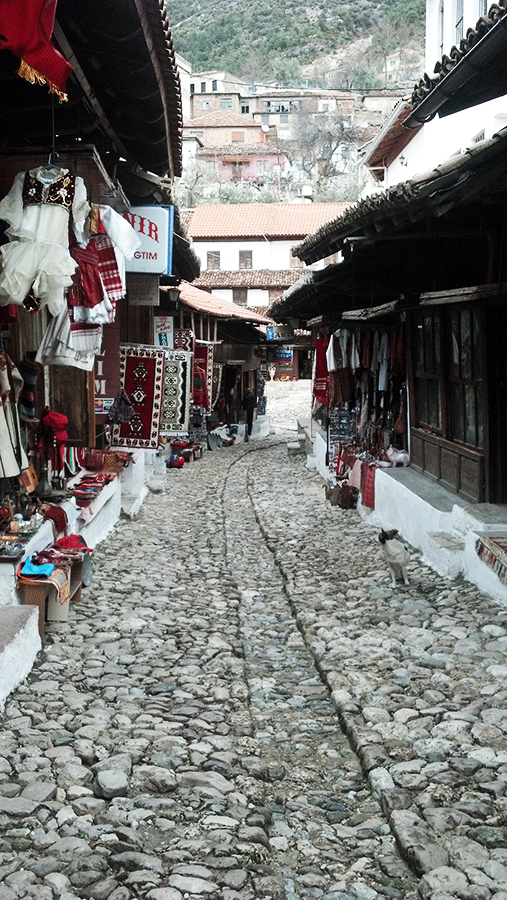 the castle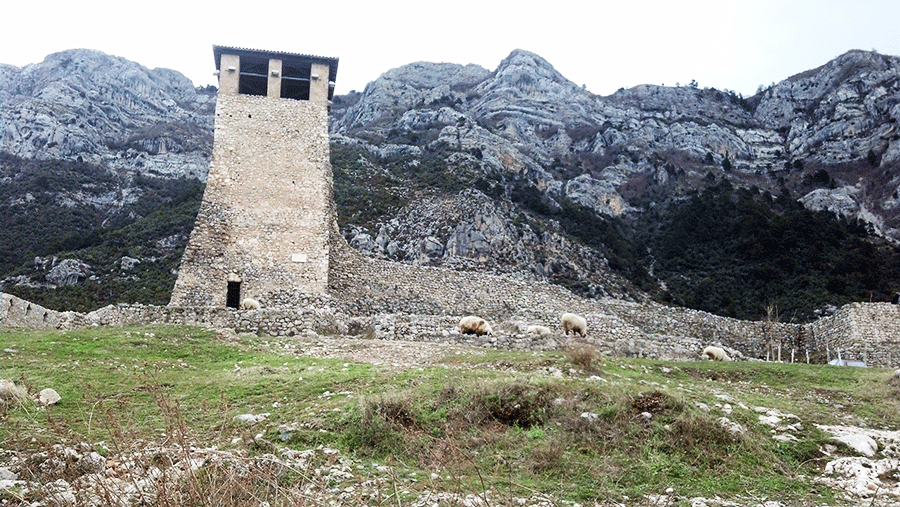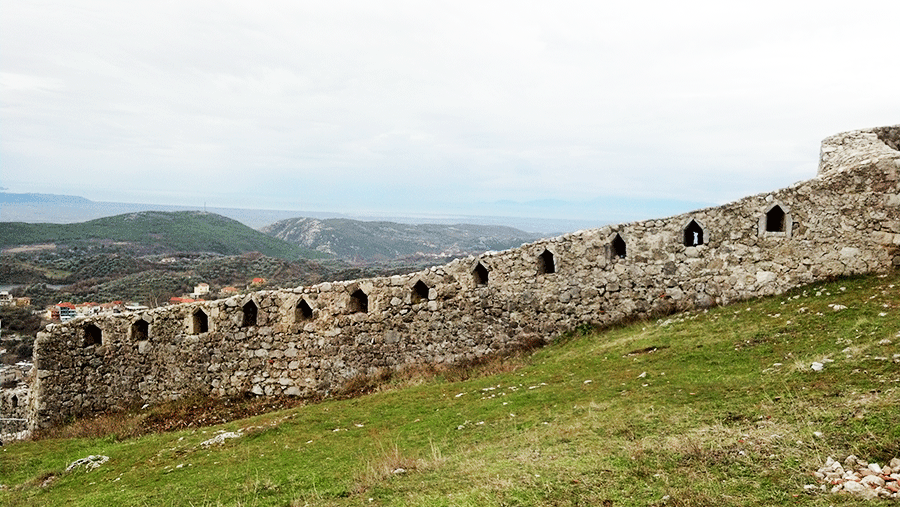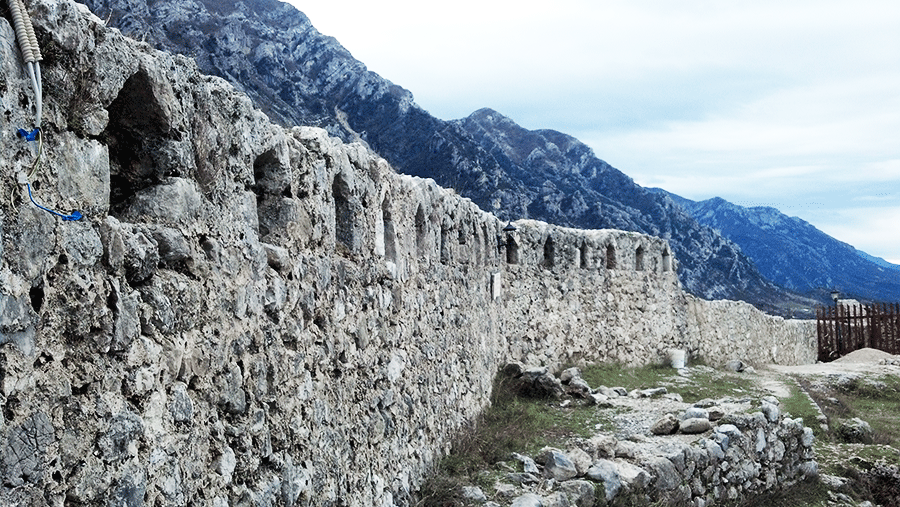 My last evening in Tirana
My sad goodbye to Tirana and Albania was eased considerably when I met up with a nice Chinese guy called Dong who was teaching at the university. Dong was the second linguist I encountered in Albania, and we had a hell of a good time talking about his ongoing sociolinguistic research in Xi'an. Imagine the scene: sitting in a Tirana bar, talking with a stranger in Mandarin about phonology! We even have a few acquaintances in common. What a time!
Bar Libraria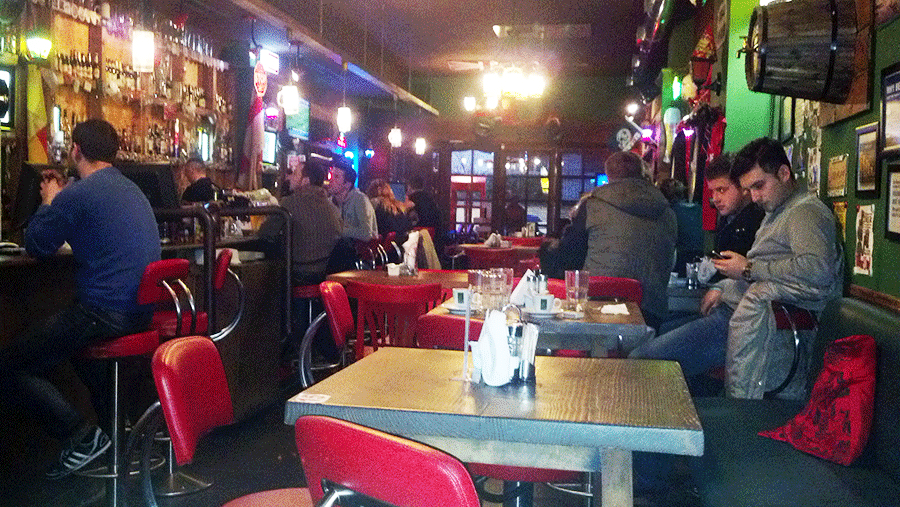 Eagle Mobile shop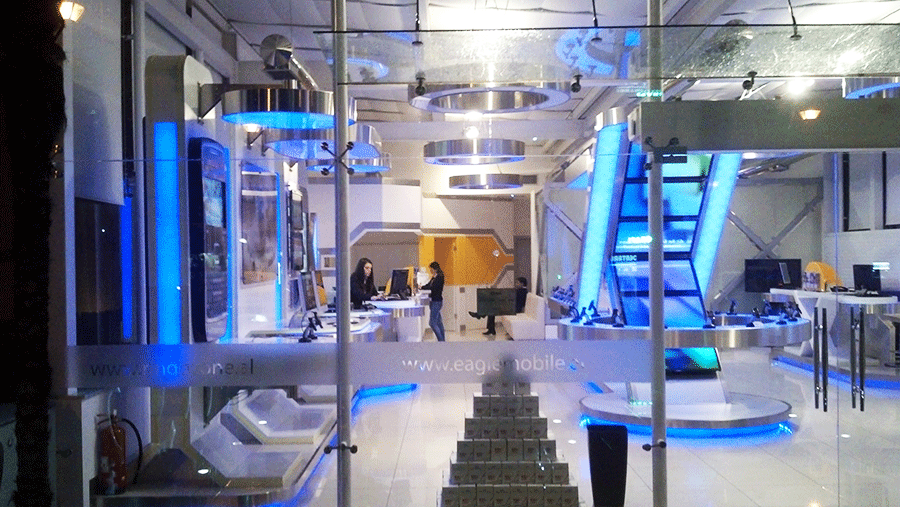 President's residence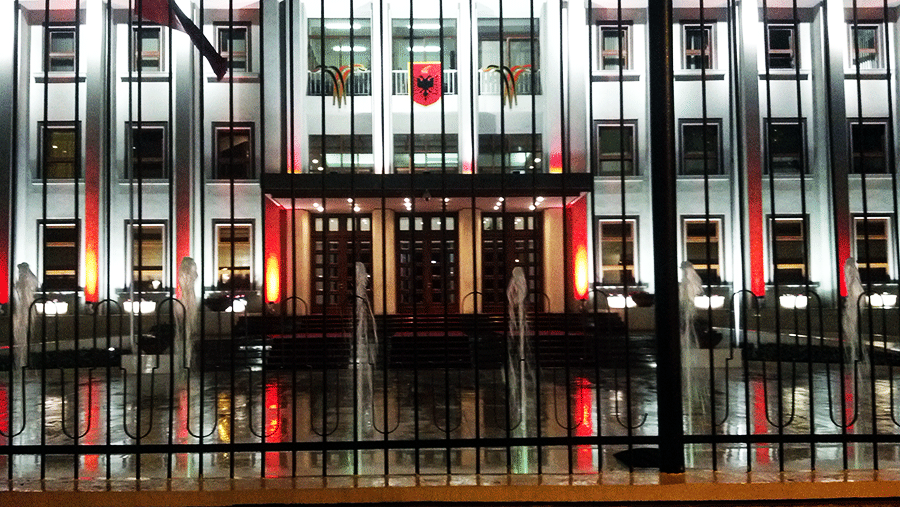 the university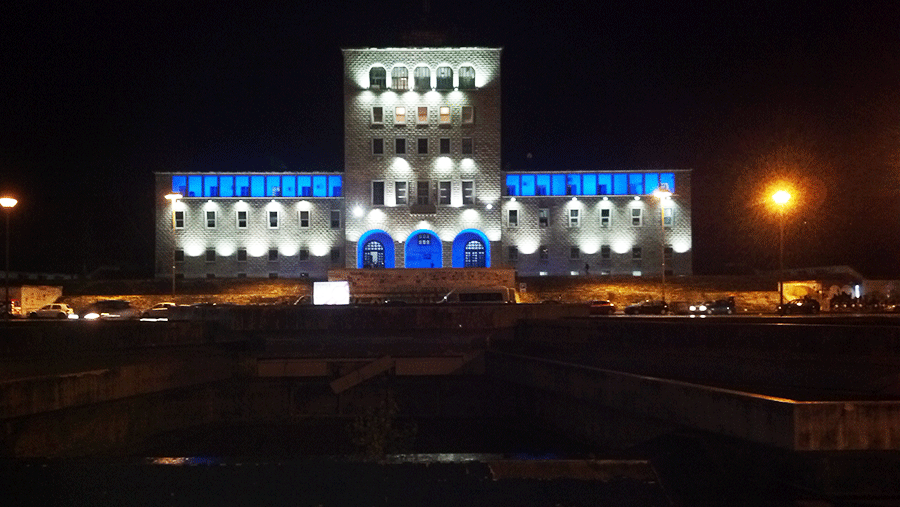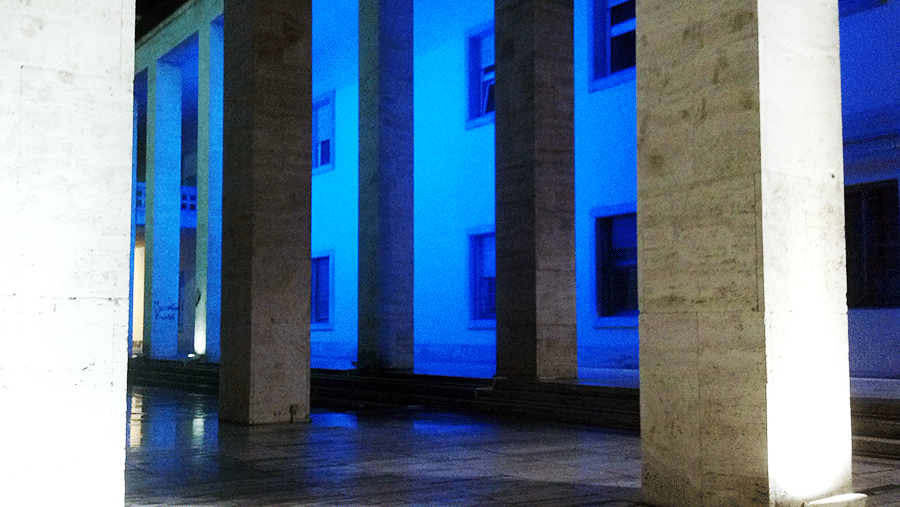 Enver Hoxha's office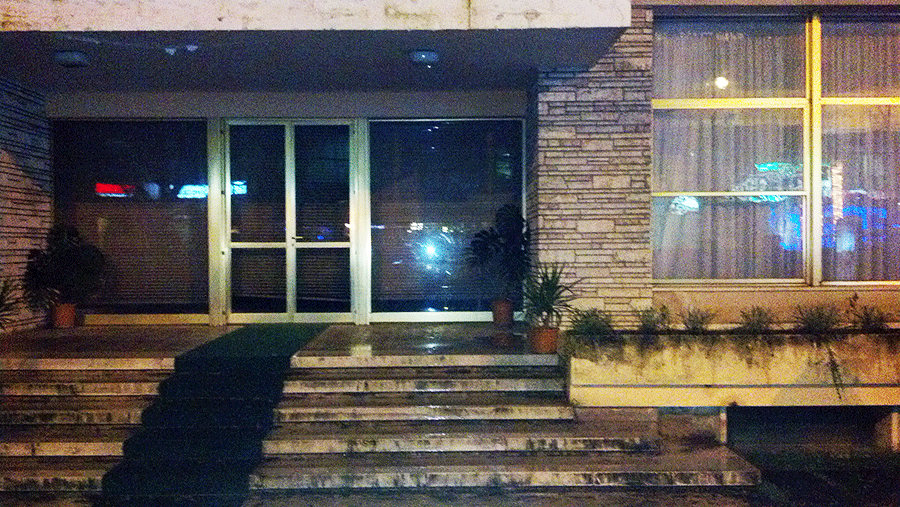 my last morning in Tirana
Skanderbeg Square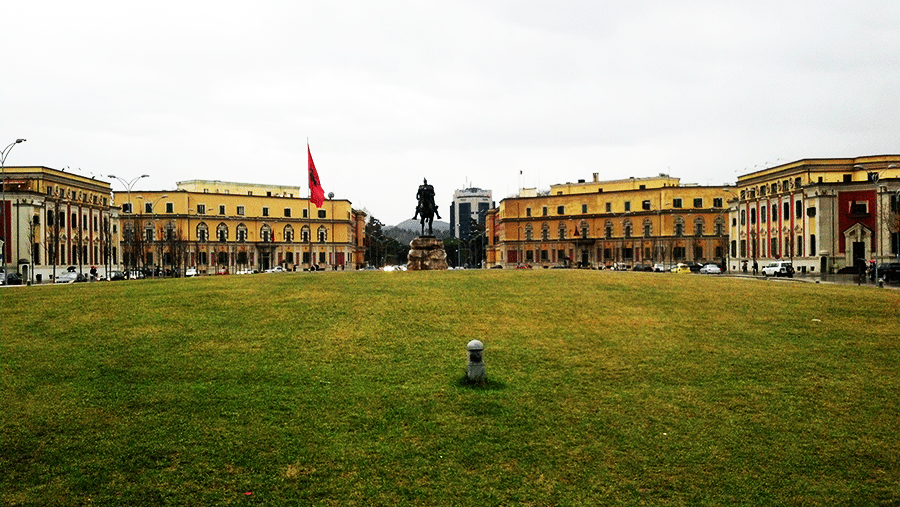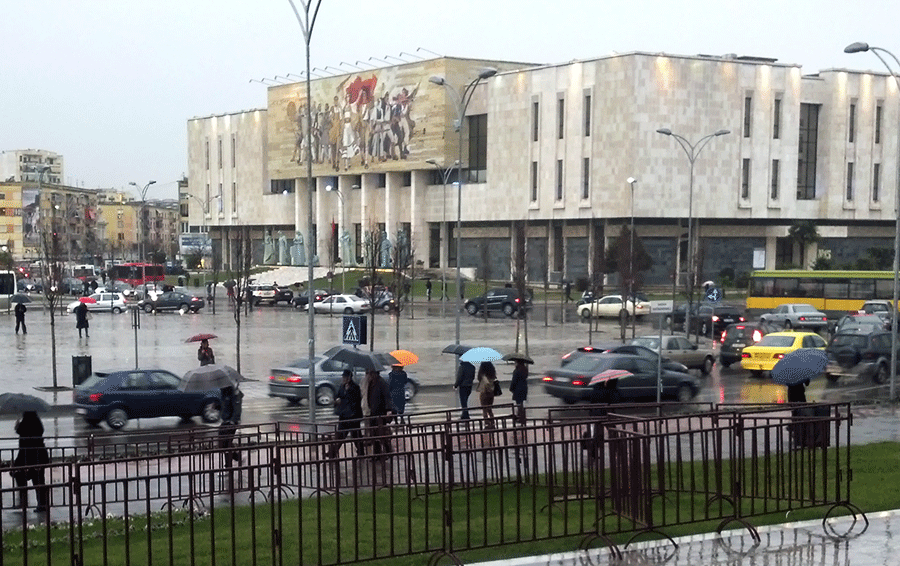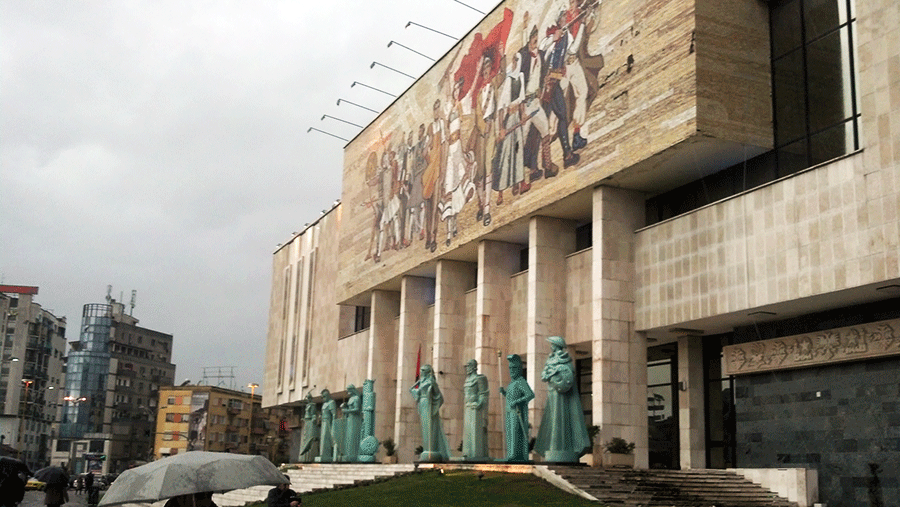 Albania has terrible, terrible problems. In this brief travelogue I've studiously avoided providing visual evidence for some its more egregious infrastructural shortcomings. Public transporation is primitive and poorly organized. Inter-city roads are in a terrible state, and there are precious few controls on sprawl: for miles on end these roads are lined with half-built, quarter-built, eighth-built structures in terrible states of disrepair and abandon (such incomplete structures probably provide tax relief to their owners). Businesses along these endless stretches of detritus are particularly uniform and lacking in appeal: barbershops, car-washes, run-down hotels and cafés are in no short supply. The road from Tirana to Kruja has well over a hundred "mobileri" (furniture) stores lining its way to no apparent financial end. Roadside gullies are typically strewn with trash, especially those awful plastic shopping bags with their endless half-lives. Corruption is clearly endemic, with payoffs to the local government/syndicate gangs the rule rather than the exception. Women's rights and gay rights movements are only now beginning to stir into life.
Still, Albania has much to be proud of. It is often said that Turkey is the model for a modern, moderate, and reasonably liberal and democratic Moslem state. This is wrong. With Turkey's dangerous lurch toward saber-rattling Islamo-fascism, Albania emerges as our one true hope for a forward-thinking secular Islamic nation, a nation which, moreover, has been only minimally influenced by the corporate culture that blankets so much of the world with lowest-common-denominator junk, the strange fruits of which produce obesity, diabetes, hirsutism, and heart disease. (Albania has its own junk, thank you.) The people I met were wonderfully friendly and genuine and helpful, and decidedly secular. They are slim, well-groomed, and very beautiful to look at.
And remember: Albania saved its Jews. I urge both Jews and others to visit Albania. Tour its remarkable countryside, its rough-and-tumble cities. its endless stretches of unspoiled beaches. Prices are remarkably low, and so tipping can be high. Spend your money there and help the Albanian economy grow. Why? Simple: because the Albanians saved their Jews!
I will visit again.
---
Istanbul
a treasured view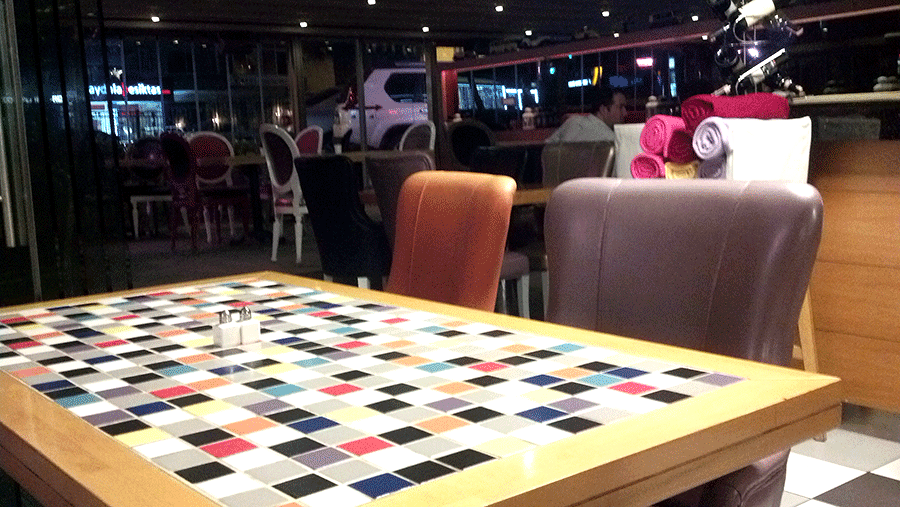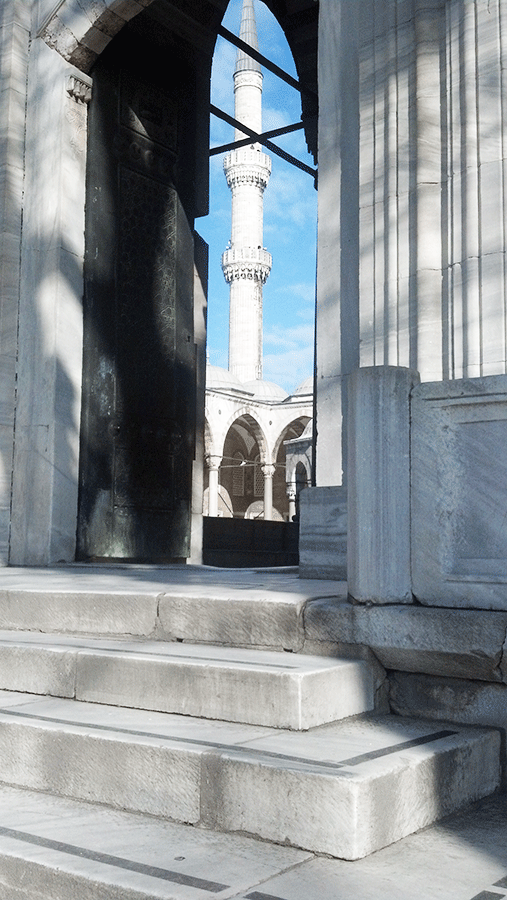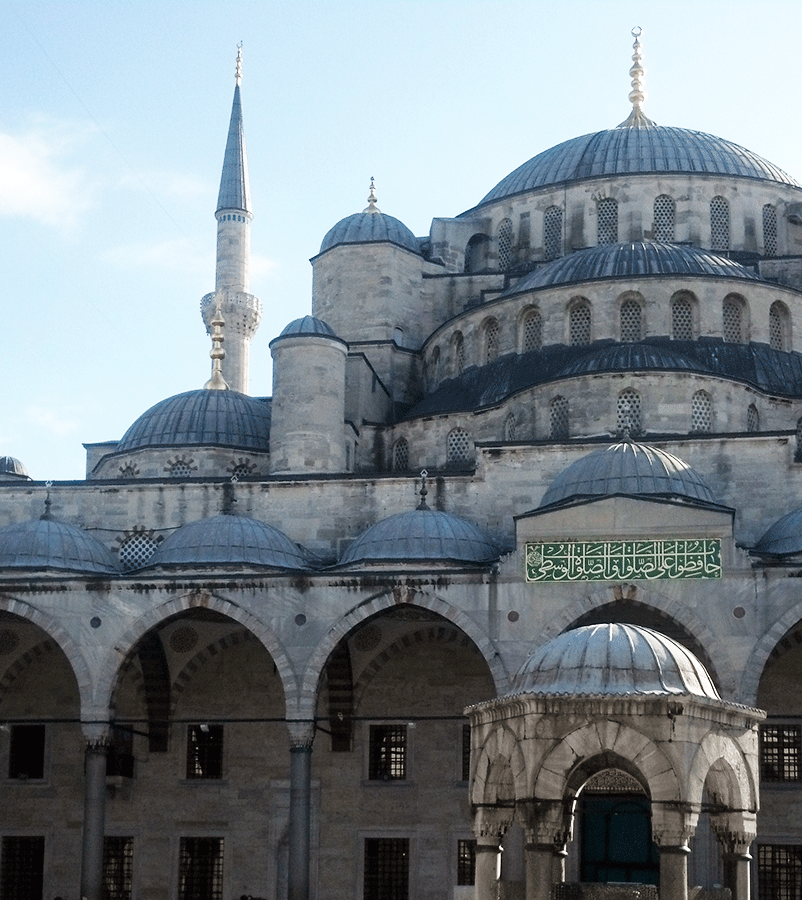 my "Vermeer a la Turk" series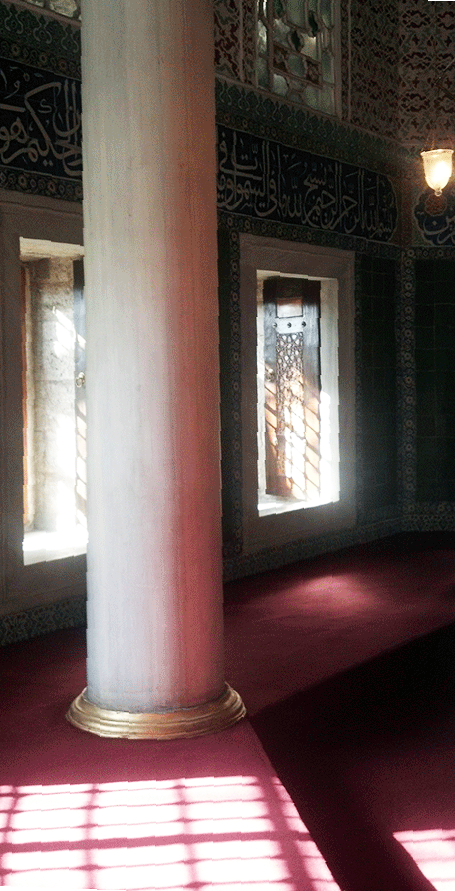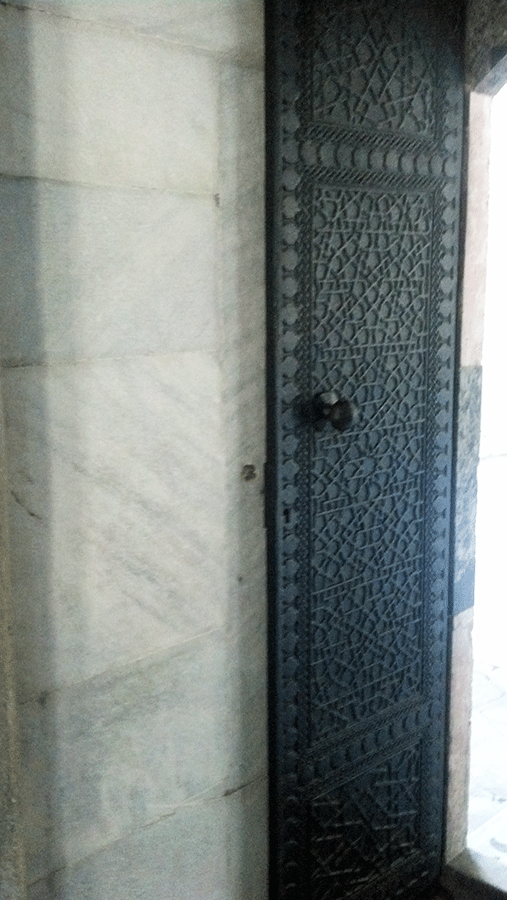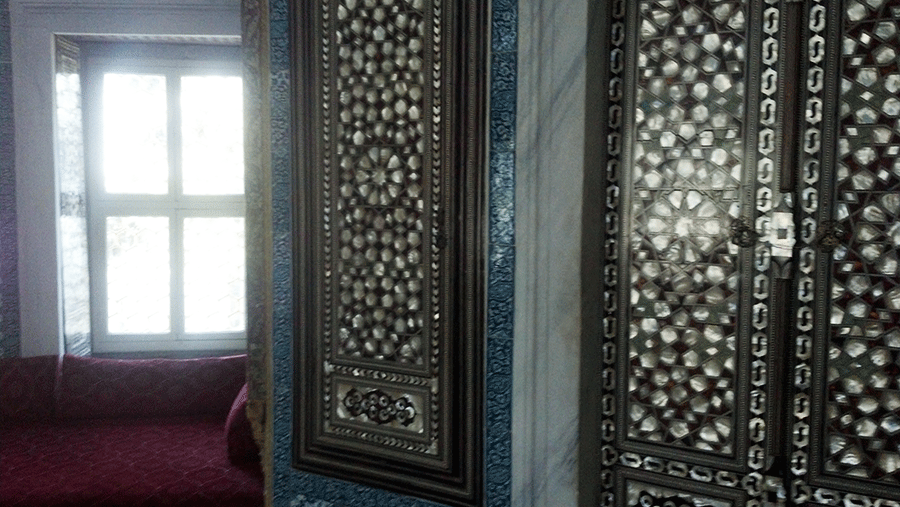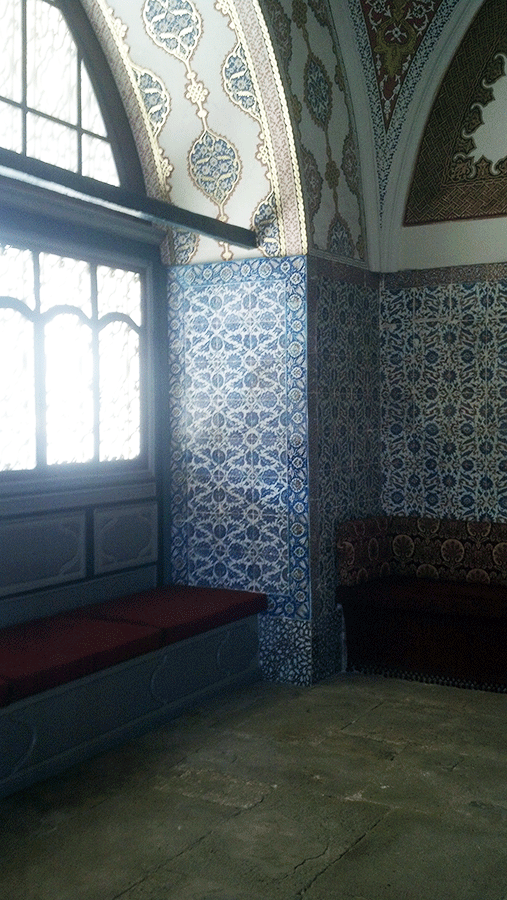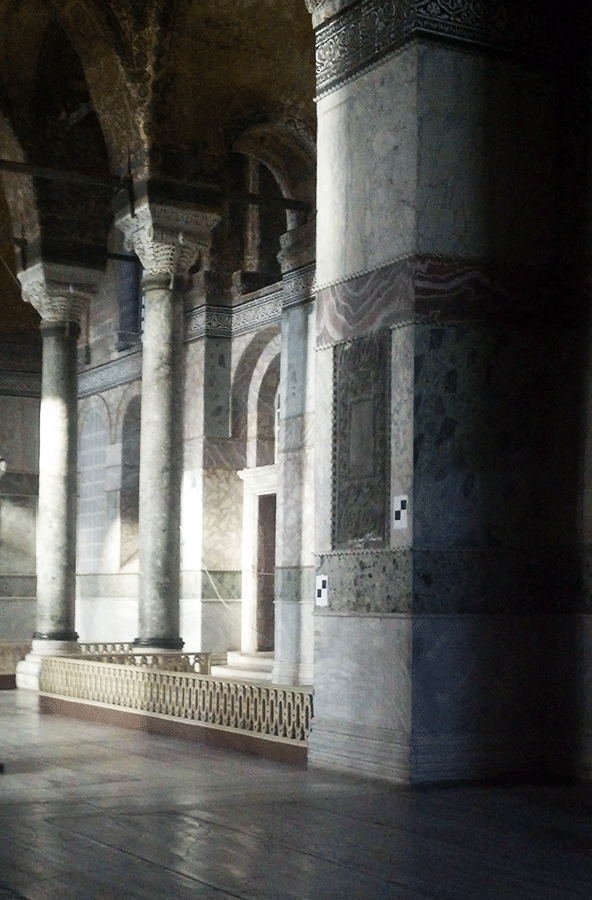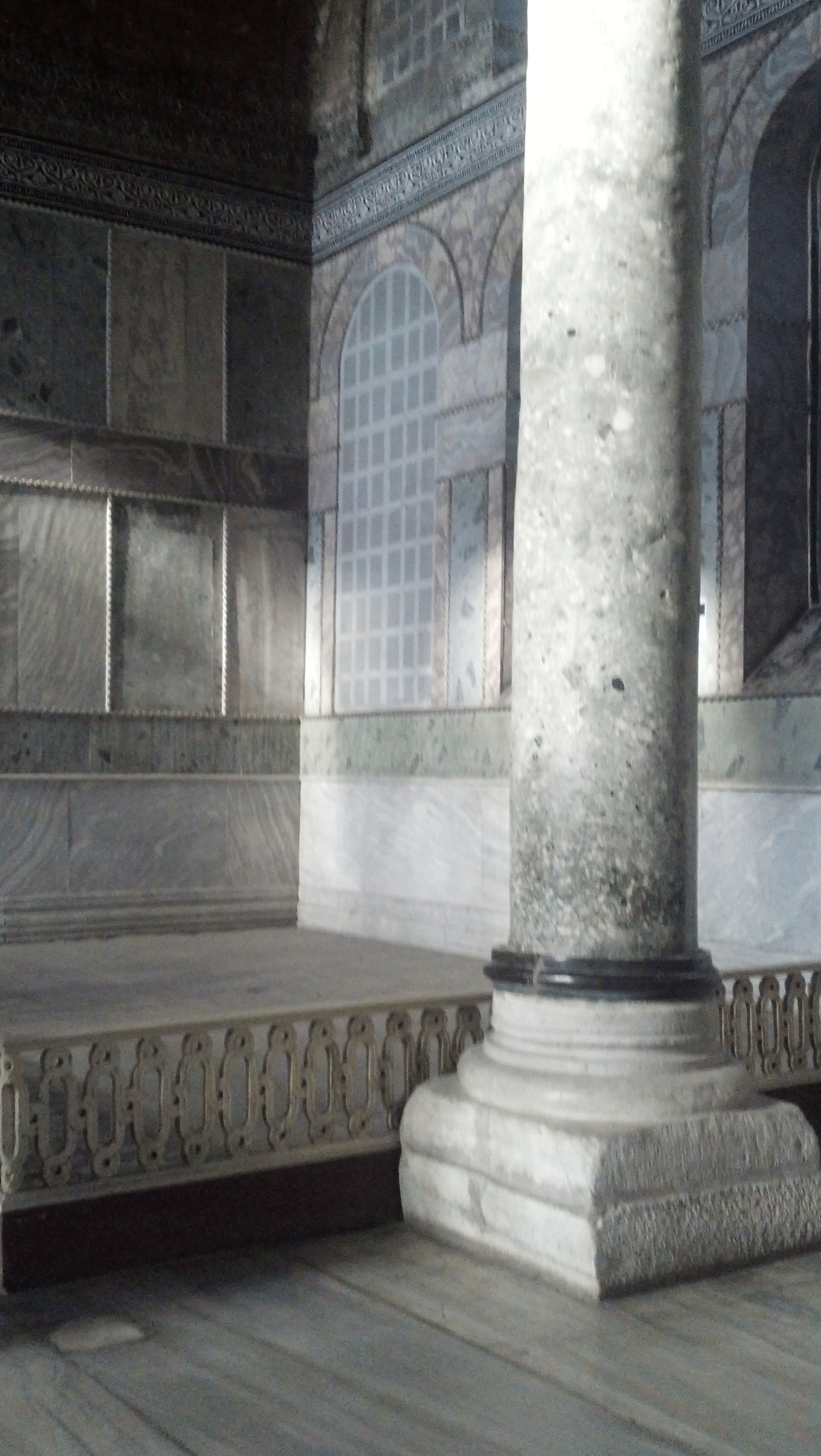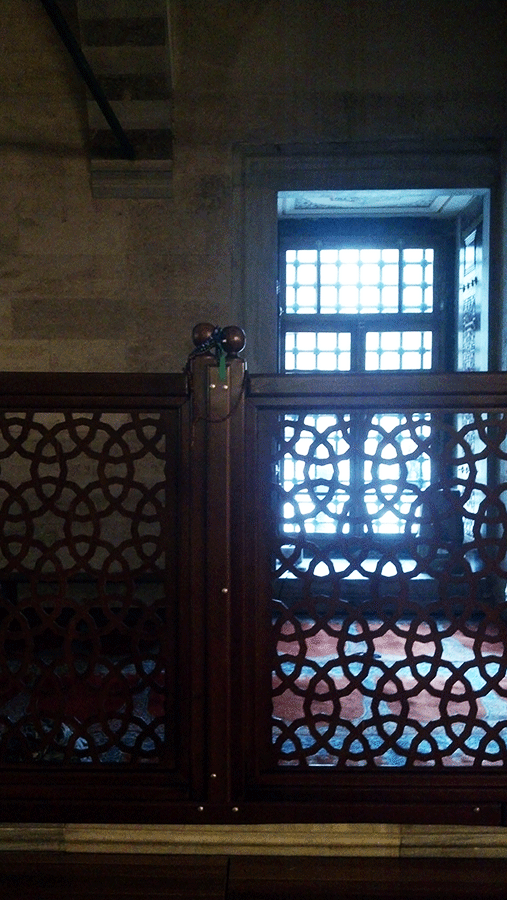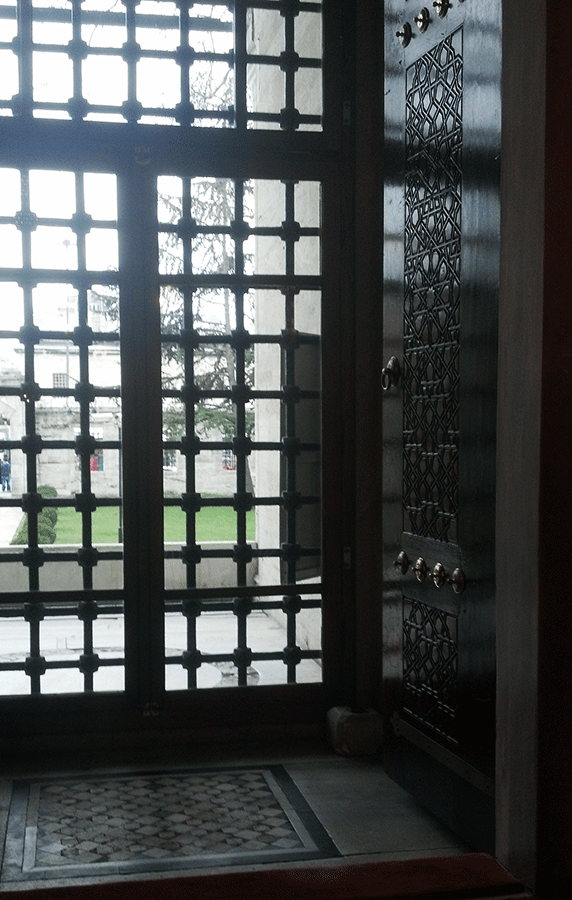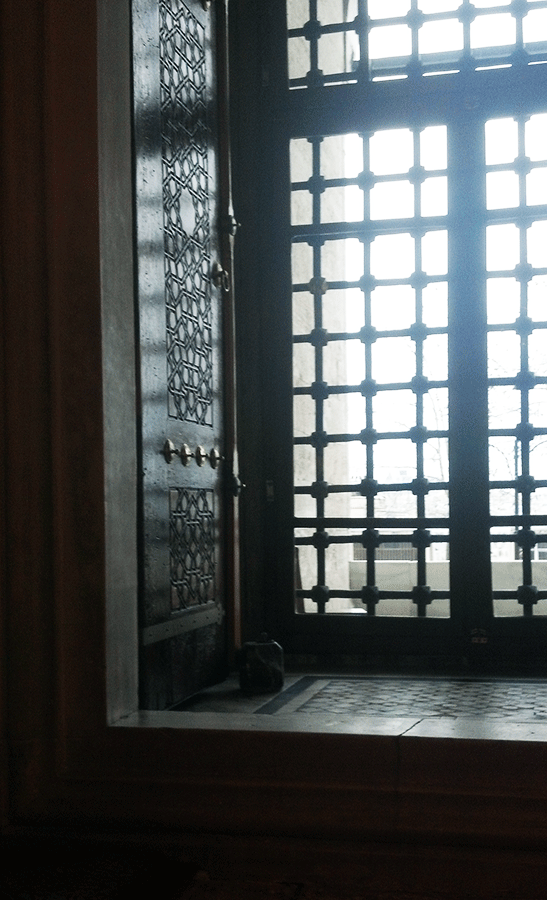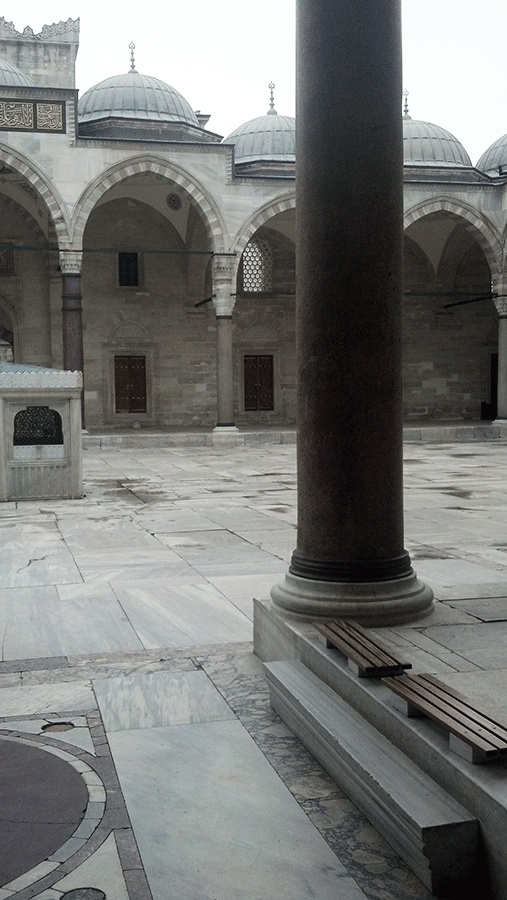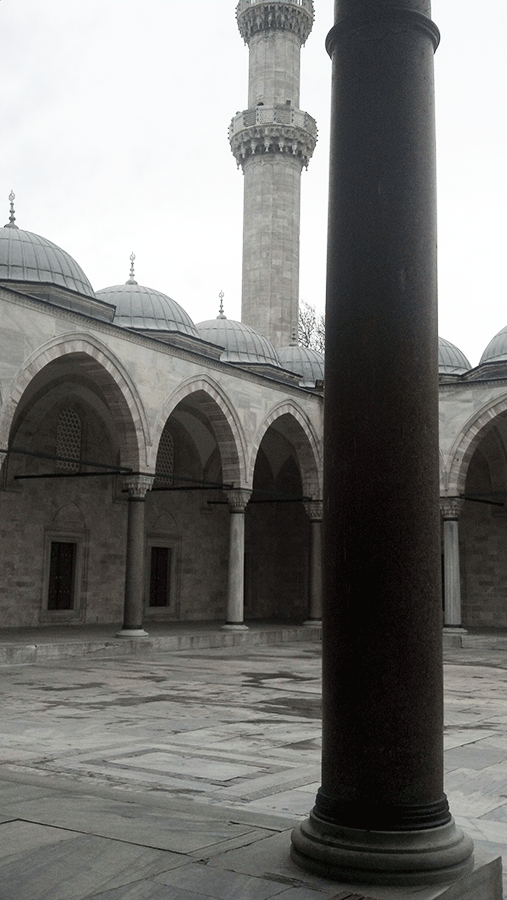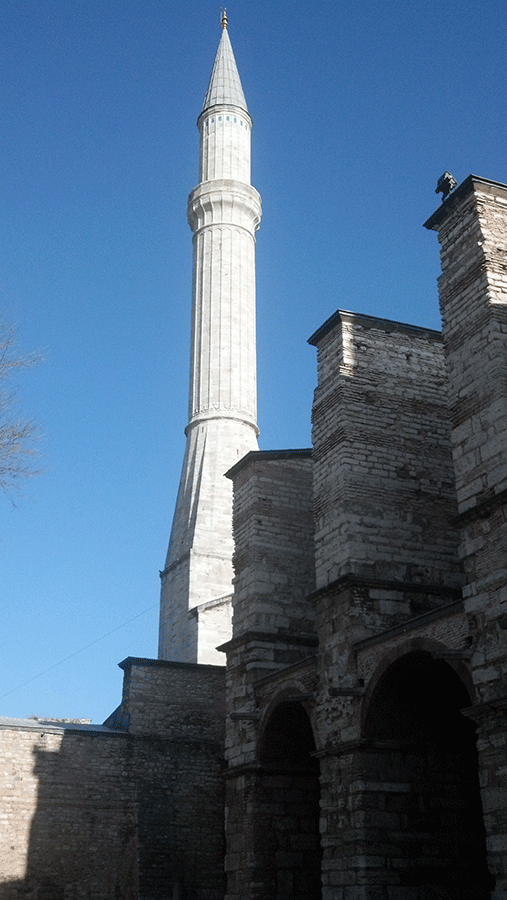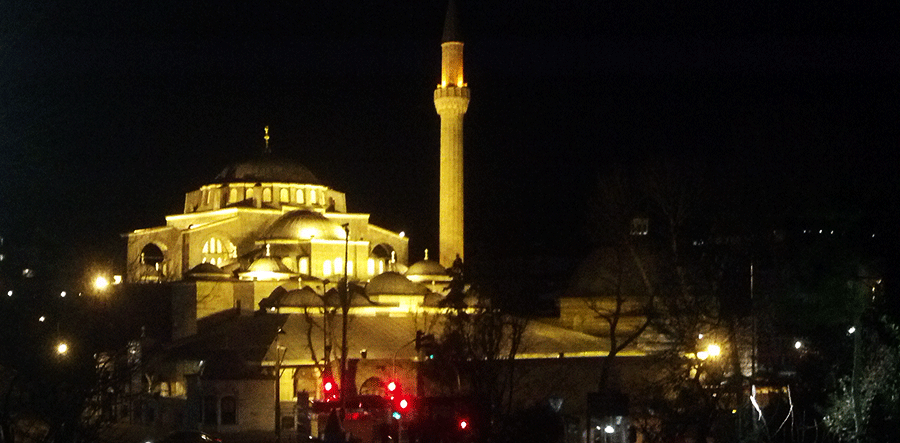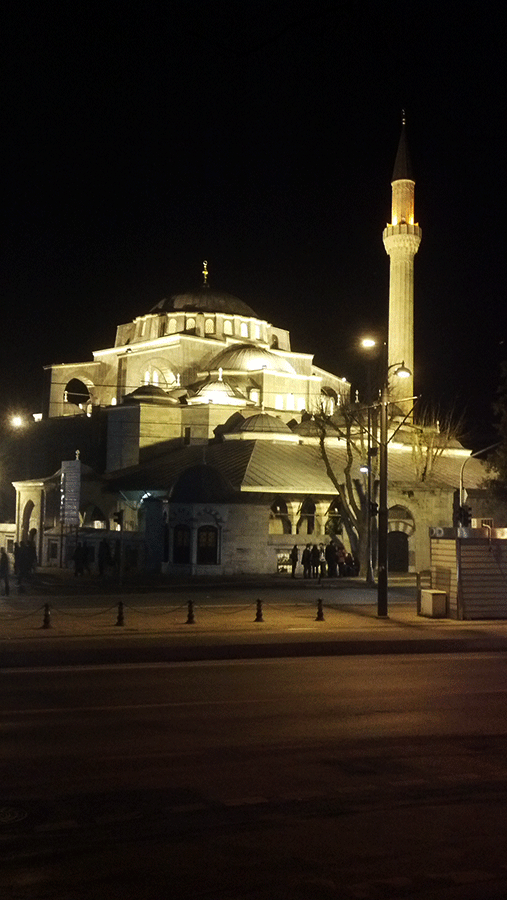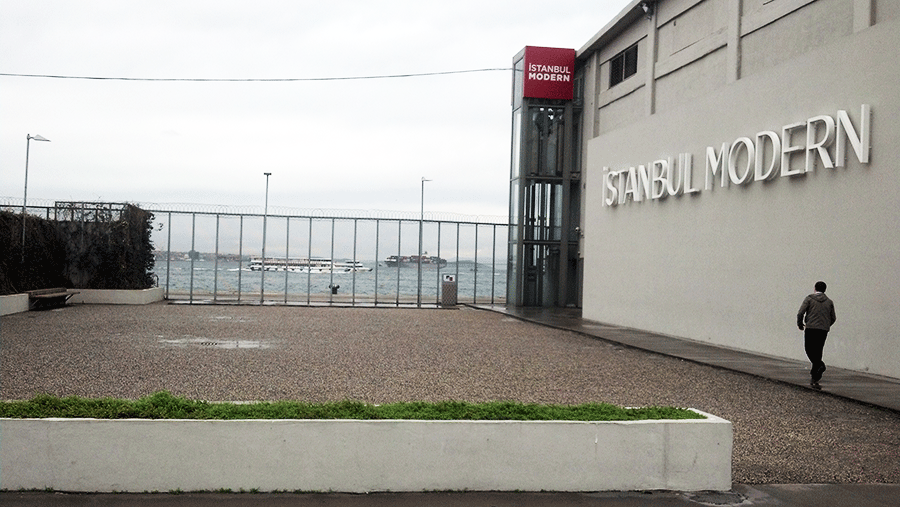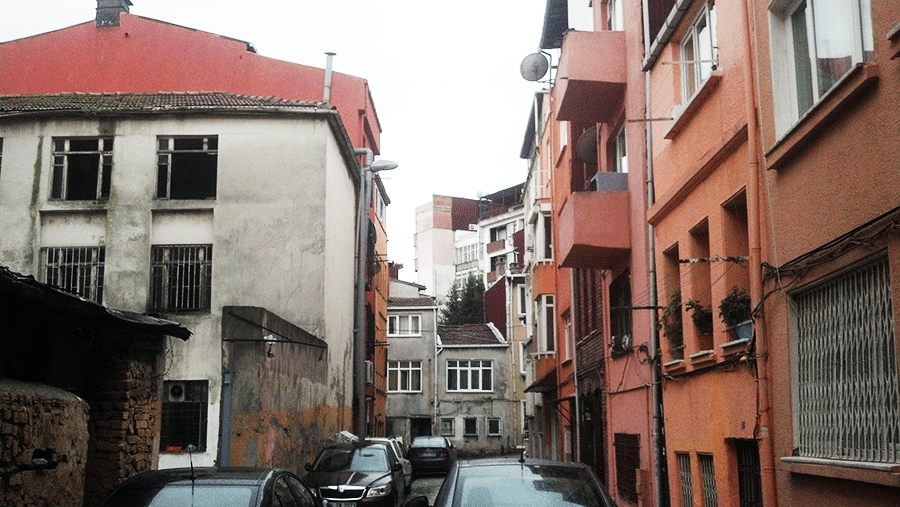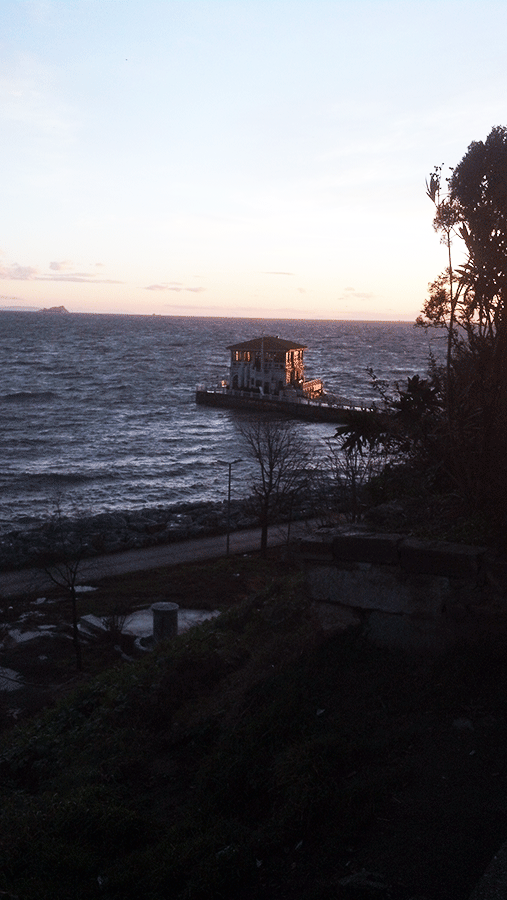 Nurhan and Kim (and, alas, a pile of dirt!! Blame the photographer.)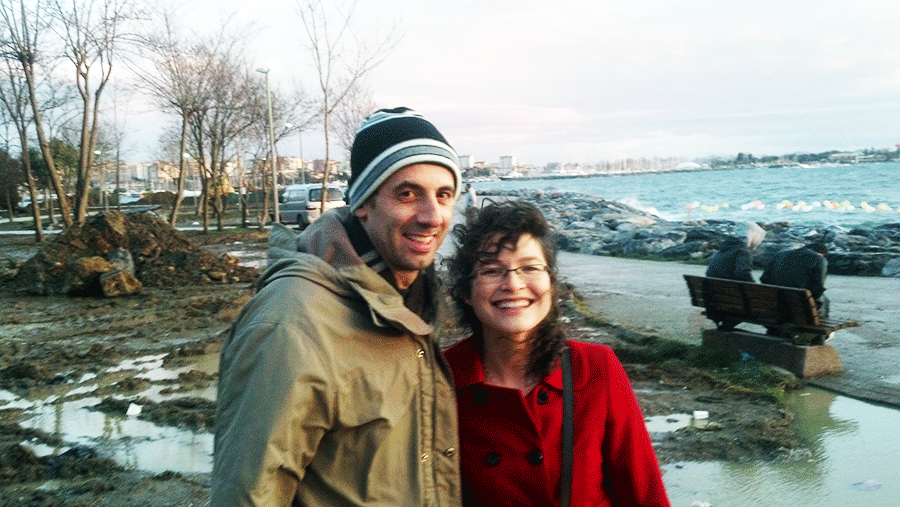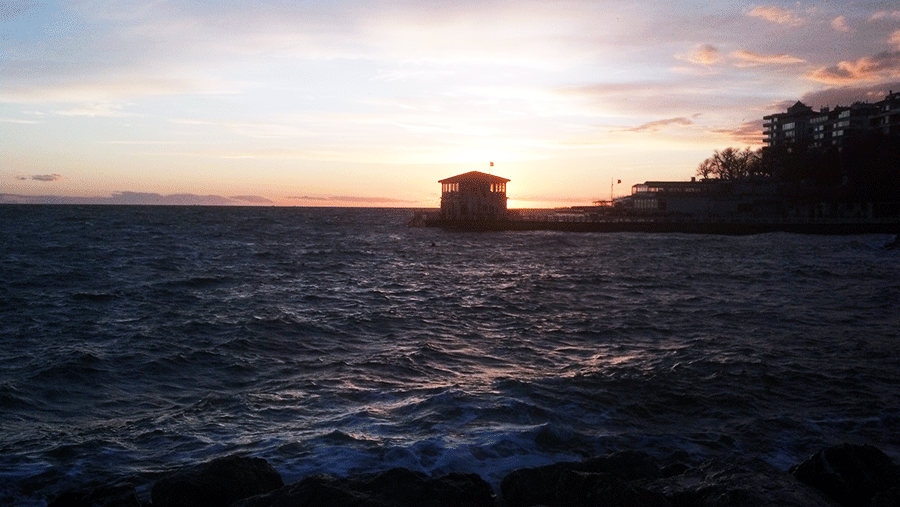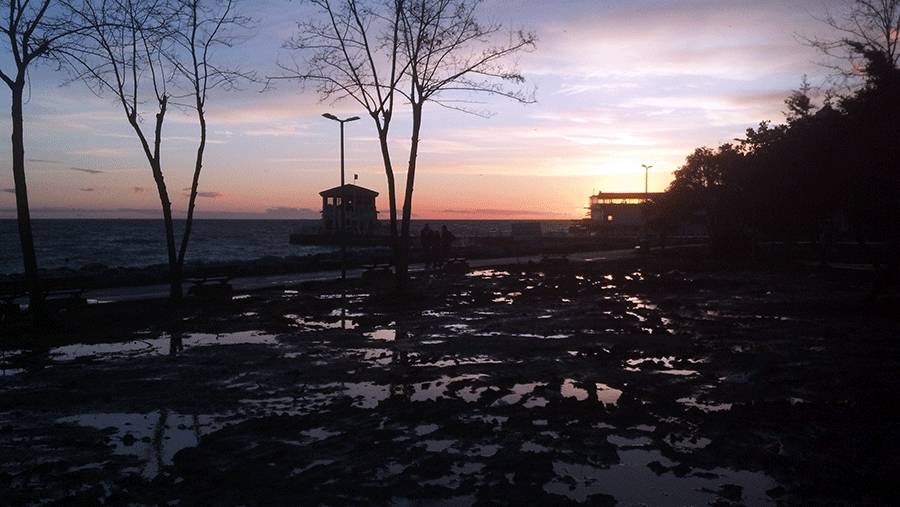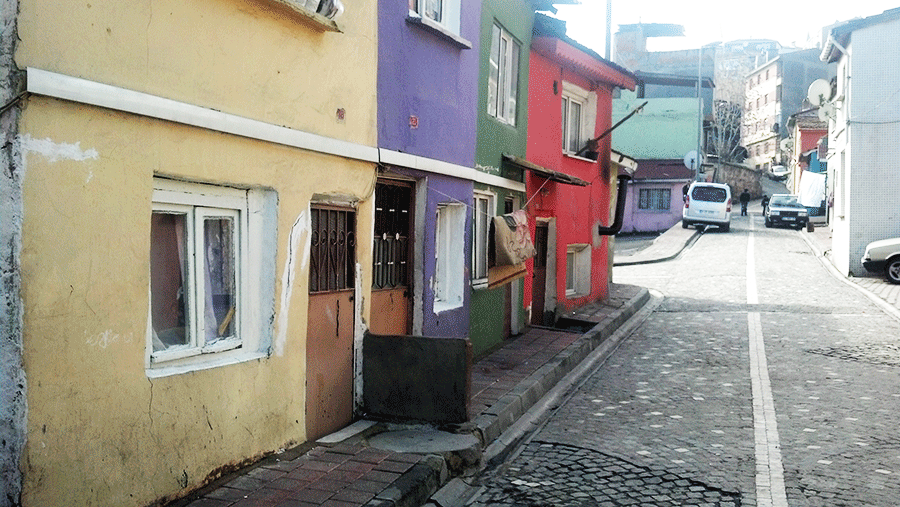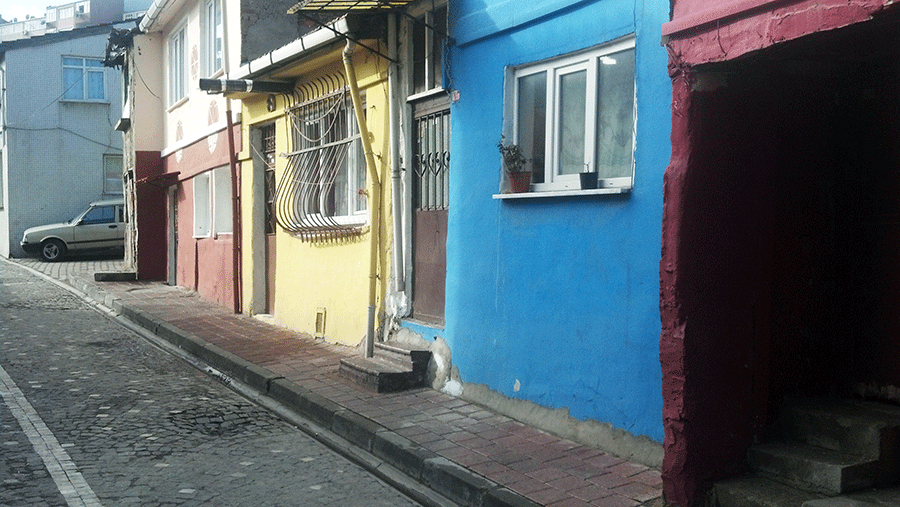 Mikveh/Hamam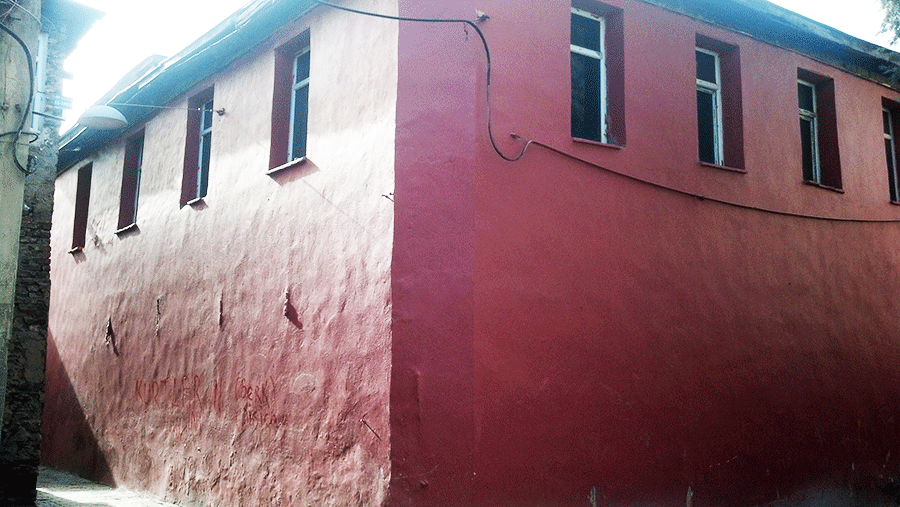 Ahrida Synagogue (locked shut due to anti-Semitic terrorism)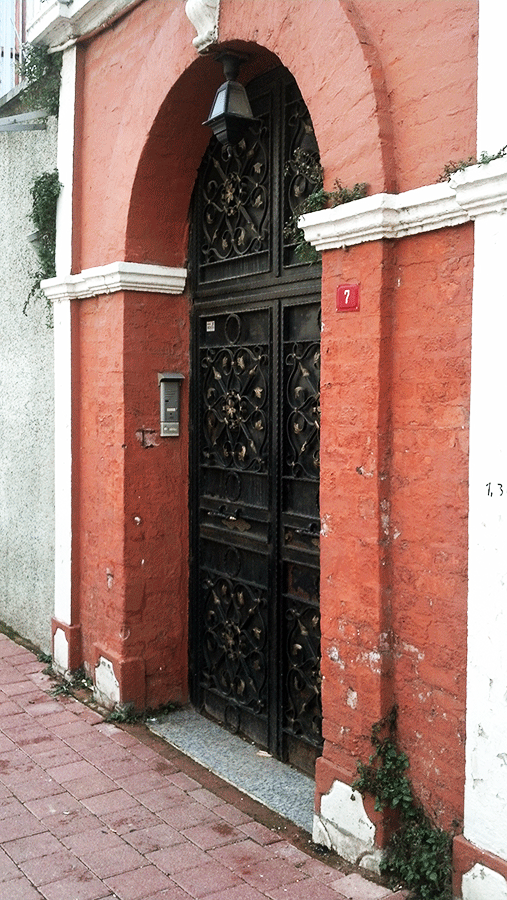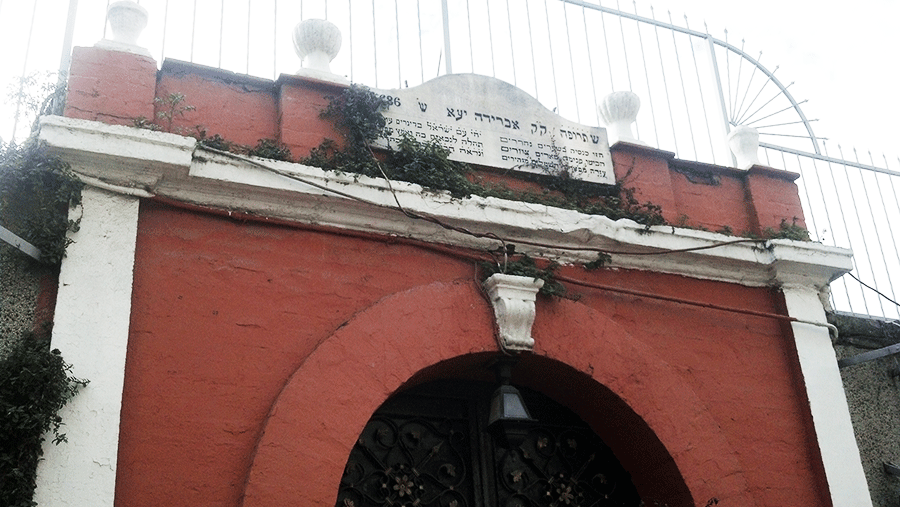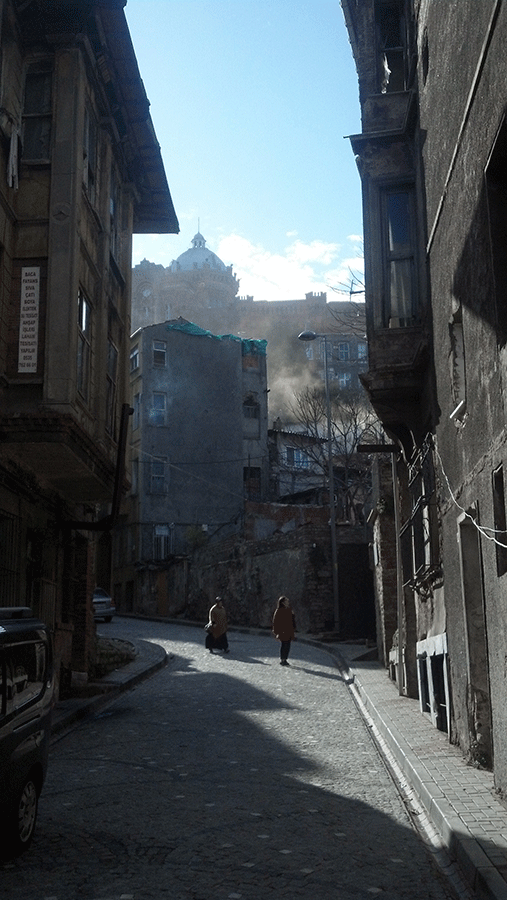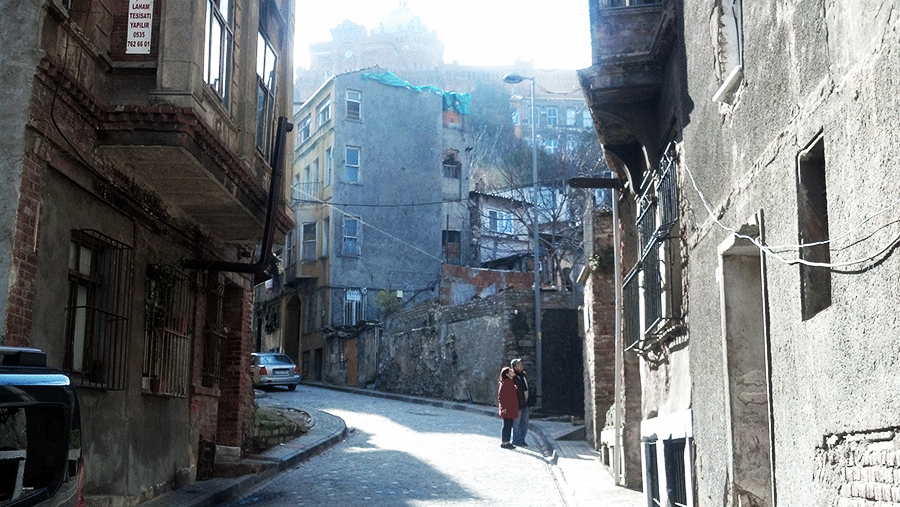 Taksim-a-gogo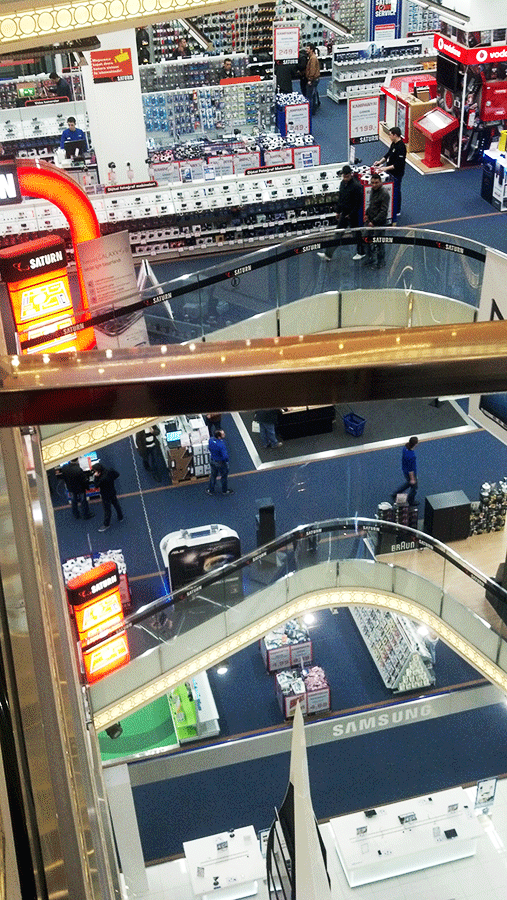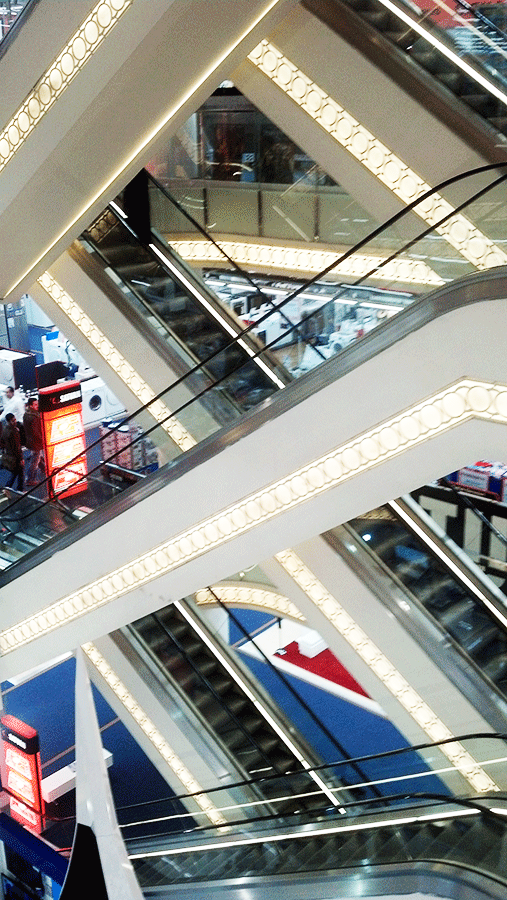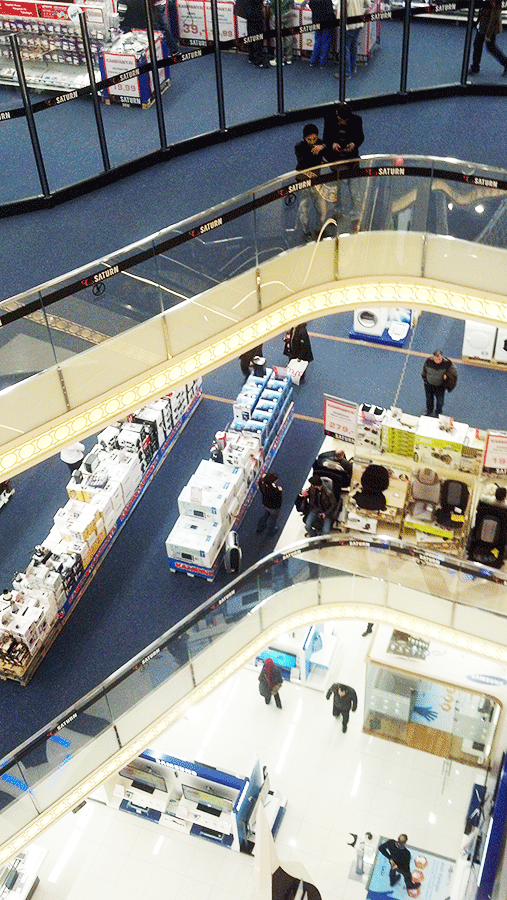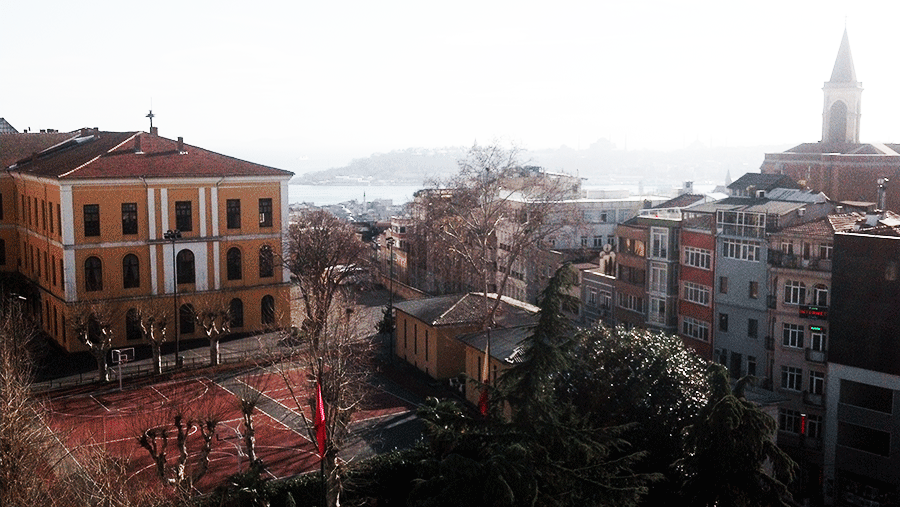 Lonesome Town