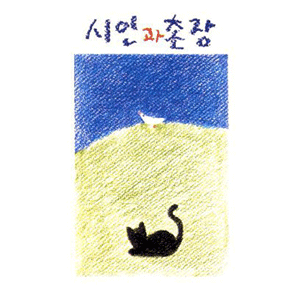 Shi In Kwa Chun Jang
SHI IN KWA CHUN JANG
(originally written 1989)
Anyone ripping a page from the JOHN LENNON/PHIL SPECTOR songbook is looking for problems. So who would have thought that a Korean outfit could steal away with the goods, and end up successfully reworking what was thought a sacred text? SHI IN KWA CHUN JANG (Urbanite and the Village Head), is simply a cover moniker for one Ha Duk Kyu. The "band" released their self-titled debut in 1987. The album is the musical equivalent of a wax dribble castle, offering countless sonic pathways, spaces, and levels to wander through and explore endlessly. Each song positively oozes with lush harmonies, swirling piano patterns, high-pass filtered vocals, and richly textured layer-upon-layer of acoustic and electric guitar. Tempos rarely stray beyond moderate. Indeed, most tracks unfold at an exceedingly slow and steady pace, drums providing only the sparest of rhythmic support. Nonetheless, Ha, through his plaintive, wistful vocals and stirring arrangements, evokes tension and power through restraint.

Yet like PLASTIC ONO BAND era Lennon, Ha has no trouble letting go when he wants to. "Jin Tal Rae" ("Azalea") slowly crescendos to a primal roar of wailing, distorted, hard-rock guitar, only to suddenly return to music-box frailty. In "Bidulki, Anyang" ("Goodbye, Dove") a ripping slide guitar wails over the dirge-like melody, replete with church bells and droning synths, climaxing in a cathartic vocal release. In "Mei" ("The Hawk"), Ha takes LYNYRD SKYNYRD's "Freebird" and stands it on its head. Over the rippling tide of keyboards and guitars, the stirring slide guitar soars out of control.

The album showcase, "Sarang Ilki" ("Diary of Love"), is a love letter to the world. Ha looks around his world, at the wings of the flying birds dividing the morning air, at the petal of a growing flower, at the powerful arm of a worker taking the first morning train, at the powdery brow of baby sleeping in its mother's arm at the edge of a market. "I'm writing that I love you," he sings, as a frail clarinet line is woven into the sonic fabric.

Throughout, Ha's lyrical concerns center on the awful realization that, unlike the animals he so idealizes in several songs--the bird in flight, the playful housecat--he has the power to reflect, and is thus condemned to self-awareness, hence ineffable loneliness, try though he may to fully embrace the natural world around him. In "Bidulki Eki" ("To the Dove"), over a lazy and resigned acoustic guitar line, Ha pleads "Wake me, shake me from my deep darkness/Take me to the land of light/I beg you/I beg you."

Ha released an album under his own name the year before SIKCJ was released. While rather conventional sounding, the record contains enough ingenuities to realize in retrospect that the awesome talent indicated on SIKCJ should not have come as a complete surprise. In 1988, as SHI IN KWA CHUN JANG, Ha released a third album, Soop ("Forest"). While less richly textured and melodically somewhat self-derivative, the album possesses track after track of stunningly beautiful, elegantly simple songs, falling musically somewhere between Fauré's Pavane and Side Two of BRIAN ENO's Before and After Science. Subsequent releases under his own name have been something of a return to the more commercial sound of his pre-SHI IN KWA CHUN JANG debut, displaying a very unfortunate lyrical trend toward Christian fundamentalism.

However unknown in rock circles here, the cohesiveness of vision and execution displayed on Shi In Kwa Chun Jang, coupled with Ha Duk Kyu's uncompromising understatement in both form and content, result in an album that is a true masterpiece, and a record that every serious rock fan should know.