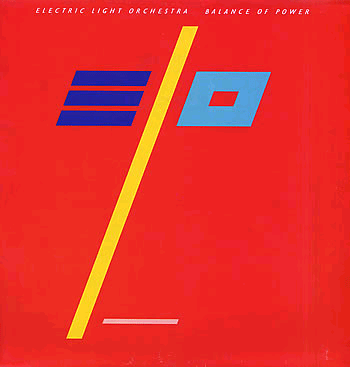 Balance of Power
ELECTRIC LIGHT ORCHESTRA
(originally written 1989)
Critics and fans alike seem to regard Balance of Power, ELO's final studio LP from 1986, as little more than a footnote to the band's illustrious hit-making career. Yet the album is a superbly crafted and consistently appealing pop record (there's not a single clinker in this ten-track bunch, a rare accomplishment indeed for a singles-oriented band) and is of historic importance when viewed as Jeff Lynne's opening bid for artistic credibility in a post-Xanadu age, which ultimately proved so successful that he realized his life's dream, that is, to work with the, um, Beatles.

Lynne abandons the excesses of his previous few outings here, stripping the short, simply structured songs to their melodic and harmonic core, with synths playing a far more subtle role than previously. Even the cover graphic indicates a retreat of sorts, replacing ornate adolescent silliness with a simple visual pun.

"Getting to the Point," the first and finest of the record's three ballads, explores with a new-found maturity the dying embers of a relationship, with the first-ever appearance of solo sax on an ELO record. "Without Someone" is similarly restrained in tone, also calmly reflecting on a lost love. Finally, the initially off-putting "Endless Lies," with its operatic chorus, finally clicks when one realizes the song is a tribute to future-Lynne collaborator Roy Orbison.

The remaining seven brief pop-rockers are uniformly excellent. "Sorrow About to Fall" makes an inspired swipe of FOREIGNER's "Urgent," with sax again stepping into the spotlight, while "Is it Alright" (sic), a simple letter checking up on a friend who felt the need to move on, deftly weaves together several joyously Beatle-esque, octave-leaping melodies with a latter-day Steve Winwood synth pattern and a mildly sinister bass chug. "Calling America," a minor stateside hit, is a similar exploration of a friend who has left town, which bemoans high technology's inability to connect the two across the Atlantic; a far cry from the excessiveness of 1981's Time LP.

The final track, "Send It," inclusively ends the string of album-closing "rock and roll" numbers begun with Discovery's "Don't Bring Me Down," and continuing through Time's "Hold on Tight" and Secret Messages' "Rock 'N' Roll is King." The song succeeds especially when set in low relief to the previous album-closers' synth-based clutter, which betrayed their hollow insincerity. Here, the melody and the steady beat carry the song along handsomely, and the album arrives at the terminal in tip-top condition.

Within the year Lynne was already collaborating with George Harrison on a number of projects, and his production career began in earnest, offering his now-stripped-and-clean sound to the likes of Del Shannon, and fellow Traveling Wilburys Roy Orbison and Tom Petty (Bob Dylan approached Daniel Lanois for his first post-Wilburys project, to the likely disappointment of Lynne).

After his work with Ringo Starr on the excellent Time Takes Time record, the pieces were in place for Lynne to make his final move. Since his teen days with the Idle Race, singing of John and Paul and Ringo and George's "lovely tunes," Jeff Lynne, a good-natured working-class lad from a northern industrial city, imagined a better life. In 1995, reality caught up with imagination, and "Free as a Bird" and "Real Love" are the glorious if sadly incomplete results.
In 2007 Balance of Power was finally given a digital update. The re-release sounds lightyears better than the original, bringing out any number of elements that were buried in both the LP and original CD format. A clutch of bonus tracks, including the superb B-side "Caught in a Trap", seals the deal. Fantastic!