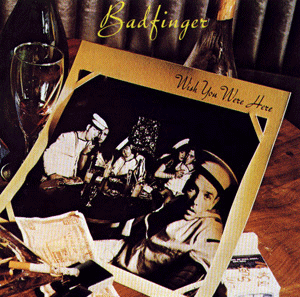 Wish You Were Here
BADFINGER
(originally written 1989)

Badfinger are perhaps best remembered (when remembered at all) for their Apple release Straight Up, with its stately though ultimately timid retread of late Beatles territory. Their subsequent releases for Warner Brothers never received the attention they deserved, yet it is was here, at Warner, that Badfinger finally emerged as legitimate heirs to the Fab Four's throne, rather than shirk as obvious pretenders.
Their Apple years brought Badfinger a few mild brushes with fame. Their three core albums (Magic Christian Music, No Dice, and Straight Up) produced a stateside hit each. The McCartney-penned "Come and Get It," from Magic Christian Music, is a note-for-note cover of the as-of-then-unreleased Beatles original, bringing nothing new to the song ("Carry On Til Tomorrow," a hit in Asia, would have been a far finer introduction to the band). No Dice's "No Matter What" was a straight-ahead and unspectacular pop-rocker, often billed as the first-ever power pop song (though that honor really should go to "And Your Bird Can Sing"). The classic GEORGE HARRISON-produced "Day After Day," from Straight Up, finally brought melody to the fore. As their later work would reveal, melody was surely Badfinger's strongest suit. (The band's final Apple release, Ass, is an easily-forgotten pastiche.) Their self-titled 1974 Warner debut was surely flawed, but nonetheless possessed some truly gorgeous pop songs, "Lonely You" being the obvious standout.
But it was on their second Warner release, that same year's Wish You Were Here, where Badfinger finally hit their stride, truly picking up where Abbey Road left off. Just like the Abbey Road medley, Wish You Were Here overloads the listener with energy, melody, intricate harmonies, and screaming electric guitars fighting it out with strings and brass. The album begins with a jolt. In "Just a Chance" electric guitars leap from the speakers, chugging along with Pete Ham's impassioned vocal. It becomes immediately clear that Ham had now unleashed the true depths of his vocal abilities, as he effortlessly wraps his vocal cords around the soaring melody. His new-found vocal prowess is perhaps most fully displayed on Side One's final cut, "Dennis," a sort of Jeff Lynne-meets-John Lennon explosion of melody, which amalgamates no fewer than three distinct concepts into one overwhelming package. Side One also features Joey Molland's "Got to Get Out of Here," a harrowing tale of alienation with a sustained church organ drone, that suffers only in comparison to the previous album's "Give it Up," on which the former is too obviously based.
The pace hardly slackens on Side Two, opening as it does with the Mike Gibbins/Joey Molland medley "In the Meantime/Some Other Time." Again, melody and energy combine in an overwhelming assault. After the Gilbert O'Sullivan and Paul McCartney soundalikes (respectively) of Joey's "Love Time" and Tommy Evans' "King of the Load (T)," the album moves into medley territory once again: Pete and Joey's "Meanwhile Back at the Ranch/Should I Smoke" ends the album with a climax every bit as dramatic as Abbey Road's "The End".
Chris Thomas is credited with album production, but surely, George Martin deserves special mention for inspiring the sonic treatment. Crystal clear electric guitars, Ann Odell's characteristically richly textured string arrangements, Average White's punchy brass, and inventive choral backing augment the rock-solid foundation for the vibrant, live-in-the-studio-sounding lead vocal. The album's aural constancy and short playing time (about thirty-six minutes) combine to make it one of the few LPs that actually improves upon translation to the cd format. Just like Abbey Road's Side Two, the few between-song breaks seem merely a bow to convention. Wish You Were Here, like few rock albums before or since, is truly of a piece.
Within the year, Pete Ham was dead by his own hand. In 1983, after a couple of unsuccessful attempts to get the band going again, Tommy Evans also committed suicide. Mike Gibbins died a natural death in 2005, thus leaving only Ron Griffiths, Joey Molland, and Bob Jackson as Badfinger survivors.