Late freshman year, my best friend and fellow music lover Jamie Reinstein and I were reading the school paper one day, and suddenly got to thinking that we could do as good a job as the current crop of record reviewers (not that they were bad at all--even today, I am impressed at the caliber of writing by that bunch of college kids). So we walked over to the Daily Pennsylvanian offices at 40th and Walnut, and offered our services to Bill Duchan, the music editor of 34th Street, the DP's Thursday entertainment supplement. Bill liked our samples, and put us to work straight away.
Within a few weeks, Bill suggested that I take over as Music Editor for the following school year. Though flattered, I was concerned that I was inexperienced, and also, I was worried that it would eat too much of my study time; I declined the offer.
A number of my fellow reviewers went on to very successful careers in journalism, among them Mark Caro (film critic for The Chicago Tribune), Sabrina Eaton (Washington correspondent for the Cleveland Plain Dealer), Jimmy Guterman (freelance music journalist), Shawn Levy (film critic for The Oregonian), Jeff Salamon (arts editor for the Austin Chronicle), Richie Unterberger (freelance music journalist), the list goes on. Gracious, I was in good company!
I went on to write for Trouser Press magazine just before they closed up shop in 1984, and then moved on to other things, leaving my career in journalism behind. Who knows what coulda been...
Anyway, here are all the reviews that I wrote for 34th Street. Some are very good, others, well, not so good.
---
Donovan
Neutronica
Bubble (France) 200149
When considering Donovan, the quintessential dippy flower child of the 60s, one usually recalls either a sincere childlike figure searching for love in a cold-hearted world, or a hypersensitive hippie with sickly-sweet affectations. Neutronica, his most recent comeback attempt, does little to contradict either of these images.
Updating his outlook for the 80s, Donovan is now concern­ed with the nuclear arms race, among other topical subjects. "Neutron you're a real estate bomb; the property's saved but the people are gone," he sings in "Neutron." "Only To Be Expected" is a powerful rocker (by Donovan's standards) decrying corporate waste. The Cars-style "Mee Mee I Love You," is an irresistably cute love song searching for another verse or two.
Whereas side one uses syn­thesizers and other contem­porary rock trademarks, side two gives way to traditional folk sensibilities. Donovan's voice sometimes stands alone with only an acoustic guitar as support. The subject matter shifts accordingly: "No Man's Land" is an ode to a dead soldier, "The Heights of Alma," a war ballad.
This lightweight, highly listenable effort adequately holds its own both against the Donovan of old, and against current releases from other folk/rock artists. Perhaps the world is ready for, as Neutronica's shrink-wrap sticker puts it, "Nouveau Donovan."
Daniel Silverman
April 15, 1982
---
Various Artists
Music and Rhythm
PVC 201
The full title of this album is Music and Rhythm — A Benefit Double LP for a World of Music Arts and Dance("WOMAD" for short). The WOMAD Festival, organized by Peter Gabriel in England last July, was an attempt at heighten­ing Western listeners' awareness of the traditional and contem­porary arts of non-Western cultures.
Not a live document of the WOMAD Festival, the album is but a compilation of twenty ar­tists (both Western and non- Western) whose music has been directly or indirectly influenced by non-Western sources. It should be noted that only ten of the twenty artists in this collection actually appeared at the festival.
Peter Gabriel's expansive and ambitious "Across the Water" sounds like an out-take from his third solo album sessions. XTC's excellent "It's Nearly Africa" is culled from their English Settle­ment LP. The English Beat con­tribute a re-mixed "Mirror in the Bathroom." Pete, Townshend's operatic meanderings on "Ascen­sion Two" sound rather out of place. Also included are a skanking dance cut by ex-Special-at-large Rico, a superb live per­formance by trumpeter Jon Hassell, and David Byrne's "His Wife Refused (from The Catherine Wheel).
Of the non-Western per­formers, standout tracks include Shankar and Bill Lovelady's beautiful folk song, "Himalaya," and two twelve-year-olds from Malawi on Magodogo xylophone.

This attempt at bringing the peoples of the world closer together through music is an admirable one. However, editing twenty seemingly unrelated songs together in the comfort of a high-tech studio seems a clinical approach toward reaching this most worthy of goals. Perhaps if the powers-that-be had released a document of the Festival instead, Gabriel and company could have conveyed their message of cross-cultural comradery in a more communal, festive, and effective way.
Daniel Silverman
September 16, 1982
---
The Tapes
On A Clear Day
Passport PVC8907
Hailing from Holland, hardly the rock capital of the world, The Tapes would seem to be at an immediate disadvantage. Their 1980 debut album Party was a commercial failure, featuring a combination of minimalist funk and offbeat song structures.
On A Clear Day is cut from the same mold, but the band has added keyboards and backing vocals (sometimes female). The result is fuller sound, reminiscent of early XTC without that band's frequent bows to pop. The Tapes' songs at first may seem unmelodic, but their effective use of the occasional hook adds dramatic relief to often tension-provoking tunes.
Lead singer/songwriter Rolf Hermsen's sterile lyrical style can be an effective device for conveying his fears of modern-day living. In "Mouth Of The World," the drama of Hermsen's struggle for in­dividuality is heightened by his admission that conformity has its benefits as well. "Salt Desert" effectively likens the routine of a blue-collar worker to being lost in the desert. It ends with the tragically ironic line, "On a clear day you can see forever" (hence the disguis­ed pessimism of the album title). Unfortunately, The Tapes' sterile syntactic style does not lend itself well to love songs. "Stella" and "Hot Line" are insincere and stilted.
The last track, "Strategy," is the most accessible and possibly the album's best song. Hermsen reflects on his role as a rock singer and struggles with the tempting possibility of "selling out." In the end he decides to remain as he is.
On A Clear Day effectively communicates Hermsen's in­telligent and sensitive outlook. He retains his human frailties despite temptations to give them up for the safety of an unfeeling, and therefore painless, existence.

Daniel Silverman
April 22, 1982
---
R.E.M.
Chronic Town
IRS-70502
Among the seemingly endless sub-genres of pop music exists a form that critics commonly label "elusive pop." Elusive pop is characterized by bright, upbeat melodies with a hefty dose of Sixties influence, coupled with cryptic, psychedelic lyrics. As evidenced by the 5-song EP Chronic Town, Georgia's R.E.M. fits squarely into this category.
R.E.M. has crafted an appealing blend of minimalist instrumental strategy and melodic pop sensibility. Jangling rhythm guitar and economical drumming dominate hook-filled songs such as "Gardening at Night," "Wolves, Lower," and "Carnival of Sorts (Box Cars)." Unfortunately, any attempt at discussing R.E.M.'s lyrics is thwarted by producer Mitch Easter's decision to bury the vocals way down in the mix.
Despite this and other minor flaws (some of the songs are too long), R.E.M. is a welcome addition to the new breed of pop band that has surfaced in the last few years. Along with The Bongos, The Individuals, and the dB's, R.E.M. is doing its best to make pop music (elusive or otherwise) respectable again.
Daniel Silverman
September 30, 1982
---
Barry Manilow
Oh Julie! EP
Arista
Barry Manilow means many things to many people. To some he signifies Bar Mitzvah parties, to others he stands for leisure suits, to some he evokes McDonalds commercials. When pop culture becomes pap culture, Manilow's name invariably jumps out — in neon.
Manilow's latest is a departure from his usual schmaltz-operas. Oh Julie! is a four-song "rock and roll" EP, the title track contributed by British rockabilly revivalist Shakin' Stevens. Manilow delivers a fairly straight reading of this unsensational pop/rock number.
A lame cover of "I'm Gonna Sit Right Down and Write Myself a Letter" comes complete with fake "sloppy" instrumentation, and "Heaven" grafts Elton John's wors \t musical missteps onto typical Manilow shlock. Only on "Some Kind of Friend" does Manilow lift himself out of his muck to deliver a tight pop-rocker, complete with synth hooks.
Lest fans fear Manilow is changing his image, his upcoming LP is purportedly all ballads.
Oh Barry!

Daniel Silverman
October 7, 1982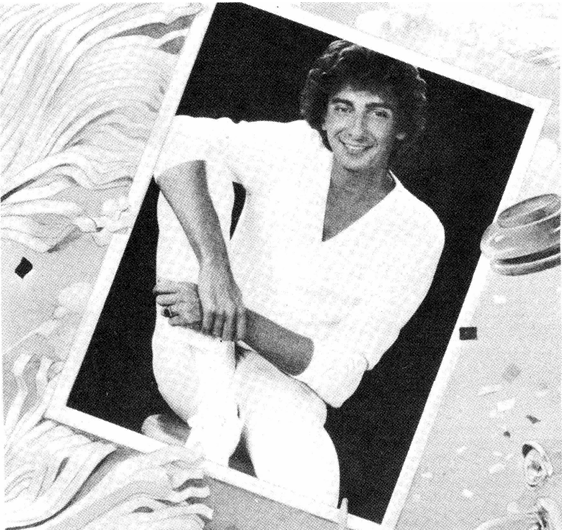 ---
Peter Gabriel
Peter Gabriel
Geffen
On his last album, Peter Gabriel delved into the deepest recesses of sociopathy and psychopathy and emerged with bleak and desperate songs of paraphiliacs, political assassins, and alienated souls. Underlying all was his struggle to come to terms with himself and the world, and to realize his own identity. It seems that now he has made pro­gress in his quest.
On Peter Gabriel, his fourth self-titled album, he has im­mersed himself in the world's tribal cultures, finding at least a modicum of happiness. The album opens with "Rhythm of the Heat," in which the protagonist describes his induction into a Zen-like tribal world. This is followed by "San Jacinto," which portrays a modern day Indian desperately holding on to his traditional world view in the face of Manifest Destiny.
In "I Have the Touch," Gabriel returns to his old ways; emotional and sexual repression lead him to the subways during rush hour where he's forced into physical contact. There is a certain warped beauty to the protagonist's neurosis here that Gabriel would not have conceded to earlier in his career. "Wallflower" explores the dehumanization of a mental in­stitution, yet weaves in a poignant thread of hope.
Gabriel's newly-found optimism is fully realized in "Kiss of Life," which explodes with rhythm and jubilation to celebrate the unearthly qualities of a tribal enchantress, certainly a more upbeat last word than the despairing "Biko," which closed his last album.
Gabriel's tribal-is-good/Western-is-bad conceptualization may force the listener to question the maturity of his grasp of differing psycho-social vantage points. However, this problem is ultimately overshadowed by the stunning beauty of the music itself. The cinematic style Gabriel commands is often attempted in rock, yet is rarely convincingly realized. It takes Gabriel's ingenuity and sensitivity to bring these images into sharp focus in the mind's eye.
Daniel Silverman
October 21, 1982

---
The Boomtown Rats
V Deep
Columbia
It was 1980 when Bob Geldof and his Boomtown Rats experienced their artful surfacing with their third album. Two releases later, the Rats have re- immersed themselves in the aquatic depths from which they spawned, and the appropriately titled V Deep is the result.
It is difficult to deny that the Boomtown Rats have been greatly influenced by their pelagic environment, as V Deep is overflowing with watered-down influences. Diluted jazz ("The Little Death"), dub ("...House Burned Down"), surf music ("Whitehall 1212"), blitz ("Skin On Skin") and other assorted water-logged ditties abound in this musical hodge-podge.
On the more substantial side, one fishes out "Charmed Lives," a sizzling slice of disco with "Funkytown"-inspired percussion and Eastern-flavored keyboard washes. It has all the earmarks of a dance-floor smash, as does "House On Fire," whose skanking rhythms and bouncy horn licks are sure to get one's feet moving. Another plus is "Never In a Million Years," whose mock-bombasticism echoes "I Don't Like Mondays" to an un­nerving yet delightful degree.
The Boomtown Rats, along with so many of their post-punk cohorts, have strayed into previously uncharted musical waters with mostly unconvincing results. Perhaps their next release will bring them up from the depths so they may once again sail to glory.
Daniel Silverman
November 4, 1982
---
Devo
Oh No! It's Devo
Warner Brothers
When Freedom Of Choice was released in 1980, what Devo was all about finally became clear. With its pop hooks and slick production, the album represented what Devo might consider their most powerful artistic statement up to that time. In one fell swoop they reduced themselves from avant-garde conceptualists to top 40 popsters, all they while claiming their success was part of a greater conceptual whole. Devo was devolving.
Not any more. Oh No! It's Devo finds the band cranking out the same fodder as their two previous releases (Freedom Of Choice and last year's New Traditionalists). Choppy keyboard textures, heavy bass synth, and a crunching 4/4 beat dominate each song. Nowhere to be heard are the fuzzy guitars, manic drumming, or crazed vocalizing that made Are We Not Men? And Duty Now For The Future such insanely brilliant records.
At its best (e.g. "Speed Racer") the new album manages to recapture some of the black humor and quirkiness of early Devo. At its worst ("Out Of Sync," That's Good," etc.) Oh No! sounds as if the songs were written as mere afterthoughts fleshing out the beat.
To be fair, Devo does indeed warn the listener about their artistic compromise: in "Time Out For fun," a Devo spokesman declares that "Things go both ways." If Devo were truly the daring conceptual artists they once purported to be, they would release albums in a Styx/Air Supply vein. As it stands, their wishy-washy "things go both ways" approach to their own conceptual process merely reeks of sell-out.
Daniel Silverman
November 18, 1982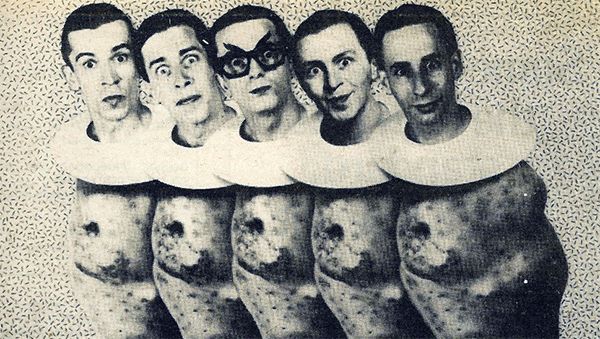 ---
Doll By Doll
Grand Passion
Magnet (UK)
For four years the virtually unknown Doll By Doll has been releasing near-classic albums to an utterly indifferent public. And unless Magnet Records has a major promotion scheme up its sleeve, this trend will unfor­tunately continue with the band's fourth release, Grand Passion.
Lead singer/songwriter Jackie Leven possesses that rare combination of abilities: writing instantly classic melodies and possessing a voice capable of doing them justice. "Cool Skies" and "Lonely Kind Of Show" have the relaxed, plaintive feel of today's best FM pop (say, Steely Dan or Roxy Music), yet Leven injects an air of timelessness into his gentle blend of percussion, sparse synthesizer, and guitar, the likes of which haven't been heard since prime Dylan or, dare I say, The Beatles.
All isn't easy listening, however. "Natural" is powerful and uplifting, with impassioned vocals and an absolute killer chorus. On "City of Light," Leven and second vocalist Helen Turner create nightmarish images of a war-torn society by employing a seething, wailing guitar over a hauntingly repetitive vocal, all brought together by a rigid military beat.
If there is one weakness in Doll By Doll's approach, it is Leven's unrelenting and humorless pursuit of "grand passion" (excluding a most credible cover of "Under My Thumb"), that eventually grows tiresome. On the title track Leven sings: "If all the singers opened up/And sang until the strong men cried/If all the strong men found their tenderless/And they were strong inside."
Yes, the lyrics border on the melodramatic, but that's a minor flaw. Grand Passion contains some of the finest AOR to come along in years.
Daniel Silverman
December 2, 1982
---
Lene Lovich
No Man's Land
Stiff/Epic
On No Man's Land Lene Lovich has turned up the bass and reverb, giving her third LP a fuller, more substantial sound than previous efforts. A certain amount of Lene's personality gets lost in the transition, but her unique charm manages to glimmer through intact.
"It's You, Only You (Mein Schmerz)" kicks off the album with a blast of distorted electronics, then settles down into a chunky dance beat accompanied by Lovich's registered trademarks — hiccupy vocals, droning male choruses — with a decidedly Eastern European slant. The beat continues through "Blue Hotel" and"Faces." and finally lets up with "Walking Low," which sounds like a cross between The Zombies and Theodore Bikel. The beat returns with Jimme (ex-Fingerprintz) O'Neil's parodic "Sister Video" and permeates the rest of the album in typical 1982 dance/chic fashion.
A new twist is thrown in here and there (Lene exercises her lower register more frequently), but No Man's Land showcases the Lene Lovich we've all come to know...and love.
Daniel Silverman
December 9, 1982
---
Daniel Silverman's top albums of 1982:
Gruppo Sportivo, Pop! Goes the Brain.
The dBs, Repercussion.
Roxy Music, Avalon.
Shoes, Boomerang.
R.E.M., Chronic Town.
Doll By Doll, Grand Passion.
Peter Gabriel, Peter Gabriel.
Fingerprintz, Beat Noir.
Marshall Crenshaw, Marshall Crenshaw.
Bongos, Drums Along the Hudson.
---
Chris Stamey
It's A Wonderful Life
DB
For those unfamiliar with Chris Stamey, he is the quirky half of The dB's songwriting duo. For those not familiar with The dB's, blame the Amerikan musik industry for not giving the Fatherland's best pop band a record deal.
Listening to It's a Wonderful Life, Stamey's first solo LP, is not the easiest of undertakings. Stamey twists, bends and manipulates the rules of pop music at his discretion, creating songs that flow in and out of the genre but never attack it straight on. The result is a challenging blend of styles that forces the listener to take an active role.
Songs such as "Winter Of Love" and the title track com­bine elements of minimalism, psychedelia and pop, creating compelling and hypnotic moods that are elusive yet tangible. And on "Depth Of Field," the psychedelia comes to the fore, featuring Stamey's slowly strummed guitar and ethereal keyboards that virtually drip and ooze out of the turntable.
This is not to say that Stamey always takes the indirect approach to obliqueness. On "Oh Yeah," in which he recites the timeless truism "Oh yeah! The air is full of air!" and on the purer-to-pop formulae of "Never Enters My Mind" and "Face of the Crowd," one cannot help but think he means something more.
It's a Wonderful Life has its share of self-indulgent moments, such as the rather directionless "Get A Job" or the comical "Brushfire In Hoboken," and lacks the overt pop counterpart that Stamey's songwriting partner Peter Holsapple so ably provides with The dB's. Thus, it is not as good an LP as a new dB's album would be. But then again, how many records are?

Dan Silverman
March 3, 1983
---
Abba
"The Day Before You Came" b/w "Cassandra"
"Under Attack" b/w "You Owe Me One"
Polydor (UK)
These two new singles are supposed to be buying incentives for the new Abba greatest hit's package The Singles: The First Ten Years. Unfortunately, exposure to these singles will most likely act as an incentive not to buy.
"The Day Before You Came" may very well be the worst Abba song ever committed to vinyl. Why this six-minute exercise in tedium was ever picked as an A-side escapes all forms of reasoning. The flip fares much better; it is a haunting "Fernando"-esque ballad with a typically irresistable chorus.
"Under Attack" seems a logical progression from last year's "The Visitors." Although it never approaches that song's brilliant fusion of technology and emotion, "Under Attack" is a listenable and sometimes catchy effort. The flip harkens back to the days of Abba as that innocuous pop band delivering the mindless fun of "Waterloo" and "SOS."
These highly unsensational new, singles follow 1981's album The Visitors, the group's first commercial failure. Coupled with member Frida's recent solo success, this unfortunately paints a very pessimistic picture indeed for ABBA's future.
Elias Corpsvanne
March 10, 1983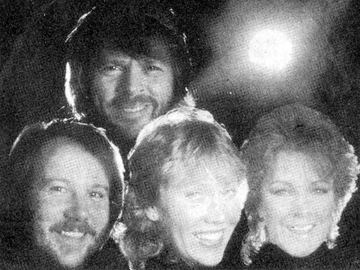 ---
Gruppo Sportivo
Design Moderne
Ariola Benelux (Holland)
OK, stop holding your breath. The new Gruppo Sportivo album is out, and those nutty Hollanders have indeed delivered another Dutch treat! Design Moderne, the band's sixth album, finds lead singer/songwriter Hans Vandenburg (a.k.a."Vandefruits") still struggling with all his neuroses and making his insightful criticisms of Western pop culture in the most happy-go-lucky of lyrical and musical styles.
In the album opener "Go 'N' Get It," check out the protagonist's attempt to rationalize his own celibacy by trivializing his friends' relationships: "He works all day/Doesn't make much/He's got a Volkswagon and a funny accent 'cause his wife is Dutch." Or in "Happily Unemployed," "I'm happily unemployed/Jobless but paranoid/The Doctor says I'm seeing ghosts/But I don't care/I'm a flat broke millionaire/Thanks to welfare."
Maybe Sparks once approached Gruppo Sportivo's penchant for transforming serious problems into high humor, but Vandefruits goes Ron MaeI one better. Besides his verbal wit, Vandefruits' deft musical thefts make listening to this album not only a joy, but a challenge. See if you can spot that Beatles lift in "On Her Own," or the "Light My Fire" keyboard riff in "Newspaper." Around every corner Vandefruits mixes his own pure pop sensibilities with influences he isn't afraid to wear on his sleeve.
So it seems Design Moderne (and Gruppo Sportivo) has everything needed to make it big: funny lyrics, hooks galore, and an irresistably likeable frontman.
Now if only they could get an American record deal...
Dan Silverman
January 27, 1983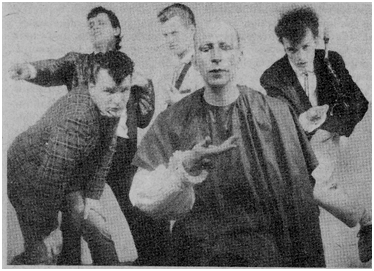 ---
Ric Ocasek
Beatitude
Geffen
At first, the idea of a Ric Ocasek solo album seems appealing. Without The Cars' limited pop formula to restrain him, Ocasek could unleash his supposed avant-garde inclinations on a largely unexpecting public. Unfortunately, Ocasek's solo debut for Geffen Records places him somewhere between these two extremes. The result is a vague and undefined work, lacking both the pop concision of The Cars and the emotional intensity that Ocasek helped Suicide to realize when he produced that New York duo's second album.
Reducing instrumentation to a predominantly textural function, Ocasek de-emphasizes the pop overtones of songs like "I Can't Wait" and "A Quick One," giving them a half-baked, underdeveloped feel. Similarly, "Out Of Control," with its surreal (albeit silly) imagery and repetitive rhythm line, could have been an excercise in passion a la Suicide, but the annoyingly moderate tempo and Ocasek's detached vocals leave the song — and this whole album — a series of unfulfilled promises.
The cover of Beatitude shows Ocasek angularly posed, coldly staring off into oblivion. Maybe when the cigarette that he's holding fizzles down to his fingers, Ric will stop posing — and realize that when you act cold, you're sure to get burned.
Dan Silverman
February 10, 1983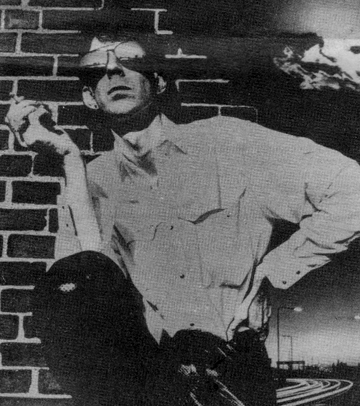 ---
The Members
Uprhythm Downbeat
Arista
The Members were one of the first bands to blend the raw energy of punk with the rhythm-and-blues/reggae/funk influences that so many bands have since incorporated. After their second album was released in 1979, The Members went into a hibernation and weren't heard from again — until 1982, when they released a single produced by Martin Rushent, known for his work with The Human League, Pete Shelley, Altered Images, etc. "Working Girl," with its light reggae feel and infectious sing-along chorus, has since resurfaced as the first track of The Members' third album, Uprhythm Downbeat.
Of the three Martin Rushent­produced tracks here, only "Working Girl" captures the unrefined enthusiasm that puts The Members a cut above the average party band. On both "Radiodub" and "We The People," Rushent smooths the band's rough edges and softens the sound, emphasizing the technology of the music rather than the enthusiasm with which it is played.
The rest of the album, co-produced by Dave Allen and the band, better captures The Members' raucous, garage-band sound. "The Family" and "Boys Like Us" are especially effective, with funky horn licks punctuating their bottom-heavy dance rhythms. Lead singer Nicky Tesco is most effective when he understates his case, as on the aforementioned "Working Girl." All too often however, he resorts to vocal contrivances similar to Tim Curry's, or to David Johansen's at their most calculated, which lend a highly affected, pseudo-black feel to much of the material.
"Uprhythm Downbeat" is, at best, a moderately successful merging of 70's punk with 80's technofunk. At worst, it's a testament to the endurance of The Members.

Dan Silverman
February 17, 1983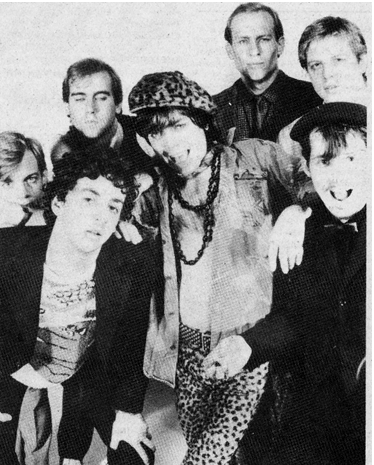 ---
Kate Bush
The Dreaming
EMI America
Despite tremendous success in her native Britain, Kate Bush has been criminally ignored by the American record buying public. On The Dreaming, Bush expands the scope of her artistry to the extent that she can easily lay claim to being one of today's greatest pop music talents.
The LP offers a tremendous variety of musical and vocal styles. From the Carl Orff­inspired "Sat In Your Lap" to the Kurt Weill-like "Suspended In Gafa," Bush's flamboyant vocal acrobatics rarely miss the mark.
Throughout The Dreaming, Bush deals with modern confusion, contradiction, and ambivalence — not always emerging triumphantly. "Pull Out The Pin" is an East-meets-West tale of military and spiritual conflict; as a Vietnamese soldier wails "It's me or him and I love life," one is instantly hit with the wretched contradiction of the entire conflict. On the aforementioned "Sat In Your Lap," our protagonist is torn between learning all she can or dismissing intellectual pursuit completely.
Even more effective is "Get Out of My House." Here Bush makes her decision, but it just might be the wrong one. By deciding to cut herself off from others, a certain cold selfishness becomes evident. Rarely is such painfully human ambivalence so honestly portrayed.
By asserting her humanity instead of some contrived feminity, Kate Bush is doing more to further the cause of feminism than any Holly Near or Chris Williamson could hope. As her music moves farther into left field, the possibility of stateside commercial success gets slimmer and slimmer. But somehow I think critical success will never be a problem for her.

Dan Silverman
March 24, 1983
---
Roxy Music
The High Road EP
Warner/EG
At this time of year, Jewish families the world over sit 'round the dinner table asking The Four Questions. This year, my four questions are somewhat different.
1. Why do record companies release live recordings?
Live recordings usually consist of a band's most popular material. They have obvious marketability, low overhead, and, as most record company executives are aware, bring in those all-important profits sooner and faster.
2. Why is a live Roxy Music document in 1983 different from a live Roxy Music document of the mid-Seventies?
When the live Viva! was released, the band's studio material was still somewhat wild and chaotic — easily transferable to a concert situation with all its flamboyance intact. Since their reformation, Roxy Music have become increasingly subdued, yet their live shows have supposedly retained the chaotic flavor of earlier studio material.
Although none of the material on The High Rood is new, recently-converted fans will hear a side of Roxy they haven't heard before. "Can't Let Go," which was given a semi- acoustic treatment on lead singer Bryan Ferry's solo album The Bride Stripped Bare, is performed here in contradiction to the song's title; full-throttled instrumentation and soulful female backing vocals drive the song along for five-and-one-half decidedly unboring minutes. On "My Only Love" and John Lennon's "Jealous Guy," the band rocks harder than they did in the studio, but they ease up somewhat to accomodate the songs' lyrical nature.
3. Why do great bands like Roxy Music rely on boring old instrumental solos?
One would think, this being the 1980s, that intelligent musicians would once and for all abandon the dreaded concert guitar solo. No such luck. On each song, Phil Manzanera unleashes the standard bag of licks onto an audience that would just as gladly listen to Yes or some other self-indulgent nonsense. Roxy could get away with such silliness in the old days when they brought camp and parody to the fore, but today it just sounds dated.
4. Why are concert-goers such jerks?
Blind and frighteningly fascistic chanting and cheering is always a source of worriment for the intelligent, liberal (and Jewish!) concert-goer. Apparently, many Roxy Music fans are neither liberal nor intelligent, for mindless screaming mars every instrumentalist's entrance on the otherwise stunning "Jealous Guy." When the song ends, chants of "Roxy! Roxy! Roxy!" fill the concert hall. Maybe The Residents were right when they called it "Third Reich and Roll."
The High Road is a mixed blessing. It allows the listener to hear intelligent musicians pandering to stupid fans by way of even more stupid record executives.
Amen.
Dan Silverman
March 31, 1983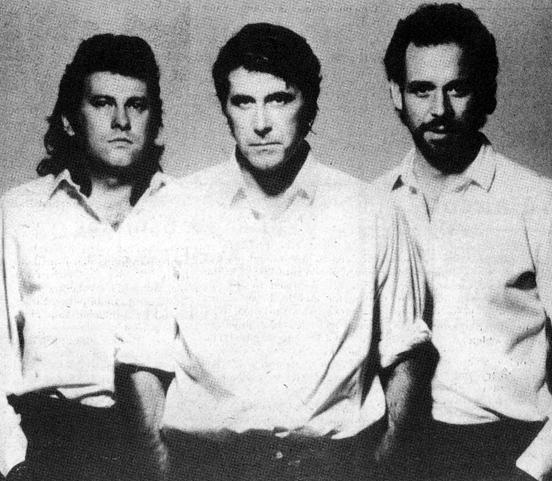 ---
Sparks
Sparks In Outer Space
Atlantic
Sparks. Love 'em or hate 'em, they're here to stay as pop gadflies.
Since the early seventies, Ron and Russell Mael have been corrupting the rock and roll zeitgeist by grafting their own cockeyed slant onto pre­existing musical genres. From art-rock to Eurodisco back to new wave, Sparks have never failed to make their presence known — even when both the public and the critics were uninterested. On Sparks In Outer Space, they have merged the disco elements of Terminal Jive and No. 1 In Heaven with the hard rock textures of Big Beat and their more recent recordings to create a sound that falls right into the current Soft/Human/Mode mode.

The self-produced Sparks In Outer Space is light years ahead of the recorded-in-a-warehouse sound of the band's 1982 album, Angst In My Pants. The pristine crackle of electronic percussion and keyboards on the album-opening "Cool Places" (a duet with Go-Go Jane Weidlin) sounds more like recent Devo than Sparks.
All the standard Sparks formulae are here, however. "Popularity" sings the praises of shallow friends; "Praying for a Party" is a mock heavy metal tune whose title conveys its cliched theme. But a clever inversion of the "96 Tears" keyboard riff is not enough to salvage the unfunny "I Wish I Looked a Little Better," and "Lucky Me, Lucky You" (another Jane Weidlin duet) sounds like the theme from Three's Company.
This is not to say that Sparks In Outer Space is a poor album. It has some catchy melodies, and some typically clever Ron Mael one-liners such as "All You Ever Think About Is Sex'"s "Stating our positions on the White House Lawn". In fact, the production alone is almost enough to make this a recommendable album. But when one remembers what Sparks were once capable of, this new album simply sounds uninspired.
However, one can never simply write these guys off. Who, for example, ever expected them to recover from Introducing and the abominable Terminal Jive? Who knows what 1984 has in store for Sparks. . . .
Dan Silverman
April 14, 1983
---
Major Thinkers
Major Thinkers EP
Portrait
Despite their cerebral moniker, Liverpool's Major Thinkers apparently know how to let loose and have fun. Their debut American release, creatively titled Major Thinkers, seems at first to be the product of yet another in a seemingly endless line of British synth­pop bands. But upon closer inspection, one finds much more than that which initially meets the ear.
Major Thinkers have successfully combined such diverse elements as urban funk, tribal rhythms and traditional English folk music to create a sound that is both thought-provoking and danceable. Of the four songs on the disc's first side, "Wicklow Hills" stands out for merging throbbing electronic dance rhythms with a melody one might hear English countryside pub boys chugging ale to. The other three songs on this side, "Avenue B," "My Hero," and "Humanesque," are successful and original dance tracks, despite the latter's trite "She Blinded Me With Science/I Love You Miss Robot" lyrics.
Side Two features extended dance versions of "Avenue B" and "Humanesque." It's pleasant, but it would have been better to hear more original material. Nonetheless, Major Thinkers are a welcome addition to the evergrowing (and ever-improving) British disco movement.
Dan Silverman
April 28, 1983
---