Here are our class pictures.Special thanks to Cheryl for sharing 4Mc and 5H. Kids who moved away are noted.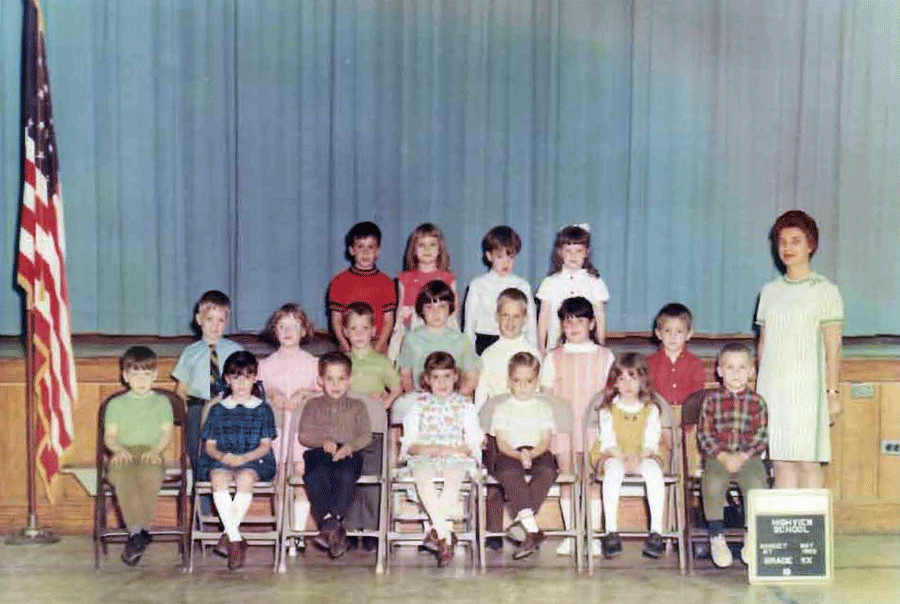 KK: That's Lisa Kaufman next to me. She lived on Scotland Hill. Who's on the other side of Alan F.? Why, it's Patty O'Donohue! Bridget Knight ("Kenight") is between David and Alan C. That's Eric Albers between Michelle and Barbara. And look, there's Glenn Pederson on Michelle's other side. John McFadden is in the lower left corner, next to Anita.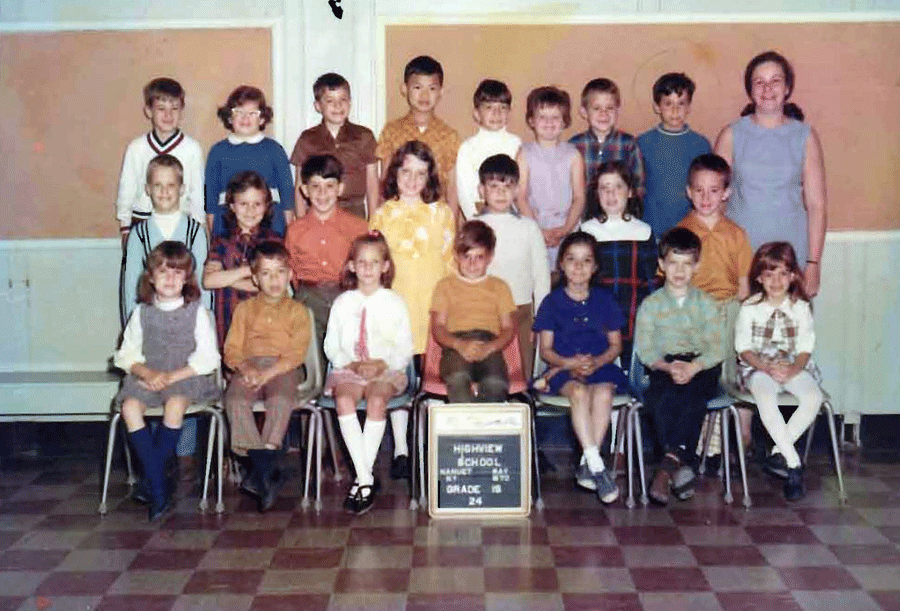 1S: Daren Wong is in the top row between Philip and Terry. To Bridget's right is Ronald Mann, then Lisa Rose. Not forgetting Cindy Fee between Terry and Rodger, and Robert Sweeney next to Elisa. There's Bart Osbourne next to Laura. Between Corine and Michelle is Jerry (what was his last name?).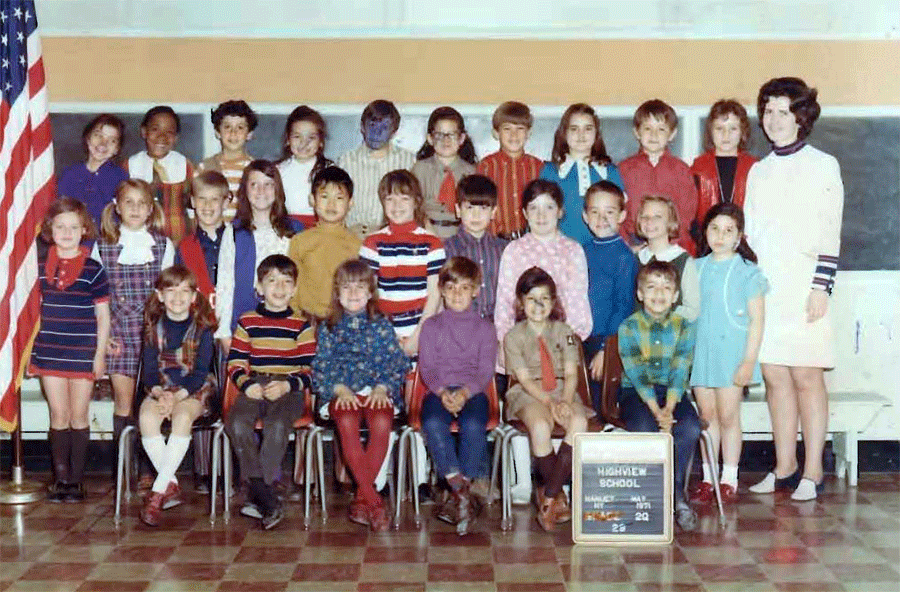 2Q: Sandra MacMillan is between Lisa and me. Between Cindy and Michelle is Sarah Jane Wilson. Personal to P.M.: I swear it wasn't me who did this.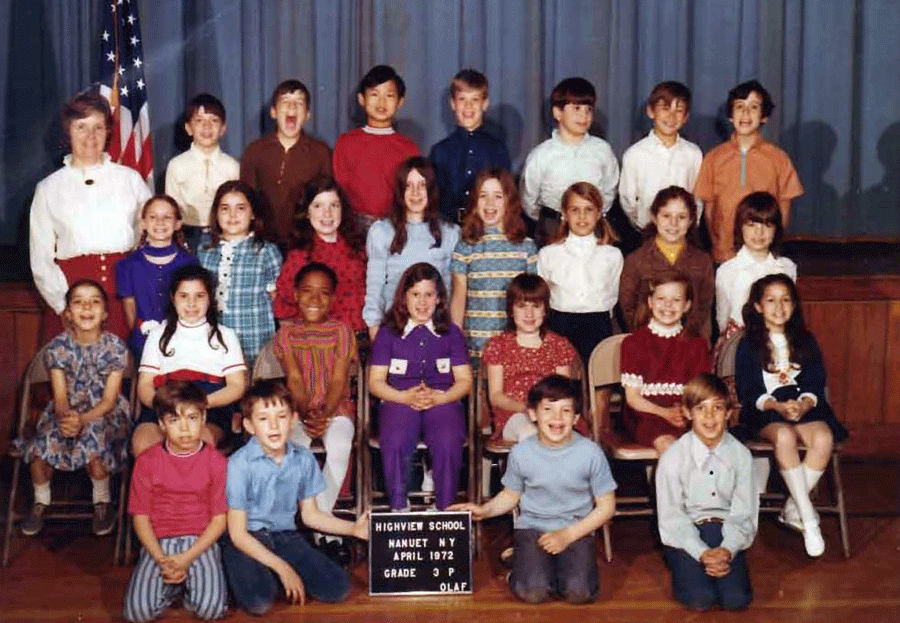 3P: Everyone here should be familliar.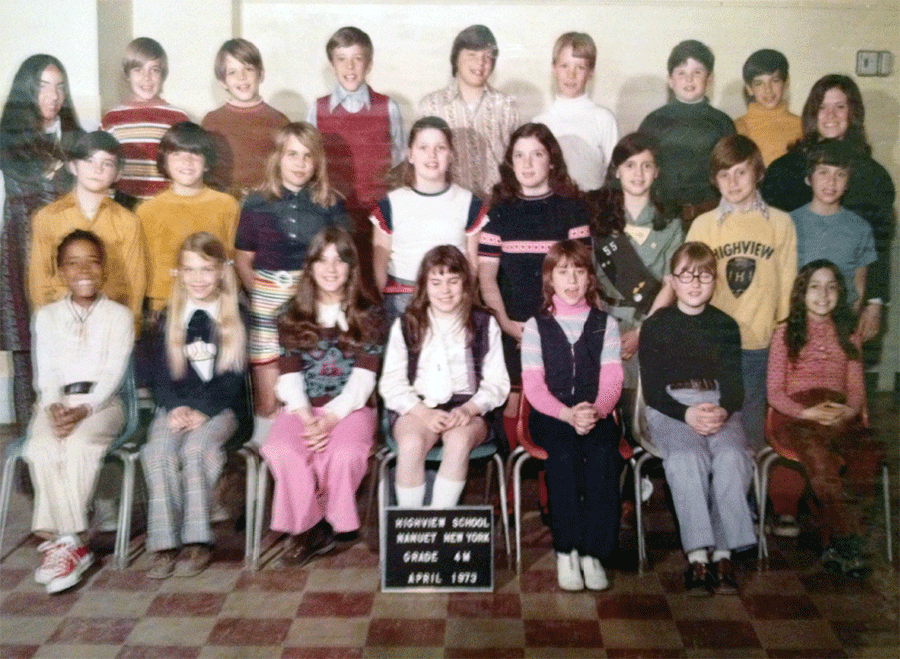 4Mc: Between Michael L. and Philip is Stephen Pfingst. Sweet Randy Schecter is between Tommy C. and the wonderful Miss Kassetta. Michelle Neyhart is between Sandra and Sallyann.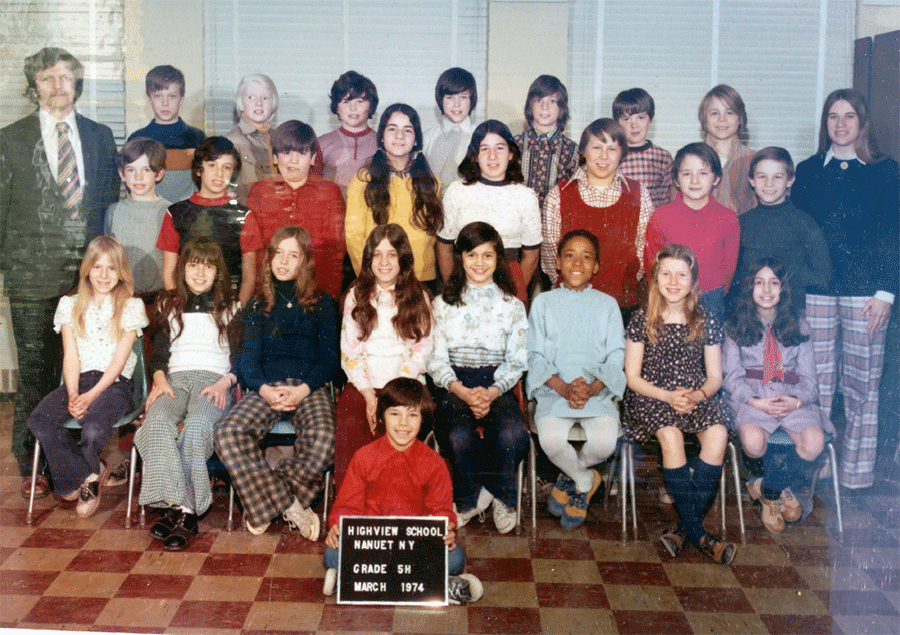 5H: Frank Sherwood is standing between Randy and Alan; Chris Ellingwood is between Mr. H and me; Donald Brain is between Barbara and Rodger. Terri Freidrich is between Joanne and Pam. Between Sandra and Cheryl is Lisa Somkuti. And that's student teacher Miss Neuman.
---
The first books we read in kindergarten, in Mrs. (Lilo) Kassell's class, were FROG FUN, TUGGY, and PEPPER, by Clara G. Stratemeyer and Henry Lee Smith. Each was a separate little book, but here's the cover of the teacher's edition, which has all the books collected in one spiral volume.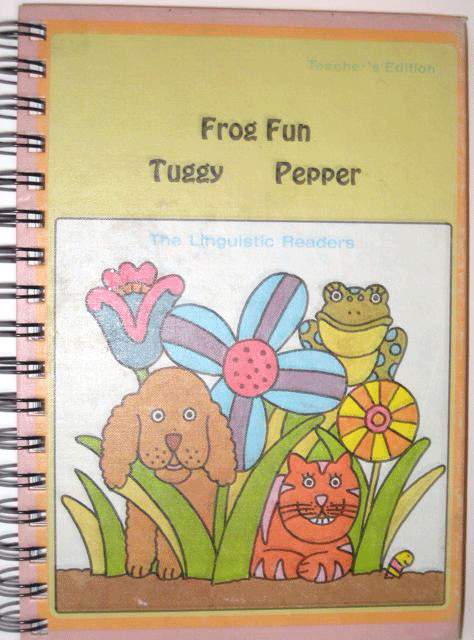 ---
In our First Grade class, taught by the wonderful Miss (Fran) Siegel, we learned how to read with the ALPHA-ONE program, developed by Nanuet teachers Mrs. (Elayne) Reiss and Mrs. (Rita) Friedman. Over the course of a few months, each letter was introduced by Miss Siegel, as she reached into the large cardboard box sitting at the front of the classroom next to her desk, and pulled out an oaktag poster featuring the "character" that we were learning about. We also got a small postcard for each letter, featuring the character and a red stick-on decal of the letter to affix to their picture. Each card also came with a little poem about the character's relevant personality flaw, neurosis, or physical deformity that helped illustrate the sound! We worked in our CHATTERBOOKS, learned about macrons for long vowels, breves for short vowels, SQUOOSHBOXES that were used for digraphs, and basically had a total gas as we learned how to read. Here are all the Letter People, along with their poems.
(Interestingly, while the consonant poems are exactly as I remember them, it seems the versions of the vowel poems that I present here have undergone some changes. For example, I remember Miss A's poem thus, "Miss A is a girl/who's eager to please/But she has a very funny sneeze/You can hear her sneezing all day long/but she makes her sneeze come out all wrong." Perhaps the creators felt that the original vowel poems did not sufficiently relate the relevant sound. The drawings are exactly as I remember them, except that my Mr. G was stretching a piece of bubble gum with his extended fingers. The extended fingers are shown here, but the gum has mysteriously vanished!)
Miss A is a girl
with the best of sneezes;
She says "a'choo"
when she pleases.
We all sneeze
and just say, "choo,"
But she says "a, a, a, a'choo."

Beautiful buttons
are all you see.
The brightest buttons
are on Mr. B.
His buttons are better
than any you'd buy
Because they're his body,
his back and his eye.

Cotton Candy
sweet and thin,
Makes Mr. C's soft,
sticky skin.
And his cotton
candy bones
Are giant cotton
candy cones.

Mr. D had no appetite,
Though he tried to eat
with all his might.
Then D decided if he had to eat,
Delicious doughnuts
would be his treat.

Miss E likes exercise
so well
She always carries
her barbell;
She exercises
an exciting way;
With exercise energy
she saves the day.

Mr. F has feet
that are funny.
His feet make him hop
like a funny bunny.
His feet don't fit
into any shoes.
Poor Mr. F!
What shall he do?

Gooey gum, gooey gum,
goes with Mr. G;
Goodness, gracious,
gooey gum
is a sight to see.
All day Mr. G chews gum.
He chews until his gums
are numb.

Mr. H has horrible hair.
Haircuts are too much
for him to bear.
His hair is horrid
and always a mess;
But he is quite happy
that way, I guess.

Miss I's itch
can not be seen.
It's up and down,
and in between.
It keeps Miss I
in itchy stiches.
Wiggling and hopping
as she itches.

A junky jewel
or junky toy
Makes Mr. J
jump for joy!
Anything that is
thrown away
Is a joy
for jumbled J.

Kicking K, Kicking K,
Kicking games
are all he'll play.
Kick, Kick, Kick, Kick,
Kicking games are all he'll pick.

Lovely lemon lollipops
just for Mr. L;
L loves lemon lollipops
very very well.
Lollipops, lollipops
lovely to lick.
Lollipops, lollipops,
on a lollipop stick.

Mr. M must
munch and munch;
Meat sandwiches
make a marvelous lunch.
His mouth is munching
all day long;
he eats so much
his mouth is strong .

N's nose is a nose
that is had by no others.
Not even his nieces
or nephews or brothers.
He has nifty fingers
and very nice toes,
But he has a NOISE
instead of a nose.

Obstinate Miss O
wants things her way;
"O O O," is all she will say.
She holds her mirror
and looks at her mouth so
That it looks exactly
like a great big O.

Pointy patches
are all we see
When we peek
at Mr. P.
His patches of blue
and patches of yellow
Make Mr. P
a pointy-patch fellow.

Poor quiet Q
Has nothing to do.
He just hangs around
Not making a sound.

Rubberbands, rubberbands,
racing 'round the room.
Rubberbands, rubberbands,
ripping, ripping, zoom!
Ripping racing rubberbands
really are a fright;
Mr. R is a rascal
who's not acting right.

Mr. S has super socks,
He keeps them
in a secret box.
Super socks need special care,
But super socks
are great to wear!

Mr. T's teeth
are terribly tall.
His teeth are the tallest
teeth of all.
T's toothbrush
must hold tight or fall,
Brushing the top
of teeth so tall.

Miss U's Umbrella
goes upsy-daisy.
It tells us all
not to be lazy.
Under and over,
around and through,
Fly with the umbrella
and Miss U.

His name is Mr. V,
and he's very vain.
His vests are never
dull or plain.
He wears violet, velvet vests
of varied blends
To visit with his
very best friends.

Mr. W with your
wonderful wink.
We are wondering
what you think.
We wish you could tell us
when and why
You will wink
your winking eye.

Where does Mr. X belong?
His parts are
altogether wrong.
Is he a singer,
clown or dancer?
He doesn't seem
to know the answer.

Yawning Mr. Y
is his name,
and he plays
a yawning game.
When he yawns,
you'll find it's true
That you, yourself,
are yawning too.

Mr. Z uses
zipping zippers
To zip his coats
and gloves and slippers.
Z won't have laces
for his shoes;
A zipping zipper
is all he will choose.